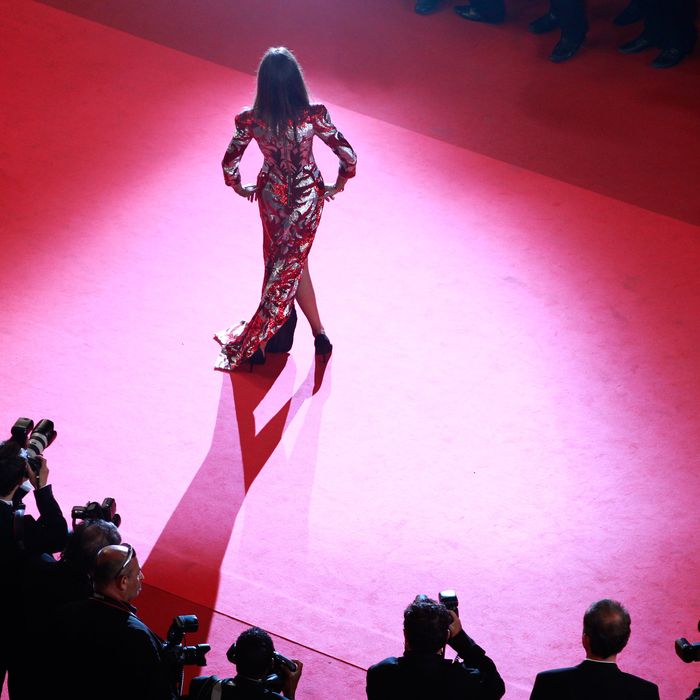 Photo: ERIC GAILLARD/2011 AFP
When Cate Blanchett called out E!'s red-carpet crew for ogling her body at last year's SAG awards, she became the icon of a movement. For the past year, the Representation Project's #AskHerMore campaign has urged red-carpet reporters to focus more on women's accomplishments and less on their appearances. Crouching to the level of a camera that was panning to her waist, Blanchett asked, "Do you do this to the guys?" The GIF has since become the emblem of #AskHerMore's 2015 Oscars campaign.
Red-carpet telecasts are reliably bad. And Blanchett had a point about that camera's lechery: Slow-motion zoomed-in camera-panning is the A-list equivalent of a forcible Girls Gone Wild moment. But the #AskHerMore campaign's fixation on abolishing "Who are you wearing?" as the red carpet's go-to question is deeply misguided. If ever there were a time and place to obsess about fancy dresses, it is on the red carpet at the Academy Awards. The key to enjoying the Oscars red carpet is accepting that it isn't actually about filmmaking. The Oscars are the Oscars of movies. The Oscars red carpet is the Oscars of gowns. It's an hour-long theatrical production about style, and it just happens to share its cast with the nominees and presenters of the Academy Awards.
The moment when a celebrity steps in front of a red-carpet camera is the moment when 40 million Americans simultaneously assess the extraordinary works of craftsmanship hanging from her shoulders, earlobes, wrists, and neck. The average at-home enthusiast will never see a couture gown in person, much less pair it with emeralds and diamonds and ornate hairdos to create a head-to-toe look. But given the popularity of red-carpet telecasts, fashion magazines, and "Who Wore It Better?" photos, it's apparent that contemplating that process is a pleasure for many. The red carpet is how the masses access fashion, and how celebrities (and their handlers) tell stories about themselves and their careers. It's a focal point for fantasy. It's a stage for stories told in a visual language that, make no mistake, Hollywood speaks fluently.
Sometimes a celebrity even has — or hopes to attain — lucrative endorsement deals with one or more of the companies that manufacture the wares on her person. Cate Blanchett may not want a TV camera panning slowly across her ass, but that doesn't mean "I'm wearing Armani" is a statement that pains her. She once earned $10 million for wearing Armani perfume. Asking Cate who she's wearing doesn't undermine her career; style and spokesmanship are elements of her career.
Antagonists of red-carpet clothing-talk contend that asking women, but not men, who they are wearing is unfair. Sometimes reporters try to ameliorate the situation by asking men who they are wearing. But let's be honest: The people who care about that are few and far between. (Gowns are the stuff of reality-TV franchises; menswear is niche.) So what can be done to even the playing field? Here's one solution: Don't talk to the men at all. We already know what George Clooney looks like in that one tuxedo he always wears. We don't need to keep him around. He has nothing to say about this fashion parade. Last time Giuliana Rancic interviewed George Clooney on the red carpet, there was so little to talk about that she broke out a bottle of tequila and drank, alone. That's how bad the red carpet is when you can't talk about clothing. Maybe we should let George (and Amal) walk by in silence.
There are some excesses, of course. No adult woman should ever be asked to walk her fingers down a doll-size red carpet for a "mani cam." That's simply too infantilizing to endure. Mani cams are rude to women forced to march their fingers down a Lilliputian runway, and even ruder to the men and women who devote their lives to designing and crafting the multimillion-dollar jewelry dangling from their wrists and fingers. And to the armed guards who escorted those trinkets around town. And to the nail artists who filed and painted and buffed those nails. It's not about sexism; it's about respect. You can be superficial and dignified at the same time.
But to omit all mentions of appearances would be downright rude, to the designers and stylists and hairdressers and makeup artists and the entire industry that revolves around ushering garments from the runway to the red carpet, and all the altering and tailoring and reimagining that happens in between. (An industry that, incidentally, is powered by women.) And the biggest task that these styling teams take on is telling the story of the celebrity herself. When a red-carpet moment speaks, it does so powerfully. After an award season of cutting-edge silhouettes and bold colors — and amid discussions of black stories in Hollywood — Lupita Nyong'o arrived at last year's Academy Awards in a frothy pastel gown and tiaralike headband: "Black women can have princess stories, too." After her "trampire" cheating scandal, DGAF icon Kristen Stewart showed up at the British premiere of Twilight: Breaking Dawn 2 in a see-through jumpsuit with a heart-shaped sequined posterior: "Kiss my butt." The pageantry of the red carpet is integral to those stories.
By the time nominees hit the red carpet, they have endured countless junkets, interviews, and press events. They've discussed their crafts, their careers, their movies, their goals, and the industry ad nauseam. They've been profiled by Vanity Fair. They've participated in round tables for The Hollywood Reporter. By the time they reach the red carpet there is nothing left to say. The nominees haven't changed. The winners are still unknown. They haven't even seen the ceremony's décor, yet.
Shouting banter at press-weary celebrities on live television while their publicists point at their watches simply isn't an environment for in-depth career discourse: E! could hire Bob Woodward to work the red carpet, and he'd fare no better than Ryan Seacrest. The notion that Giuliana Rancic could, over the course of ten seconds while rushing between A-listers, ask the one question that penetrates Helen Mirren's soul? This is ludicrous. Here is the question she can ask, the question of maximum utility during this or any red-carpet telecast, a question that's not sexist or degrading but merely matter-of-fact: "Who are you wearing?"