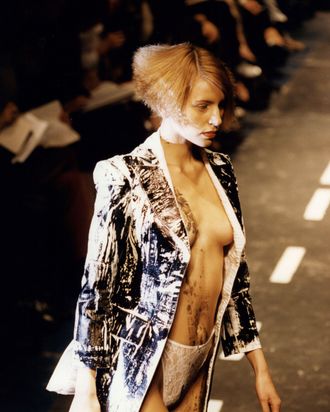 A look from the Alexander McQueen spring 2015 collection. (Photo: Neville Marriner/Associated News/Rex USA.)
Photo: Neville Marriner/Associated News/Rex USA
There's a new theme every day on It's Vintage. Read more articles on today's topic: McQueen's Early Collections.
This February marked the fifth anniversary of Alexander McQueen's untimely death — as well as the release of a new biography exploring the life and career of the British designer and his contemporary, John Galliano. Gods and Kings: The Rise and Fall of Alexander McQueen and John Galliano, by Paris-based fashion journalist Dana Thomas, takes readers back to the days before McQueen was a household name, including a detailed history of one his very first shows. In the essay below, excerpted exclusively on the Cut, Thomas describes McQueen's 1995 spring collection: an irreverent, eerie assortment of garments inspired by Alfred Hitchcock's The Birds — featuring clothing printed with tire tracks and models wearing opaque contact lenses — that launched McQueen's status as a young designer to watch.
(A quick glossary of people mentioned: Derek Anderson was the fashion publicist who first invited McQueen to New York to reprise his fall 1994 Banshee show; Simon Ungless was McQueen's Central Saint Martins classmate and longtime friend, who is now the director of the School of Fashion at San Francisco's Academy of Art University; the designer Andrew Groves was McQueen's boyfriend at the time; Tiina Laakkonen was a junior editor at British Vogue who was first introduced to McQueen by Isabella Blow; and Eo Bocci was an Italian fashion agent who was an early backer of McQueen.)  

For his fourth official collection and third show, McQueen "was feeling pressure to up the game," Anderson says. He needed to prove he could compete against the best in Paris, New York, and Milan.
The central theme—and eventually the title of the collection—was The Birds, Alfred Hitchcock's spooky, stylish thriller from 1963 starring Tippi Hedren about thousands of vicious, maniacal birds that attack humans. It was one of McQueen's favorites among the Hitchcock movies that he watched as a kid at his Aunt Renee's. From a fashion aspect, he was taken with the pencil skirts that Hedren wore in the film, what he described as "a very sleek, feminine 1950s silhouette." Yet he wanted to make the look "more extreme," Ungless says. "Tippi is made vulnerable though the hobbling effect of her clothes in the movie—this beautiful, sexy woman placed into a different environment and put at extreme risk but winning in the end. All very McQueen."
A secondary theme was roadkill. The idea came from the scene in The Birds in which everyone is fleeing the mad flock by car. For McQueen, it was like what the locusts represented in "Nihilism": "Complete chaos and human vulnerability in the face of nature gone wrong," Ungless says. McQueen chose to interpret it as tire marks on clothes—"I thought: 'Birds, road, car tire, splat!'" he said with his goofy laugh—and he asked Ungless to design the tire track print. Since they had no money for materials, Ungless raided the fabric storage closet at Central Saint Martins, where he was teaching textile printing. McQueen also picked up "a hideous cheap black lamé fabric that we bought from the guy on Berwick Street who sold remnants from his barrow," Ungless recalls. Once the clothes were made, Ungless printed the tire tracks across seams and details, "giving a kind of run over by a steamroller look."
Last, McQueen wanted to use birds as a print theme on the fabrics. Both McQueen and Ungless had done some bird watching as kids. Ungless still had his bird book and showed it to McQueen. "I wanted hawks and crows and Lee picked garden birds—one was a robin. I put the print together and printed it. It was awful—like a Christmas card gone wrong. Stodgy little robins and blue tits flying about didn't quite have the desired dangerous effect." Thankfully, Groves stepped in and laid out a new print of flying swallows.
Another idea for the collection came from a story that Groves told McQueen. A few years earlier, Groves had experienced a curious rendezvous in the South London suburbs with a middle-aged American man he met through a personal ad. When Groves arrived at the house, the man opened the door dressed as an American cop. He took Groves up to his attic, which was kitted out like a dungeon, with all sorts of kinky devices. "Before you know it, he'd wrapped me from head to toe in [plastic] pallet wrap," Groves says. "Obviously, I could have been chopped up and murdered, but the house and the décor/setting was so provincial that it never crossed my mind." Groves recounted the tale to McQueen, who found it fascinating and kind of wacko. Not long after, they were walking down Elizabeth Street at night when McQueen spied something on the sidewalk.
"Pallet wrap!" he cried. "Oh! Gotta make a fucking dress!"
He hauled the bolt of plastic into the house and enrobed a dummy with it, trimming with shears where needed. In no time flat, he had transformed it into a chic, transparent sleeveless shift. "He thought it was amusing—that it was our little joke," Groves says. Groves was astonished by how quickly and easily McQueen could create a garment from scratch. "He put a huge piece of silk on a stand, cut a neck hole out of it, wound thread all around it, poured latex on it, slash down the back for a zipper and said, 'There's one dress,'" Groves remembers. "Ideas like that were getting churned out every hour or so. Lee didn't realize what he was doing was so different."
What he did see, however, is that his career was starting to take off, and it made him more than a little nervous. In the weeks leading up to the show, he sat for an interview with Dazed & Confused. "All I have in my mind now is … the day of the show, and it's doing my head in," he said. "It's getting to the point where I'm not doing it because I enjoy it but because it's what's expected."
"Everything in my life is run by time," he continued. "I've always wanted to go to Spain, to some desolate place where there are no clocks… . I'd really love to sit down for a week and just tailor one beautiful jacket but now I can't 'cause I don't have the time… . I've got the feeling I might become a recluse one day … I've got the feeling I could lose my grip altogether."
***
When it came time to figure out where to stage the show, McQueen started looking for a suitable site; he zeroed in on Bagley's, an old warehouse in then-seedy King's Cross where he and Ungless had attended raves and which was rumored to be owned by East End mobsters. McQueen went to see the property's managers to negotiate the deal. They looked at him a bit askance when he explained he needed it for a few days for a fashion show.
McQueen talked the rate way down to somewhere around five hundred pounds, which was then the price of a pair of Bumsters. No doubt it helped that McQueen was a lifelong East Ender who claimed to have had a relative who'd worked for the Kray twins, notorious East End gangsters.
While preparing for the show, McQueen met up with Simon Costin, the jewelry and set designer, to ask if he could borrow a few pieces for "The Birds." Costin agreed, but he too had a request:
"Let me do the show set for you. It would be nice for me to do the set."
McQueen agreed.
Since they had "something like fifty pounds" for the budget and there were tire marks on the clothes, Costin says he decided to simply paint a broken white line down the dark cement floor, like a road. He put up a black backdrop and built a short tunnel for an entrance. McQueen also had Costin make a black feather neck/shoulder piece, which was placed on a gold shift like a feather dickey.
For the hair, McQueen hired the hairdresser Eugene Souleiman again and explained that he wanted a look of "destruction." Souleiman understood. He didn't propose anything based on The Birds star Tippi Hedren's blonde upswept bouffant do—that, he says, "was a bit too obvious. Lee would have hated if I had done that." Instead, Souleiman decided to blow the models' hair sleek straight, except at the ends, which he would crimp into fluffy poufs. This would allow the hair to float cloudlike as the girls walked. The makeup, by Val Garland, was light, with pale skin and delicate orange-red lips. "We looked like dangerous angels," says Laakkonen, who was modeling in the show again for free.
The eeriest effect, however, was something McQueen had dreamed up a few weeks earlier: He wanted the models to wear opaque white contact lenses. He got the idea from young British illustrator Richard Gray, whom he and Ungless would see at London bars and clubs wearing full-eye black contact lenses. McQueen became obsessed with the look—he felt that it would remove the models' personalities and make them more clonelike—and he found an optician in London who would make them for the show. Of course, they cost a fortune, and McQueen couldn't afford it, so he called ever-supportive Anderson in New York, who wired more money.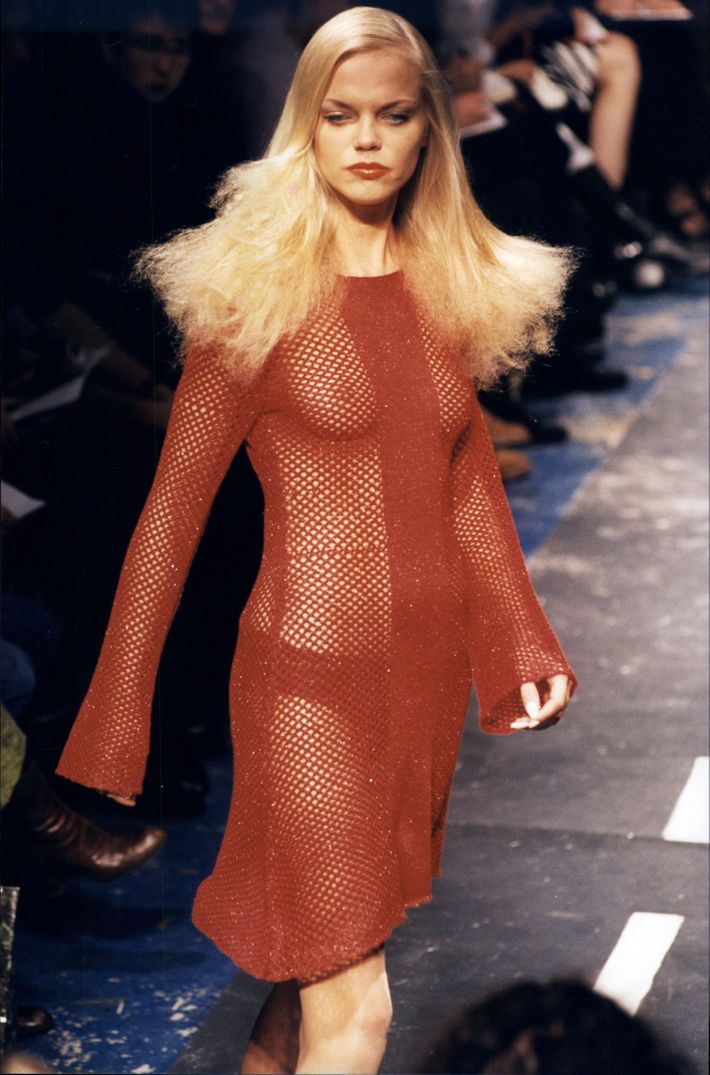 McQueen had a new stylist on hand to help sort out the looks and dress the girls: Katy England, the British-born fashion director for Dazed & Confused. "I'd seen her around, at the shows in Paris, and she just had this great look about her," he said. He asked her to assist him with styling.
England helped McQueen develop the collection, bringing into the mix a few found pieces, such as leather jackets. Backstage before the show, England told her assistant Trino Verkade to go outside and fetch a wheel off her car. England covered the tire with smudge and rolled it on the girls' naked bodies, so flashes of tire marks would show from under a jacket or on an arm. "I loved the combination of the highly sexy undertone and this surreal violence, and the way the girls looked with the contact lenses, these surreal women," Laakkonen says. "But it was never at the expense of women, like: 'I'm trying to belittle women.' I never felt that Alexander made women seem like victims. I never got that vibe from him in his work."
Again, McQueen's mother, Joyce, was backstage, serving her homemade sandwiches and tea. Joyce, Groves says, was "a real East End mum, a real matriarch, white hair, formidable, scary. She was not small talk and chat. It was nothing, or 'Lee!'" McQueen was comforted by her presence there, which made it easier to work with him. "His mask would drop when his mother was around," Anderson says.
"He felt protected by her," Groves affirms.
***
The scene out front "was insane," remembers Kim Blake, McQueen's London PR consultant. Since there was no money, there was no security, and Blake had to work the door. "Someone found me a bucket and we turned it upside down and I stood on it so I could see what was going on," she says.
The audience consisted mainly of club kids and fashion students; there was only a handful of fashion journalists and retailers—many of whom Isabella Blow had persuaded to attend. "There was no Anna Wintour and the whole scary front row," Groves says. McQueen knew that and it hurt him deeply: "London gives me fuck all," he said of his hometown fashion establishment. "If they offered me Young Designer of the Year I'd throw a right tantrum—they haven't given me shit."
An hour and a half after the show's scheduled time, with the crowd growing visibly restless, McQueen was ready to start. The lights were turned down and the room grew silent in anticipation.
Suddenly, an alarm bell blared in the darkness, shattering the audience, and a bright spotlight shot out of the tunnel. The first model walked out in silhouette through the light, as in the climactic scene in Steven Spielberg's Close Encounters of the Third Kind, when the aliens descend from their spaceship. She was dressed in a long, sharply tailored Victorian-style jacket worn open over her tanned naked torso, and matching cropped Bumsters. On the back of the jacket, between the shoulder blades, was McQueen's label: the plastic two-inch-square filled with a curl of hair.
Next came a sexy 1960s-style shift, looking as if it were made from a plastic shower curtain—which some McQueen friends believe was a reference to the murder scene in Hitchcock's Psycho. The model's breasts were visible, as were her little-girl-style cotton briefs. Protruding from her shoulders were two chrome spikes, like a medical device. The hot lights made the models' opaque white eyes shimmer eerily.
"The girls looked like zombies!" Bocci still hoots in amazement.
"They looked like they had been attacked by birds, with those lenses in their eyes, that's for sure," Souleiman recalls. "That's what was cool about it."
As the music ramped up to a thumping techno, there was a sharp, white broad-shouldered power suit, the lapels and arms printed with tire tracks, the skirt so tight the model baby-stepped her way down the runway; a Julien Macdonald white cropped sweater with long sleeves and a plunging neckline; and a tightly tailored orange pantsuit with black flying swallows, worn by Plum Sykes. There were more sexy form-fitting shifts: in black plastic with white tire marks; in orange nylon with red tire marks; in vibrant pumpkin fishnet over matching cotton briefs; and in the found plastic pallet wrap over black high-cut panties.
By the end of the show, people were standing on their chairs, stomping. "Everyone went completely crazy," Anderson says. When McQueen came out, dressed demurely in a blue Oxford shirt and khakis, he waved to the cheering, whooping crowd, dashed over to his mother, who was sitting next to Groves in the front row, to give her a big hug, then shyly ducked backstage. McQueen later learned that his father had arrived unannounced, quietly stood in the back to watch, then left without saying a word.
In the days that followed, the reviews of "The Birds" rolled in and were, for the most part, fawning. The New York Times' Amy Spindler called McQueen "easily the most talked-about designer" of the moment and proclaimed that his tailored jackets were "nothing short of perfect."
Women's Wear Daily declared that the collection was "filled with raw sex—and should help resuscitate London's reputation for street fashion." The trade added: "Thanks to Alexander McQueen, we'll be keeping an eye on our cousin's distant shores for a long time."
"'The Birds' was a big turning point," Derek Anderson says now. "It crowned Lee as the rising star. Before he was a rising star. But after 'The Birds,' he was the one to watch."
From the book Gods and Kings: The Rise and Fall of Alexander McQueen and John Galliano by Dana Thomas, published on February 10, 2015 by Penguin Press, an imprint of Penguin Publishing Group, a division of Penguin Random House LLC. Copyright by Dana Thomas, 2015.
This post originally ran on February 27, 2015.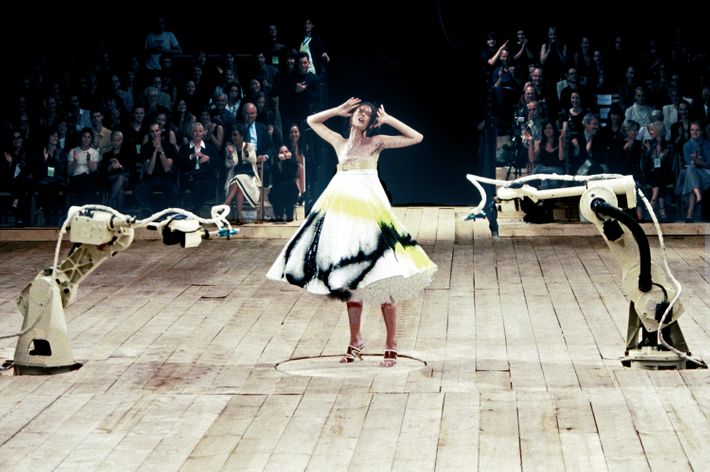 Shalom Harlow spray-painted by robots in McQueen's "No. 13" collection for Spring 1999.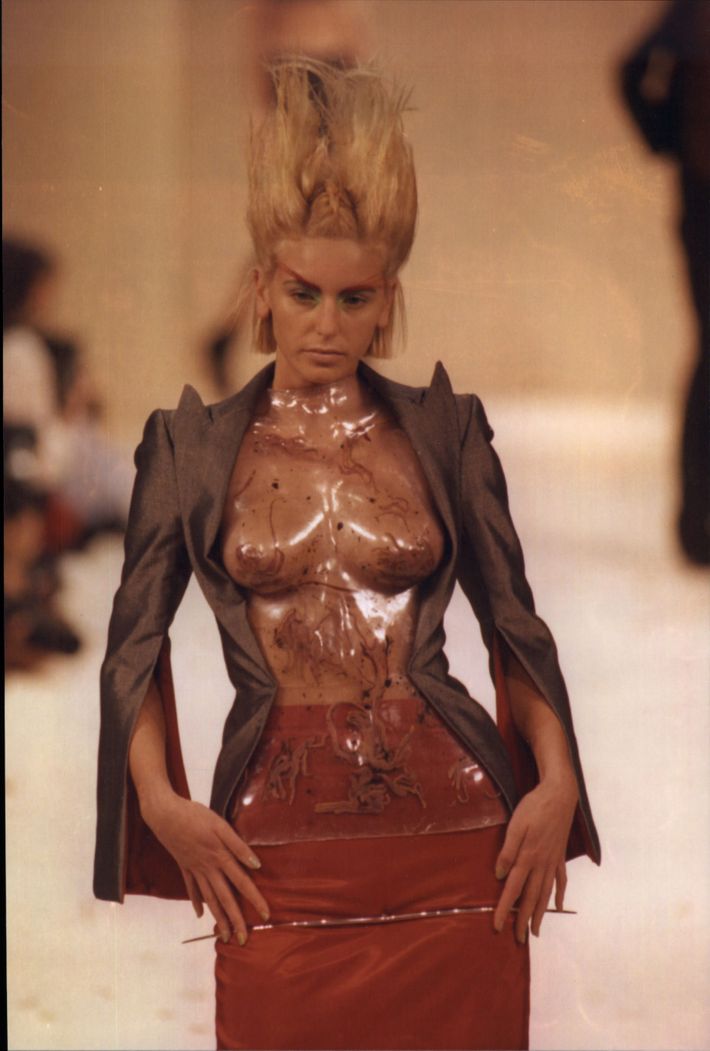 McQueen's The Hunger collection, Spring 1996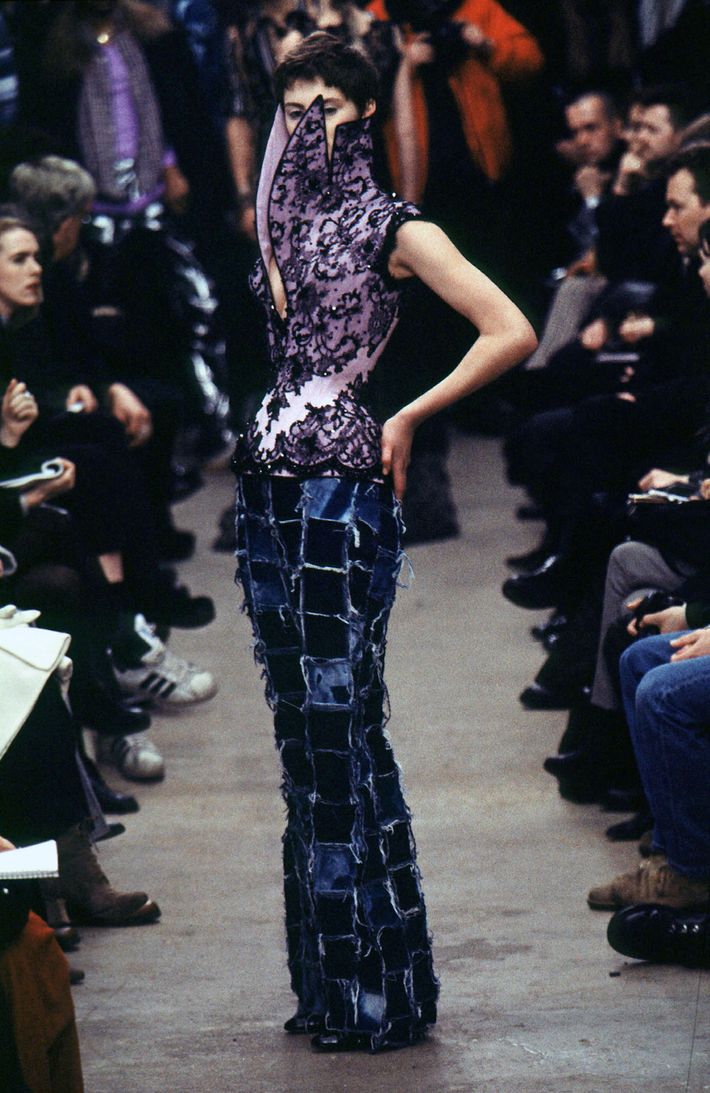 McQueen's Dante collection, Fall/Winter 1996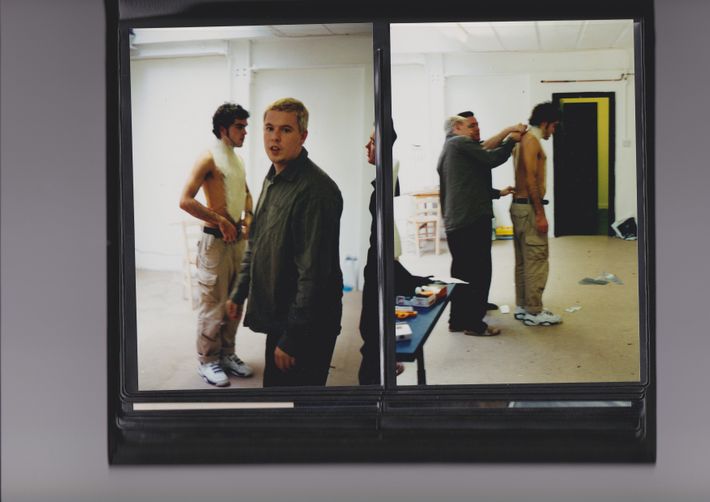 McQueen and Sebastian Pons, 1995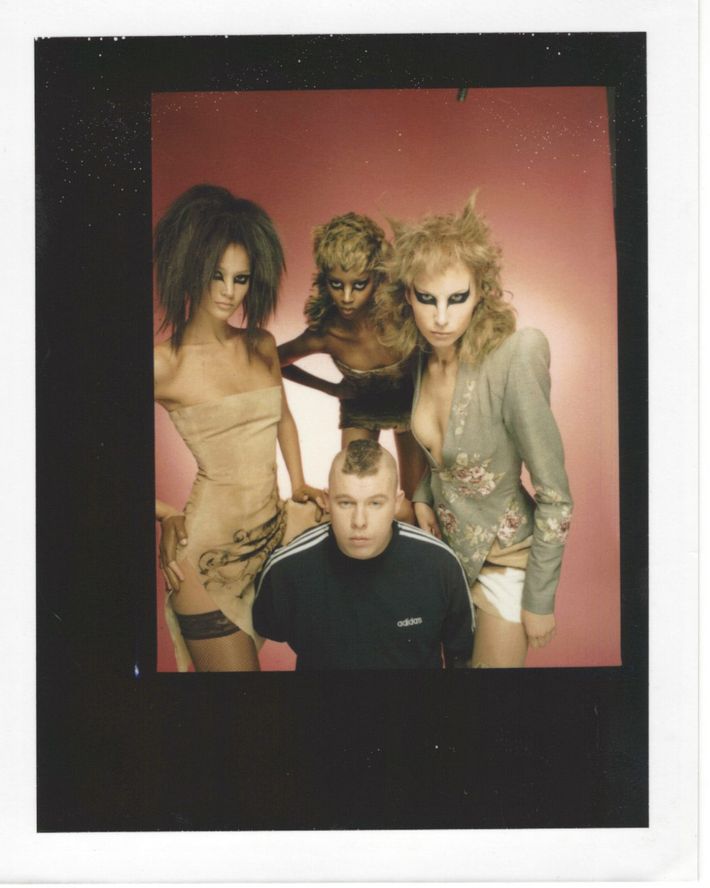 McQueen and models for "It's a Jungle Out There", fall 1997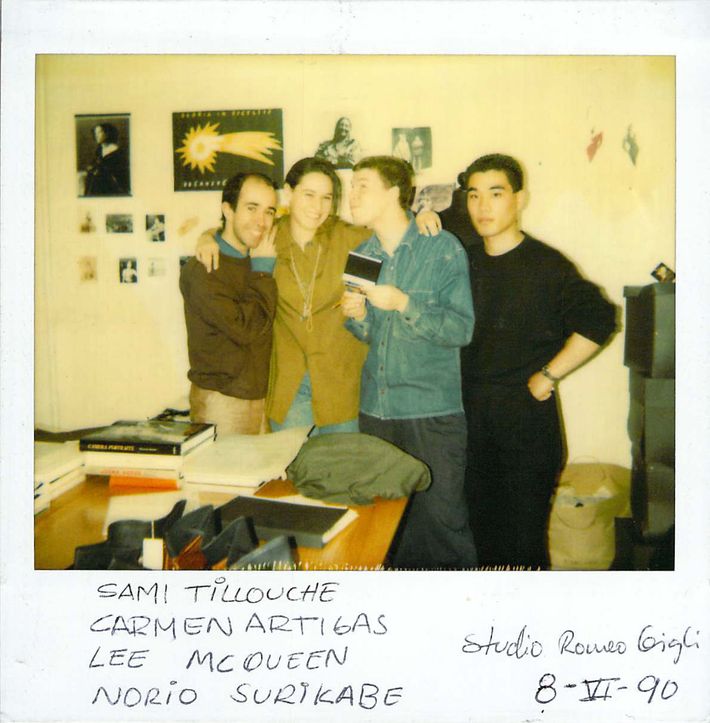 A Polaroid of McQueen and his friends, 1990.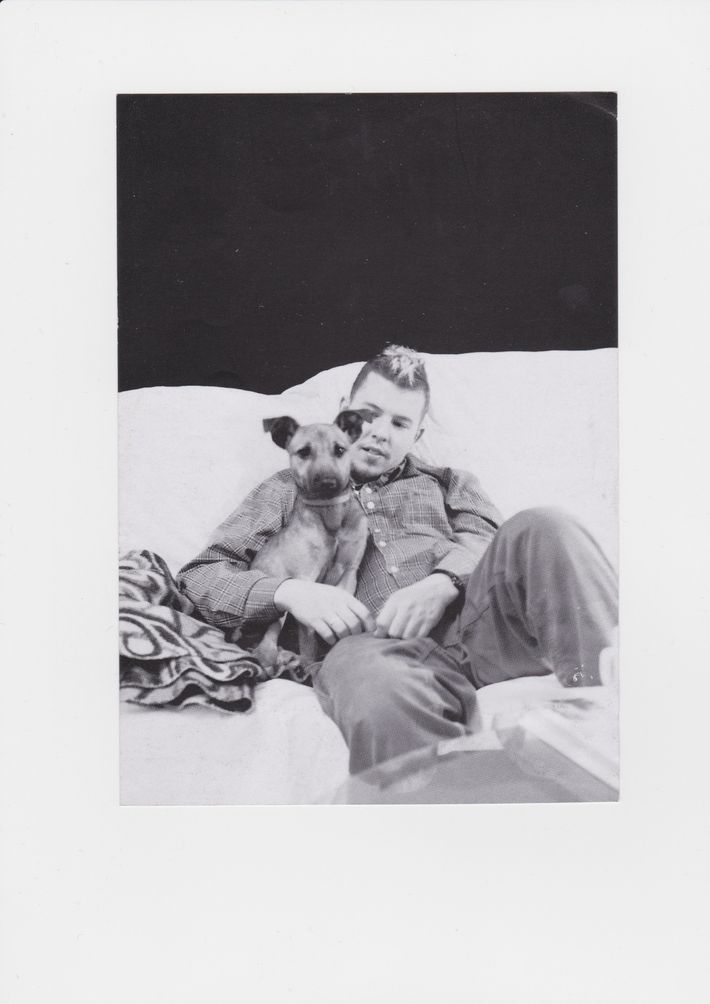 McQueen and dog, Minter, 1995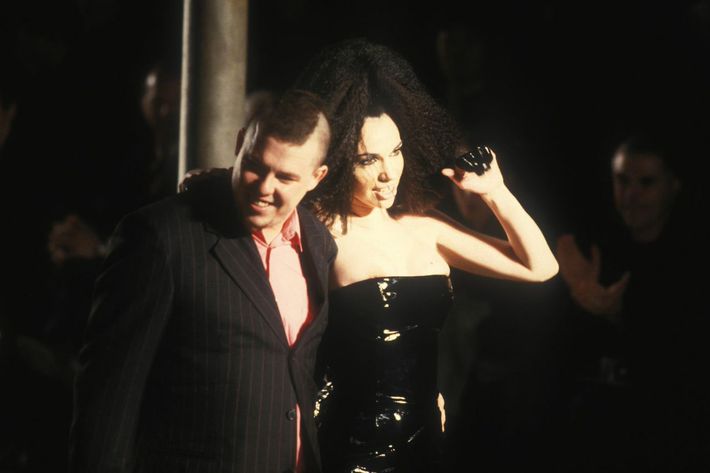 McQueen and Béatrice Dalle at Givenchy Prêt-à-Porter, Fall 1997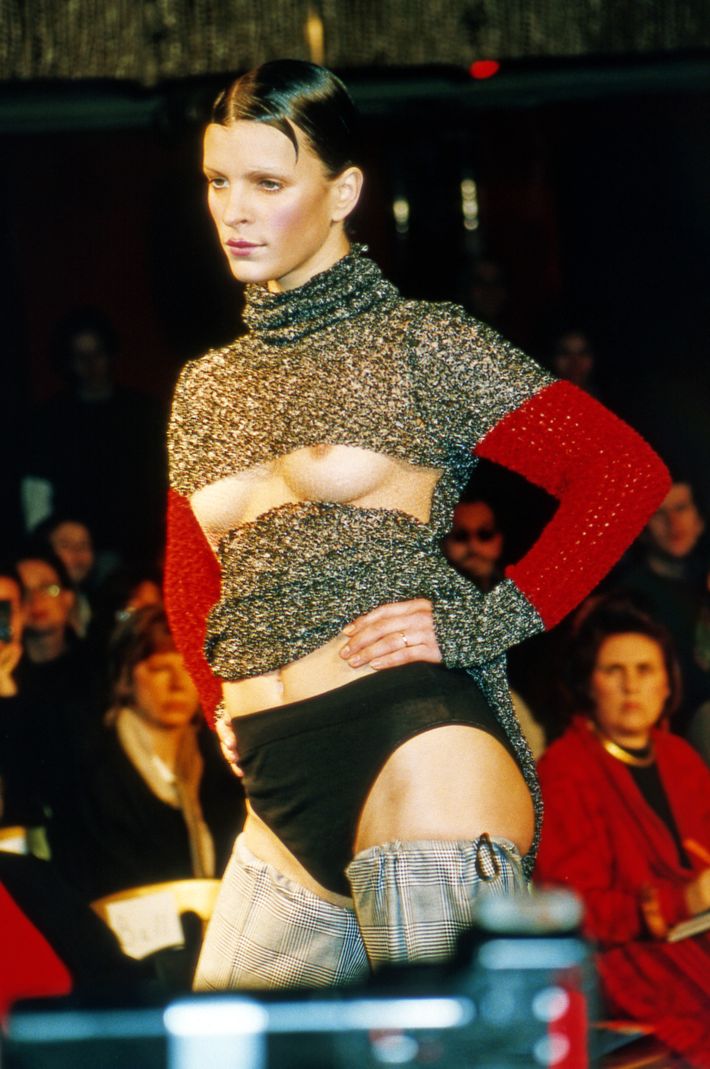 Julien Macdonald's Get Your Tits Out sweater at McQueen's Banshee show,1994.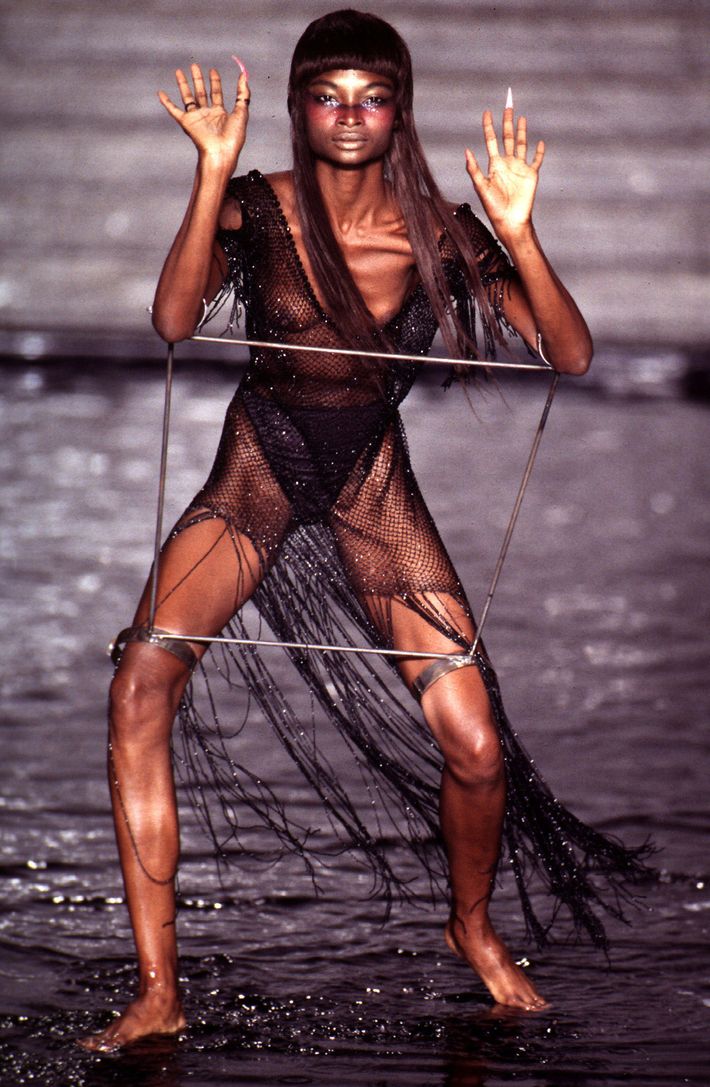 Debra Shaw in McQueen's "Bellmer La Poupée," 1997