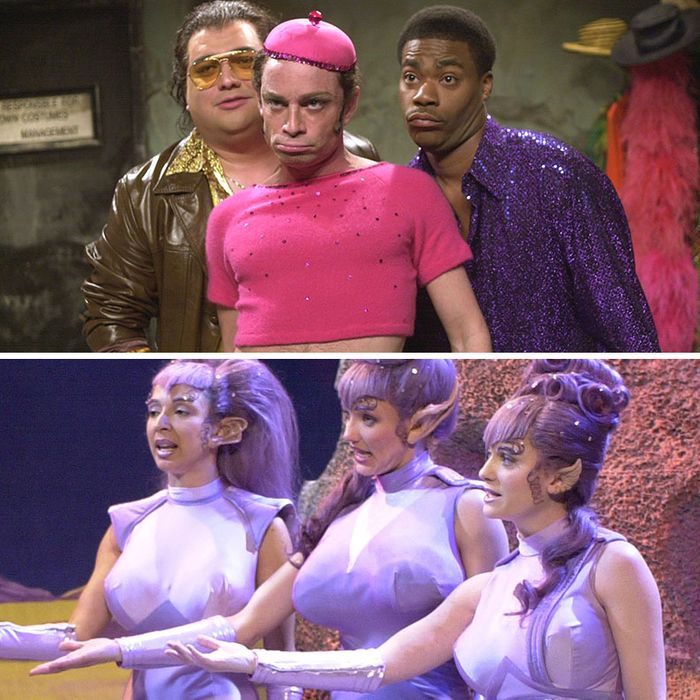 This weekend marks the 40th anniversary of Saturday Night Live. In honor of the occasion, the Cut spoke with the show's chief costume designers, Tom Broecker and Eric Justian, who have been working together at 30 Rockefeller Plaza for over 20 years. They reflected on the challenges of designing costumes on a three-day schedule, what it's like to work with comedy writers who treat costumes like magical cartoons, and how the show has changed in the years they've worked there. They also shared their favorite SNL costumes of all time.
Read the interview below, and click through the slideshow to see their top picks — including Maya Rudolph as Donatella Versace, Justin Timberlake as an omelette, Tina Fey and Amy Poehler in mom jeans, and many more.
So, what is the process of designing costumes for Saturday Night Live?
Eric Justian: We do a read-through on Wednesday nights with the cast and writers. There are about 40 sketches that we read, and then it dwindles down by the end of the evening to about 15 sketches a week. At that point, the writers and actors will start to come to us with their visions for the sketches, and we'll interpret them. We do all the designing in three days. On Thursday morning, we start pulling, shopping, and building costumes for all the sketches. It's a very quick turnaround, so our approach is often that we do what we instinctually think the costume should be. If it's not clear what that should be, we gather a bunch of options as inspiration, and meet to collaborate. We're used to this very chaotic system — it's all we know.
What's the costume closet at 30 Rock like?
E.J.: Let's just say if we were to open up a vintage store in New York, it would be the most amazing store New York has ever seen. It's giant, what we have.
Tom Broecker: It's funny because it's broken down into so many little rooms. In one room there's jeans and chinos, and then there are shoes and then men's suits, and women's suits, and then there's the maternity section and then sweatsuits. Then you go two floors down and there's a section called "Whores and Tarts," which is sort of a combo platter of clubwear and cheap clothes — like, girls going to the disco. These are clothes that we've been collecting for over 20 years.
What are the other costume categories?
E.J.: We have a category for everything: a vintage room that spans the turn of the century to 1980s clothing, a uniform section, a section that is costumes from across the world, our leather section …
T.B.: Biblical.
E.J.: Biblical, yes. We have our maintenance workers, our maids, suits for men, contemporary clothing, tuxedos …
What are the particular challenges of designing costumes for a show like SNL?
T.B.: Well, just the time constraint — and because we're live, people want to keep changing things until they actually get out there onstage, so there are always last-minute changes.
E.J.: Also, oftentimes comedy writers think like cartoons. They'll hand us things like, All of a sudden clothes just rip away from a body — and we have to figure out how to do that. All of a sudden, we need a hat that's gigantic, or a dancing-pizza costume. We have to construct costumes that will do this magical thing that a writer has in their head.
Do you feel like there's a certain Saturday Night Live aesthetic?
E.J.: We've both been here so long that there are certain -isms that are engrained in us about how to costume the show. We know what certain writers will like, and what works in our control room on camera. We try not to do costumes that are over-the-top comical. They don't tend to fly here. But, that said, sometimes we do.
T.B.: I think there's an aesthetic here where it's more about listening to the words, as opposed to the costumes being the leading joke. It's more about the writing.
E.J.: Yeah. But every once in a while we'll have a sketch like "The Lawrence Welk Show," where the joke relies a lot on Kristen [Wiig's] visual appearance — not just the costume, but hair and makeup as well. It's really different on a sketch-by-sketch basis.
How has SNL changed in the years that you've worked there?
E.J.: It's bigger, that's for sure. And we do a lot more pre-taped pieces than we used to. They're really successful online, so not only do we do more, but we do them faster than ever. Also, I think the quality of what we put on television has changed. We've gone from sketch comedy to what I would categorize as movie-quality costumes, as best as we can.  
T.B.: TV has evolved, and so have costumes — and hair and makeup. People expect higher-quality costumes. In those early days in the '70s, it was much more theatrically pulle- together and had that kind of flying-by-the-seat-of-our-pants quality. The expectation now is that even if we are going to fly by the seat of our pants, the quality can't look like that.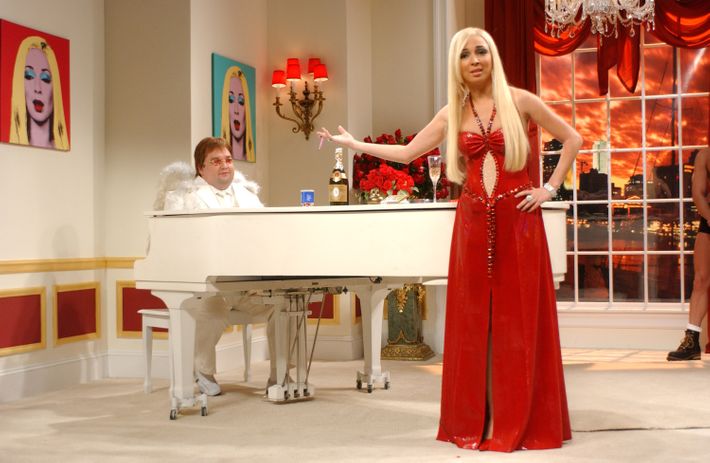 Horatio Sanz and Maya Rudolph in "A Very Special Valentine's Versace," 2004
Broecker: Maya as Donatella is sort of a match made in heaven. I think Eric said it best: "You take Versace and make it into the aesthetic of Saturday Night Live, but at the same time keep the integrity of Versace." We're not necessarily making fun of it, just sort of winking at the idea of this character doing this thing.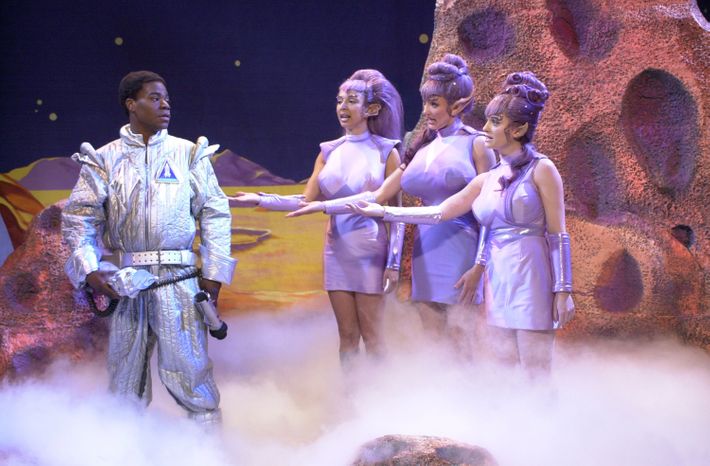 Tracy Morgan, Maya Rudolph, Cameron Diaz, and Amy Poehler in "Astronaut Jones," 2002
Justian: It was fun to look at past television designs as inspiration. We always had books from Lost in Space out when we did these sketches. Broecker: It's funny to create 1960s aliens through a 21st -century ideal. They always wore purple or green, and all they ever did was comment about how sexy they were and how big their breasts were.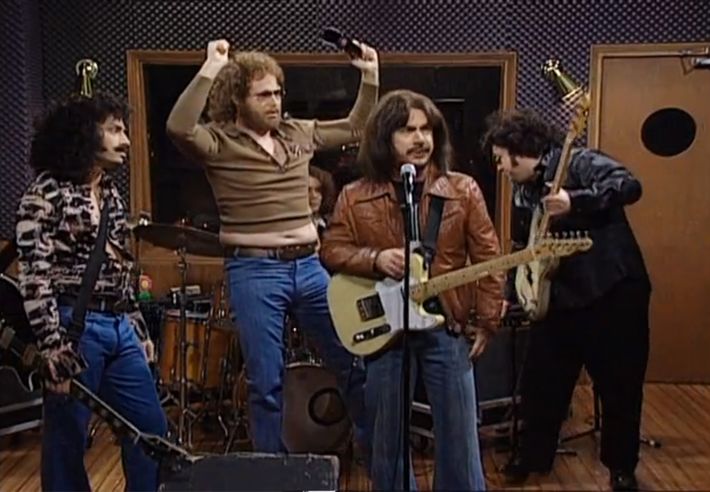 Chris Kattan, Will Ferrel, and Chris Parnell in "Behind the Music," 2000
Justian: Will was egging us on to put him in clothes that were too small. It was actually an accident that we put him in that shirt at first — and then he kind of fell in love with it, and so we kept it. I remember laughing really hard in the wardrobe room as we were doing the fittings. He would start gyrating around, and laugh because the shirt was too small. At first we were like, We can't send that out there, he's going to show his stomach. And then we just let it go.  Broecker: Will is really fearless. He has no problem with anything — he just wants to laugh.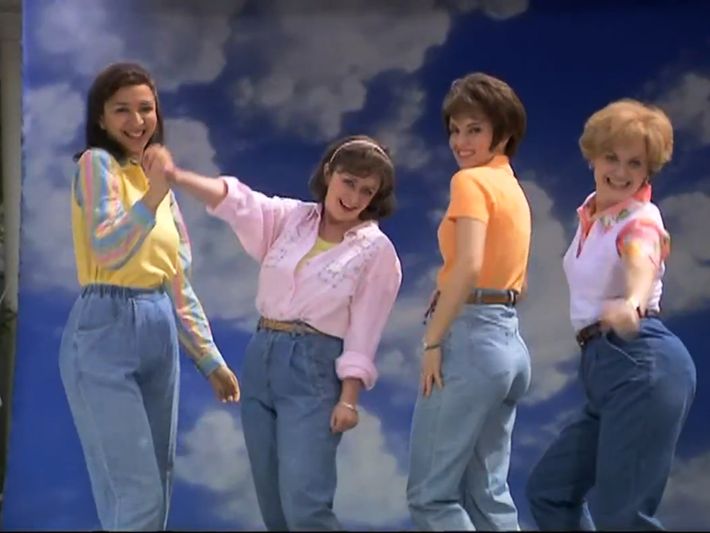 Maya Rudolph, Rachel Dratch, Tiny Fey, and Amy Poehler in "Mom Jeans," 2003
Broecker: The mom jeans were really fun. We put fat padding around their stomachs and butts, and then got the jeans too big so we could sculpt them over the padding.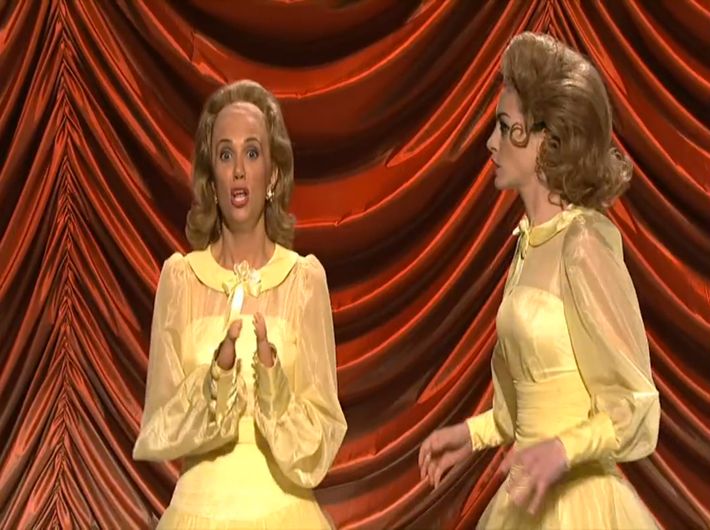 Kristen Wiig and Anne Hathaway in "The Lawrence Welk Show," 2008
Broecker: Each time we did the Lawrence Welk skit we had to make sure that the costume was long enough for her to hold her tiny hands. There always had to be a certain length of sleeve.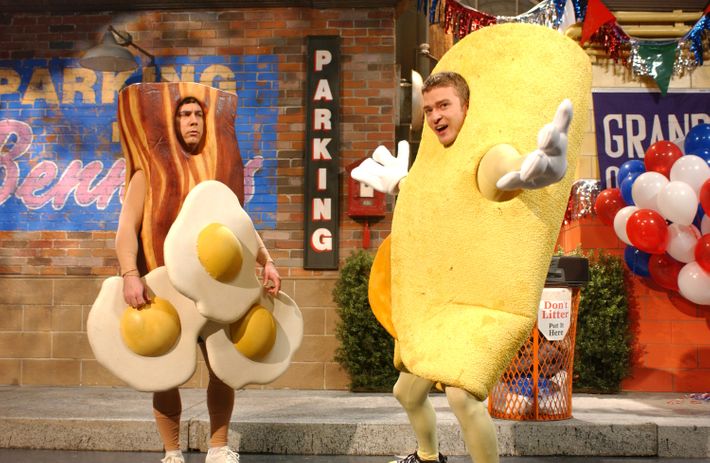 Chris Parnell and Justin Timberlake in "Benny's vs. Omeletville," 2003
Justian: Justin's brilliant in the whole thing. He makes the costume work. He puts it on and then even before he hits the stage he figures out, What movements can I incorporate in this dance, and how can I make this foam piece work to my advantage as opposed to being a hindrance? It's amazing to see him work like that.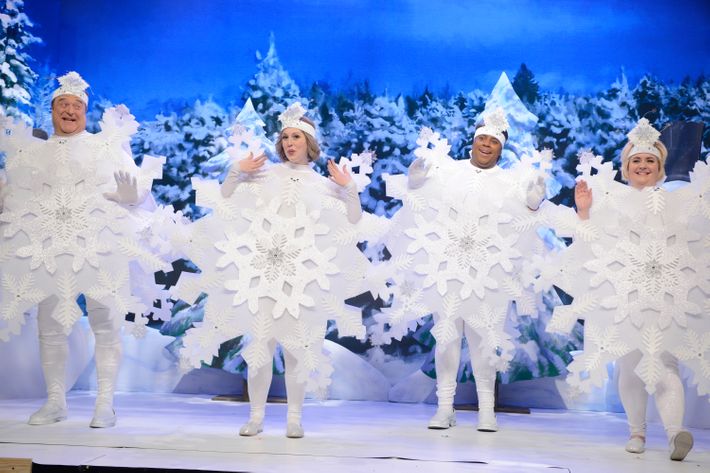 John Goodman, Vanessa Bayer, Kenan Thomas, and Aidy Bryant in "Dance the Snowflakes," 2013
Broecker: It's always interesting to interpret a snowflake into a costume. We had our costume shop make them — they had to figure out what material would be light enough for people to wear. It took us so long that they didn't even have them ready for rehearsal, so we had to give them tape measures so they knew how wide they would be so they didn't bump into each other.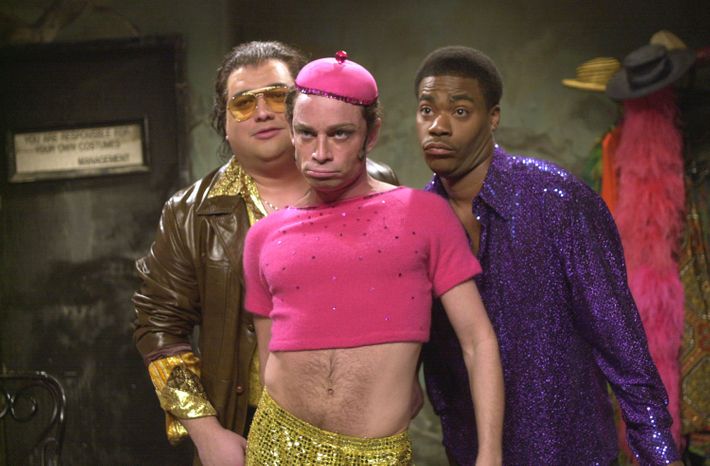 Horatio Sanz, Chris Kattan, and Tracy Morgan in "Mango and Gwyneth," 2001
Broecker: Any time you can dress a boy in gold, glittery hot pants — super-short-short-shorts — who's just willing to go for it is always fun. He was sort of like this French, chanteuse-y, kind of sexually ambiguous gay guy, so to speak. It's always fun to dress boys as girls.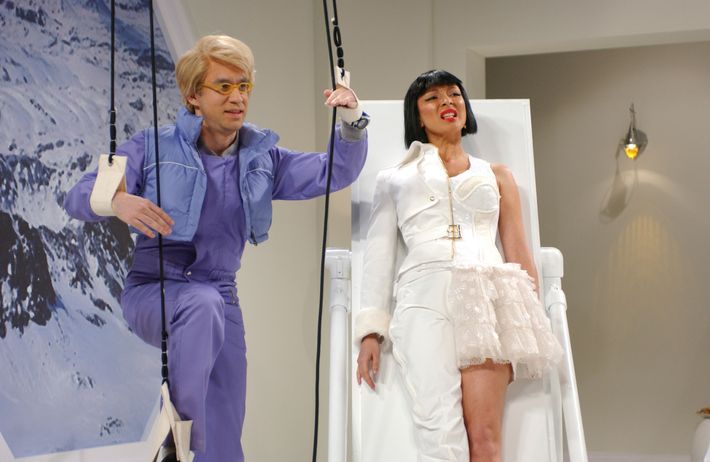 Fred Armisen and Maya Rudolph in "Art Dealers," 2005
Broecker: The Nuni-Noonie characters were fun to design, because you have these Japanese, avant-garde, totally pretentious art people, and then they're stuck in all these different places. There was one where we had them do a barbecue — so it's like, how do you interpret all of that information into a barbecue?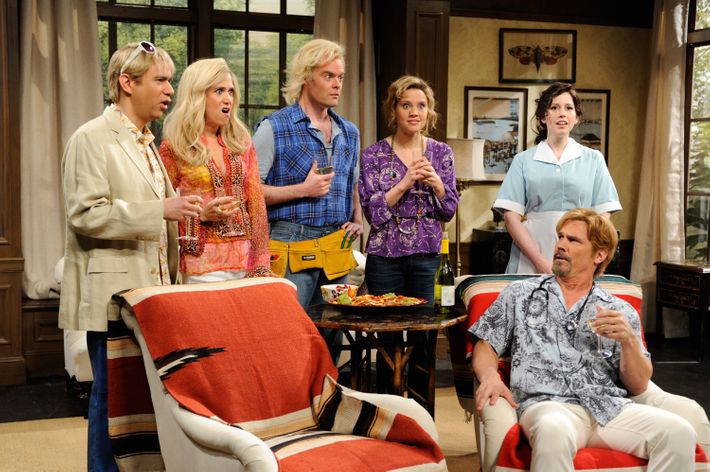 Fred Armisen, Kristen Wiig, Bill Hader, Kate McKinnon, Josh Brolin, and Vanessa Bayer in "The Californians"
Broecker: It's always fun to make fun of people from California and how they dress. That's what the sketch is about — every sort of California stereotype we just threw in there.