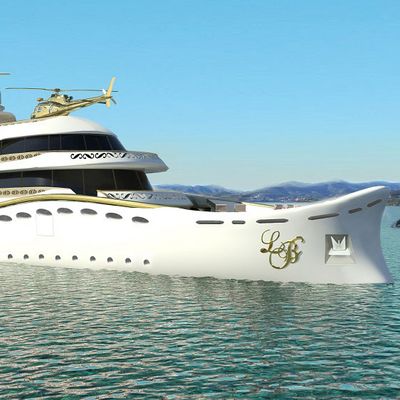 Photo: Lidia Bersani Luxury Design
For all of us whose retirement plan includes taking up permanent residence on a cruise ship, here's a new goal for those twilight years. A British design group, Lidia Bersani Luxury Design, is hard at work on "the first mega yacht designed for a lady": a big ol' boat targeting the underserved market of female millionaires with Paris Hilton's taste preferences. Finally, true gender equality!
The yacht, dubbed La Belle, is described as a "riot of opulent gold mosaics, mother of pearl, Swarovski crystal chandeliers, gemstones, onyx and bespoke wooden furniture." It's a true Versailles of the sea, totally devoid of man-trappings like dartboards or computer games. Instead, the five-level boat contains a spa area, a snow room, ice fountains (ladies love Frozen, you know), a small fitness club with an outdoor Jacuzzi (not a large one; large fitness clubs are for men), a cinema where you can watch all the romantic comedies, a beauty center, and a disco club where you can turn on Beyoncé and channel the empowering vibes of a megayacht designed just for you.

The boat can fit 12 full-size adults, but why would you ever need anybody else to share this special space? You've finally found your room of one's own.