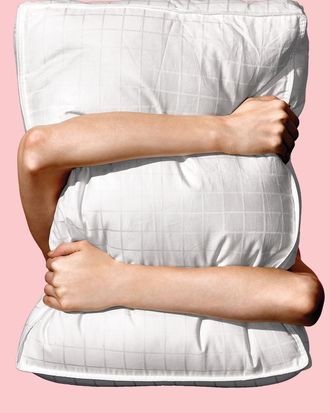 Carpenter Company's Beyond Down Side Sleeper pillow.
Photo: Bobby Doherty
The goal: Find a pillow to please side and back sleepers (that's most of us)—firm enough to keep the neck and spine aligned, with just a hint of marshmallow. We spoke to bedding stores and sleep specialists across the region; they steered us away from newfangled stuffing (shredded rubber, buckwheat) and superfluous luxury (high-thread-count casing) toward machine-washable down alternatives. Then we did some rigorous sleep tests.
The verdict: Carpenter Company's Beyond Down Side Sleeper ($25 at Stein Mart) has a boxy, gusseted shape that keeps the head from sinking whether you're in the fetal position or face up. Instead of allergy-inducing goose down, this pillow is filled with silky gel fibers, which help prevent lumping and clumping and, unlike feathers, won't get mildewy from evening-shower hair.
*This article appears in the February 23, 2015 issue of New York Magazine.