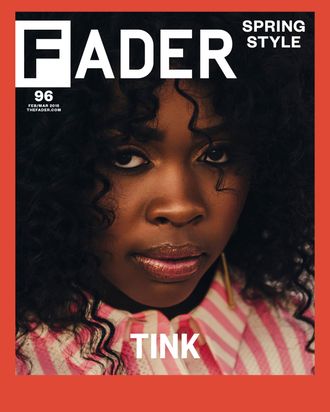 Tink is a dazzling 19-year-old rapper from Chicago, Timbaland's latest protégé, and the songwriter who speaks to women who "don't identify with the 24/7 flawlessness of Taylor Swift and Beyoncé" (so writes Jenna Wortham at The Fader).
In the profile, Tink talks about the way in which her image doesn't mirror other contemporary, popular female singers:
"I'm in my own little lane, doing just me." Here, she does a cute little body roll in her chair. "I don't have to fit in."

Tink and I agree that her beauty should be irrelevant to how she's assessed as an artist, but she's aware that swipe-right-if-you-like visuals hold power. "Having to deal with social media is both good and bad," she says with a heavy sigh. "I'm brown, I don't have a big ass, my lips are full. I'm not the ideal pop star, not what you see on TV. I look like I could be your best friend." As much as anyone can, she's done her best to make peace with the haters, which mostly means she's stopped reading comments. "I would rather impress you with my storytelling than with the size of my waist and my hips," she says.
Done:
And done:
And done: