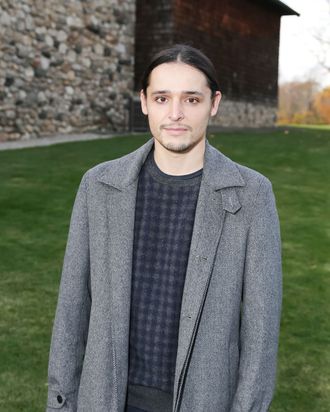 Photo: Matteo Prandoni/BFAnyc.com
After parting ways with Theory in June, Olivier Theyskens has had some time to step back and survey the state of the fashion industry — and his conclusions are definitely worth heeding. In an interview with Dezeen, the Rochas and Nina Ricci alum reflected on his beginnings, the plight of  young designers today, and the oversaturation of Fashion Week. Here are some of his observations:
I think one of the reasons why people supported me a lot [at the beginning of his career] was that there was a boring moment between 1994 and 1998, when no new designers were really showing up. When I started it was a moment when Raf Simons started, followed by Jeremy Scott. There was a little group of new stuff showing up, and I think that suddenly people felt excited.


Now in every season and every fashion week, you have 10 or 12 new names. I think it's scary. If someone really talented, in any situation, could be a good star and it might work — if someone is truly strong today. At the same time, a lot of brands that are less prepared, they are facing tough situations with so many new brands … It's saturated. During New York's fashion weeks, you have shows with young designers when you barely have a third of the seats taken by people. It's tough. I know some young designers for whom the PR agency says "you have to do a show" and they will spend all their money on that and it will have zero impact. The people who show up will be the ones that couldn't go to better shows. It's tough, so I think for young designers they have to find more professional support to show that they have the right people on their side. You have to be more professional now when you start than before.
If Theyskens decides not to take another design post, he could definitely hack it as a fashion critic.