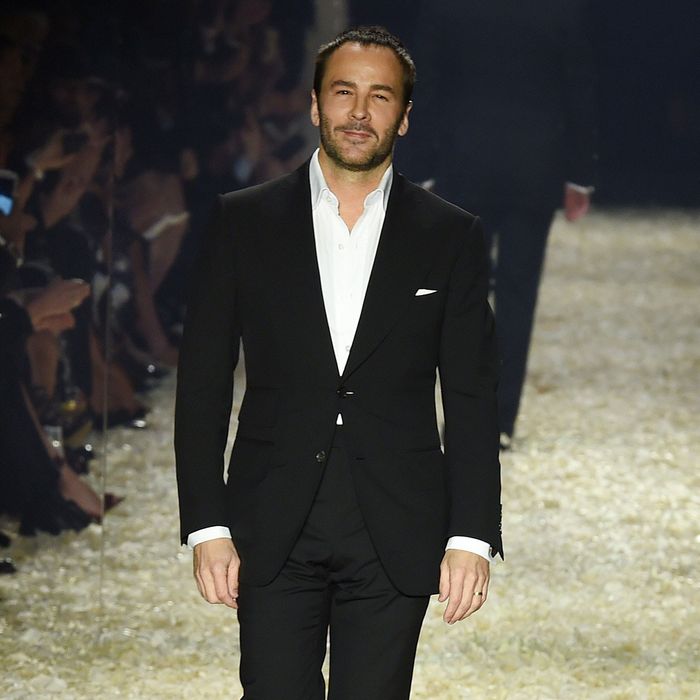 Tom Ford and his potential leading ladies.
Photo: MARK RALSTON/Getty Images
When Tom Ford convened L.A.'s starriest crowd for his fall 2015 show on Saturday, he may also have been conducting a casting session of sorts. Ford, who revealed earlier this year that he has written the screenplay for his second film and begun the casting process, was interviewed by Yahoo! Style's Joe Zee, and he dropped a major hint. "Could the movie be starring someone in your front row?" Zee hazards. "I would say yes," Ford responds coyly. But who could it be? Newly minted Best Actress winner (and A Single Man star) Julianne Moore? Beyoncé? Miley? Time to revisit our slideshow of all the A-listers in the front row this past weekend and hedge your bets.
The designer also had a well-reasoned response to the #AskHerMore movement that has sprung up on red carpets of late. "Because it now has become such a thing where people do spend months and make five dresses for them and send them," he said, "if you wear one of those dresses, and a company has invested hundreds of thousands of dollars or has paid you, yeah, you should say who it is. Of course." Mr. Ford: ever an advocate of good manners.