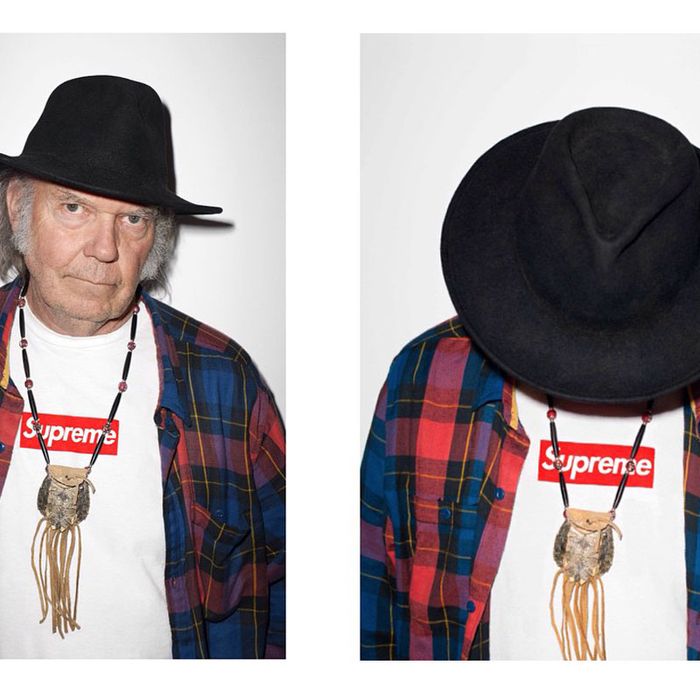 At around 1:30 a.m. Tuesday morning, a 28-year-old graphic designer was walking around Chinatown, enjoying the snowfall and taking a brief break from working at his computer, when he spotted a group of freshly wheat-pasted posters featuring a photograph of 69-year-old folk rocker Neil Young, shot by Terry Richardson. Young is the face of the skate-inspired men's fashion brand Supreme's new season— a job that entails appearing on these posters, on the brand's Instagram feed, and on a T-shirt. Past campaigns have featured Kate Moss, Lou Reed, Lady Gaga, and Mike Tyson.
The wheat-pasted posters, which have cropped up in cities around the world, are actually Supreme's only method of advertising, but thanks to the brand's cultish devotees, there was a line around the block outside the Lafayette Street store when the spring/summer 2015 collection went on sale today at 11:00 a.m.
So in the early hours of Tuesday morning, when the 28-year-old — who declined to give his name, and asked to be identified as "the Secret Squirrel" — came upon the posters, he took advantage of the situation. "I just walked over and touched one and it was still sopping wet with paste, so I peeled it down, and it came right off. I was like, 'Cool, I got one!'" He brought it home. (Ironically, Supreme itself might get a kick out of this — the brand seems to smile upon vandalism. It hangs the posters up guerilla-style, sometimes on mailboxes, and hands out its stickers with every purchase, which you have probably seen on the backs of streetlights between 14th Street and Canal.)
But when he looked the poster over at home, he was ambivalent about putting it up on his wall. "I wouldn't say that I'm, like, a Supreme head," he explained. "I have pieces by them, of course, but I don't wear any of their stuff that says, like, 'FUCK YOU,' or has the big box logo. I think those are super-tacky. But I have a black button-down. I buy the pieces from them that could be any brand, like I could have bought it at Barneys or at Supreme. Actually, do you remember, like six years ago, when there were lines around the block, and people would roll up in taxis next to the line and throw water balloons on the people waiting in line? And Super Soak them? I love those people. I want to give them hugs."
And then the Secret Squirrel had another idea for his poster: "I went on eBay and saw someone else listing one of these for $150, Buy It Now! And I was like, 'Shit, I should go get more.' I knew it would go for dough. So I went out and got 25."
He headed outside under cover of darkness with a bag of equipment; specifically, a Supreme duffel bag packed with "box cutters, a palette knife, one of those mini saws you use to cut drywall, and some garbage bags." These tools turned out to be unnecessary. "The weather was in my favor," he said. "The wheat paste was either freezing or super-wet, and both were making it really easy to peel the posters off."
He listed a few of his posters on eBay. The bidding on one of the posters is up to $51.00. For this "tryptic" [sic], i.e., three posters stuck together, the Secret Squirrel is asking $450. "There's one that's at $11.50, but they all have 10 or 12 watchers each, and I've been getting a lot of messages about them," he says. If the price seems a little steep, well, the market is an oligopoly — the Secret Squirrel and a handful of others are the only ones who are selling the posters on eBay at the moment. "You can't buy these anywhere else. Supreme doesn't sell them. Maybe they would give them out to friends and family of the store, but those people wouldn't sell them," he added. (This might not exactly be true. One seller is selling two brand-new posters, never wheat-pasted, for $300 each.)
The Secret Squirrel's sales strategy takes a nod from Supreme's own ethos of small runs for every product: "I'm gonna space it out," he said. "If I list all 25 at once, let's say there's only 25 people interested in buying these, they would each go for a dollar."
And not all of his merchandise is equally valuable. "Only like 10 of the 25 are in really good condition, so I'm gonna list one in really good condition and one that's really fucked up at the same time, and that way, someone who's a cheapo can get a fucked-up one, and if they wanna spend a little more, they can get a crispy one." He thought about this for a second. "It's totally up to them," he said.