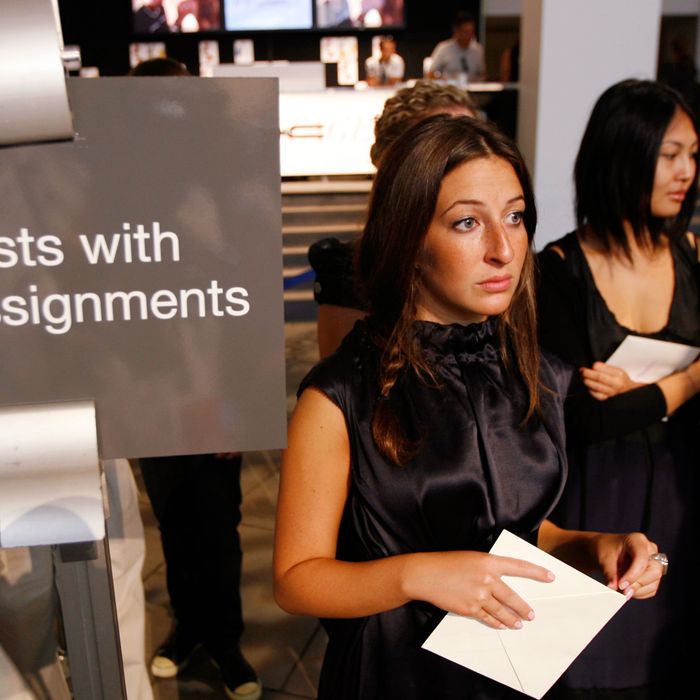 A worker, not chronicled here, during Fashion Week.
Photo: Keith Bedford/Corbis
They often report to work at 6 a.m. They often stay past 11 p.m. They aren't allowed to speak to the guests or they'll get fired. They aren't allowed to take out their phones or they'll get fired.
And then there's the dress code.
"Only pants are pants. Skirts are not pants. Leggings are not pants. For the record, J.Crew Pixie 'pants' are leggings — J.Crew lied to  you. Uniqlo Leggings Pants are not pants. It really stinks to get turned away at 6 a.m. for dress code [violations], for your own sake, I implore you to make your pants choices wisely."
The pants have to be black, by the way.
The pants maven is Kate Simpson, a freelance event producer hired by the Council of Fashion Designers of America to staff New York Fashion Week twice a year. Her comments are directed at the 412 listed volunteers on an internal CFDA staffing website. These well-heeled young fashion enthusiasts are selected from thousands of applicants; some fly in from as far away as Africa, Europe, and the Middle East for a chance to be in the tents with designers, stylists, models, and celebrities.
Fashion Week means high stress and long hours for everyone in the industry, but it wouldn't be possible to pull off without this army of volunteers setting up, breaking down, and, in some cases, dressing the models. They are paid nothing for their work, which would seem to skirt the slew of recent lawsuits against companies employing interns without compensation, which led Condé Nast to discontinue its internship program altogether. In short, the Fair Labor Standards Act says that unless you have people doing work that's of no commercial value, doesn't displace regular employees, and offers training similar to what interns would receive in an educational environment, you have to pay them. There is an exception to the law for nonprofits engaging volunteers for "religious, charitable, civic, or humanitarian purposes," though it's not immediately obvious how handing out Manolos to models is the same as, say, handing out blankets to the homeless.
The CFDA declined to comment, but it's easy to see why the organization — and by extension IMG Fashion, which produces the event —  might be reluctant to pay: If the 400 workers averaged 30 hours each during the shows and earned $10 an hour, it would cost $120,000, per season, to start paying wages.
Judging by the instructions relayed over the past week on a password-protected section of the website ShiftPlanning.com, the volunteers are expected to behave an awful lot like this is their job, for the week at least. Not showing up for a shift, for instance, is absolutely forbidden. Here's Simpson again:
"… In the event of a dire emergency that causes you to drop [your shift] less than 24 hours in advance, you must contact me to explain your dire emergency. You may be required to provide proof (i.e. doctor's note, death certificate). Hangovers are not emergencies. 5 degree weather with freezing rain isn't an emergency (although I agree. It's nasty out there.)"
So what do the volunteers do, exactly? Here are the actual responsibilities given to a staffer setting up a show last week: (1) Put wrapping around tables; (2) Put fliers on benches; (3) Straighten benches (with a ruler. The benches must be very straight); (4) Pick up trash from the floor; (5) Show guests to their seats (on the aforementioned benches); and (6) Stand quietly at attention during the show.
If the educational benefits are meager, the benefits to a réusmé are much better. Volunteering is widely seen as a way to make contacts and break into an industry where knowing the right people counts for a lot. This is one of the many rationales for the legal findings against unpaid internship programs: Those who come from well-to-do families and can afford to work for free as interns shouldn't be at an advantage when getting started in the work world over everyone else.
The catch-22 for those looking to use their internships for résumé-building and bragging rights is that the first rule of volunteering at Fashion Week seems to be not talking about volunteering at Fashion Week. To quote the waiver and release volunteers must sign: "I hereby represent and warrant that I will not … describe my experiences at or in connection with the Event and/or Event Activities in any manner whatsoever via any medium. For example, I understand and agree that I may not make (or have any other person make) posts of any kind of my experience at or in connection with the Event and/or Event Activities on any blogs or social media [including] YouTube.com, myspace.com, facebook.com, Twitter, Instagram, etc. …"
No Facebook updates? No Instagram or Snapchat? For a week, while celebrities are swarming everywhere? According to one college-age volunteer and veteran of four shows, the key is just not to take out your phone while you're working. And, she says, "Even though she [Kate Simpson] says you can't say you interned, everyone says they've been interns." It's a tiny act of rebellion.
The original version of this article incorrectly stated that the CFDA did not respond to requests for comment. It has been updated to show that they declined to comment.