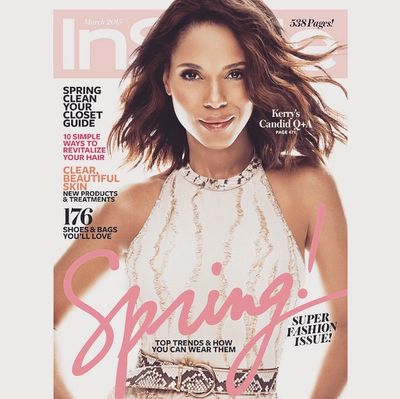 Kerry Washington on the cover of InStyle.
Photo: Kerry Washington/Instagram
Kerry Washington will be on the cover of the March issue of InStyle. And while the issue hasn't hit newsstands yet, Washington's Instagram post of the cover photo has already garnered criticism from fans accusing the magazine of lightening the actress's skin, reports Us Weekly. One commenter wrote: "Glad you made the cover kerry, but this isn't right. I'm sorry. It's not. Don't let them do that to you," and another simply asked, "Why is she white in this picture?"
Rather than deny the accusations, InStyle responded swiftly with a statement and an explanation on its site:
We are super fans of Kerry Washington here at InStyle. To feature her on the cover of our March spring fashion issue is both an honor and a delight. We have heard from those who have spoken out about our newsstand cover photograph, concerned that Kerry's skin tone was lightened. While we did not digitally lighten Kerry's skin tone, our cover lighting has likely contributed to this concern. We understand that this has resulted in disappointment and hurt. We are listening, and the feedback has been valuable. We are committed to ensuring that this experience has a positive influence on the ways in which we present all women going forward.
In recent years, other publications have faced similar accusations. In 2010, Elle received criticism from readers who accused the publication of lightening Gabourey Sidibe's skin, and in 2014, fans felt Vanity Fair digitally manipulated Lupita Nyong'o's skin tone. In response to InStyle's statement, Washington tweeted about the importance of this conversation: