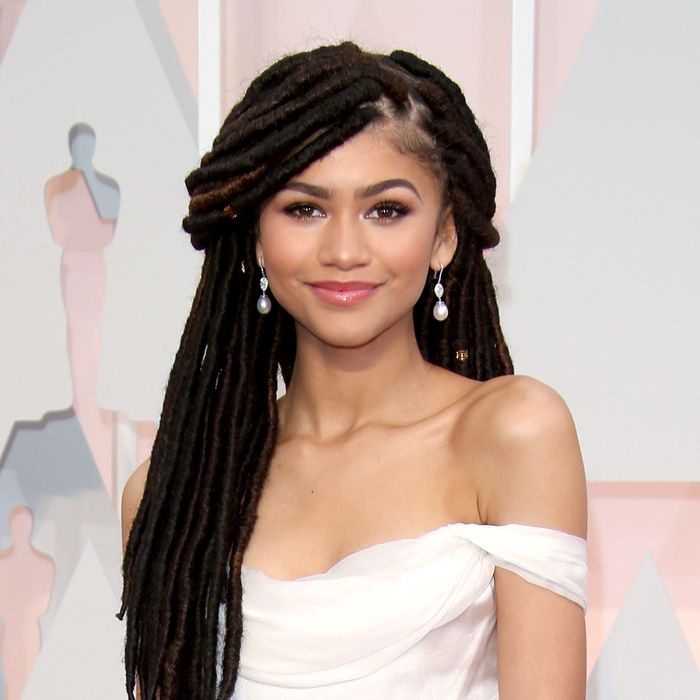 Zendaya.
Photo: Dan MacMedan/Getty Images
On Sunday night, actress Zendaya turned heads with her waist-length faux locs on the red carpet. It was a dramatically different look for the actress — she had a pixie cut earlier that week — and, since the red-carpet dreadlock is rare, a banner moment for natural hair styles. Plus, she looked gorgeous. So it's surprising that she had to defend her choice on Twitter.
Last night, during E!'s Fashion Police Oscars edition show, host Giuliana Rancic commented on Zendaya's red-carpet hairdo, saying that her dreadlocks made Zendaya look like she smelled of "patchouli oil and weed." Naturally, and rightfully, Twitter erupted in anger, calling Rancic's joke racist, xenophobic, distasteful, and ignorant (and citing Rancic's previous praise of Kylie Jenner for rocking dreadlocks as hypocrisy).
Eventually the situation elicited a long, eloquent response from Zendaya herself. Read below:
Rancic has already apologized via Twitter, insisting that she hadn't intended her comment to be racist; it was just, you know, accidentally racist:
And yes, Rancic's "joke" probably was unthinking, but it's still embarrassing that an 18-year-old has to remind a grown woman and television host why recycling tired stereotypes in this situation — discussing a black woman's natural hairstyle — would be offensive.