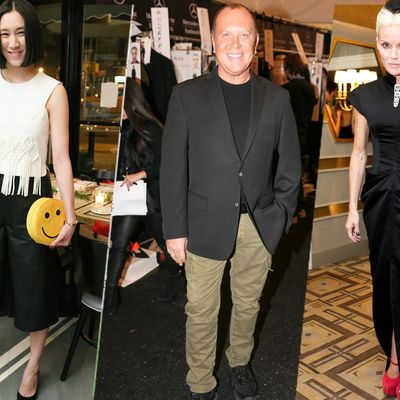 Eva Chen; Michael Kors; Daphne Guinness.
There's a new theme every day on It's Vintage. Read more articles on today's topic: The History of Wearable Tech.
With smartbracelets, -bands, and -watches on everyone's mind, we thought we'd inject a little style into the techie accessories. We asked designers, editors, and fashion personalities what they would design, if money — not to mention the bounds of reality — were no object. Some of the responses were completely fanciful, like Eva Chen's desire for a Harry Potter–style time-turner. But there were a number of patent-worthy ideas in the mix, too. Read on to find out about Graydon Carter's plans for a magical slimming jacket and Francisco Costa's chic smartearring.
Michael Kors: "Well, obviously, we'd be able to fly without a plane. I mean, if you travel the way I do, that would be the ultimate tech device. Like Samantha Stephens on my wrist."
Francisco Costa: "I'd like a tech device to be a chip, so it would be welcome in any places that you connect with. So if you have a great restaurant, and you go often, it's registered, and you just walk in. You have your 'likes,' and that's in that chip, and then you're welcomed into places that will require that for entrance. But the earring as a device sounds really good, too. A chip device in your earrings."
Pat Cleveland: "Automatic lip gloss in a telephone. Keep it juicy, honey. They never think of girls, everything hi-tech, but, you know, [put] a little mirror in it. Keep it light."
Jack McCollough, Proenza Schouler: "I've never worn a watch in my life. I've never been a gadget person. I want something that could put all my gadgets into one, I guess I kinda have that in an iPhone. I want to release myself from gadgets. When I went to college, I had a pager! No one had cell phones."
Eva Chen: "Does the time-turner from Harry Potter count? If you do three spins, you go back a few hours, and then I could get everything done, including running home to my baby, getting down to inbox zero, and photobombing Karl Lagerfeld. Apple, Tim Cook, if you're reading this: Please work on the time turner."
Graydon Carter: "I can't imagine one. Dream wearable NON-tech devices, yes. It would be like a jacket you'd put on that would slim you as you're just walking around. I know that was really uninteresting. I'm not a techie sort of person."
Andreja Pejic: "Maybe a space suit. I'd wear it to maybe the supermarket with a pair of Jimmy Choos. I'd just wear my space suit with my Choos — it would be cute." 

Chris Benz: "I'm still waiting for the Jetsons car to come out. It seems like we have everything else they had, like video intercoms and moving walkways, and the flying car is the one thing we've yet to accomplish."

Waris Ahluwalia: "My dream is actually to be tech-free. I barely use a computer. I have a phone, but eventually I'd like to wind that down."
Daphne Guinness: "I've got a lot dreamt up. Tons of them. Man, I've got to make them … I'm making things that are not fashion, but things that we really need. I'm reinventing the zipper. Because they always break. Just when you're about to leave and it goes 'click!' I'll probably make them for myself, because I don't know anything about production. I can only make like one of anything."