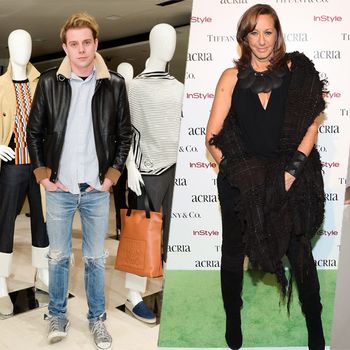 Jonathan Anderson, Donna Karan, and Martha Stewart
Photo: BFA
Martha Stewart keeps an archive of hers, while for Ivanka Trump they drum up memories of Mom in the '90s. J. W. Anderson overcame his initial "repulsion" to them with something bordering on obsession, while Gayle King hasn't worn one "in ages." Aside from the almighty Birkenstock, the power suit is one of the most divisive topics you can present to the fashion crowd. We asked 10 insiders to free associate about all things shoulder pad.

Martha Stewart: I actually have all my suits, by year! My first Armani suit, my best Gucci suit, my best Hermès suits. My favorite suit probably was a really beautiful silver Hermès suit with a skirt. When I went public and became an instant billionaire, I wore a suit!
Donna Karan: As a female designer, I believe in the power of women. How to access that power, how to make her feel it inside and out?  For our fall 1992 collection, we had done all these pinstripe suits with stretch lace underpinnings. They were looks that said, "I'm strong and I'm feminine." At first I envisioned a campaign with a woman dressing down men in the boardroom. But then I thought what would be more powerful than a woman president? I'm hoping to dress the first woman president, that's a real dream of mine. I can promise you won't be talking about the clothes — the attention will all be on her. Power dressing means the woman comes first and foremost.

J.W. Anderson: I was born in the '80s, so I don't really remember the '80s, but when I started to look into a decade that I had kind of a repulsion to, I started to then get really addicted to it, like [Claude] Montana, Comme des Garçons in the '80s was incredible — and still is today. And Margaret Thatcher — moments where it was all about a block look. And I kind of like this idea that women wear the trousers. Maybe it's not the jacket, but it's more about the trouser. As for the appeal of the power suit, I work with a lot of women and I kind of like that they control me.
Ivanka Trump: My favorite power suit moment was probably every moment of my childhood watching my mother go to the office in the early '90s. She had some real power suits — shoulder pads, Mugler! She really did it. I would say pretty much Monday through Friday, Ivana Trump, for most of my childhood, were my favorite power suit moments. [But] I don't think the power suit is that relevant anymore. I think now we're more comfortable expressing our femininity as opposed to assimilating, even in the most corporate of environments. So the power suit has actually sort of a retro feel to it, that I think could be worn by somebody young with a lot of confidence in a very fresh way today. But I don't think suits are overly relevant. I think the dress is the new power suit.
Patti Hansen: I've been holding on to my Claude Montana green leather jacket, since the '70s, and just yesterday I put it in a pile to share with someone else. I'm not going to wear it! What's it doing sitting in my closet all these years?
Janie Bryant: I am totally obsessed with menswear for women. Look at Bianca Jagger. She was married in practically the ultimate power suit, if you think about it. Wearing any kind of menswear-inspired garment for women, there's a feeling of control when you wear that. But I'm going to go with Alexis Carrington. She's kind of like my secret style icon. She's so gorgeous, and so powerful, and so bitchy. I love her!
Ariel Foxman: I love Jami Gertz in Less Than Zero. That severe black blazer, incredibly articulated shoulders. No blouse. Gold jewelry. And who can deny Heather Locklear's Amanda Woodward's power suit perfection on Melrose Place.
Adam Lippes: My favorite power suit moment was when they first appeared on the red carpet.  Michelle Pfeiffer wore an elegant tuxedo to the 1989 Oscars, followed by Jodie Foster and Julia Roberts in 1990 and 1992 respectively, all from Giorgio Armani. Armani was really the first one to bring the power suit to the forefront of fashion and in the 1990s it became the symbol of success and modernity for many people.  It brought to fashion an understatement and the idea of style without excessive design. It brings to memory my mother's wardrobe. For her, there was nothing more needed than the simplicity and reinforcement of a "power suit" by Giorgio Armani.  I'm not sure that the power suit has the same place as it once had, but I think that there is always a woman who wants to feel confident, understated, and tailored. There are few things that offer that besides a suit.  I recently spent a lot of time meeting with ateliers and factories that make exceptional tailored jackets and tuxedos. There is a real craftsmanship that is inherent in the pieces, and I think the woman wearing them can often understand that there is something really special in what she is wearing.
Robbie Myers: It's so funny, the first thing I think of is Michelle Pfeiffer [as Selina Kyle] in Catwoman.
Gayle King: Is it still appealing? I haven't worn a suit in ages. It's not that it's just not relevant; it's just that there are many ways to look powerful, and it doesn't have to be a blazer and a skirt anymore. You can wear a really smart, sharp dress; you can wear a skirt and a top. I'm not pooh-poohing it, I just think you've got options.