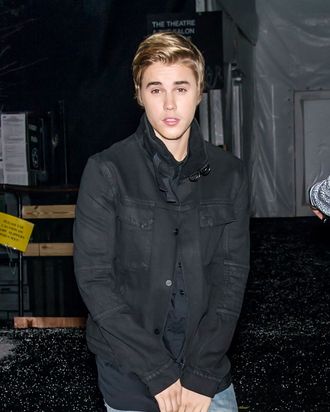 Justin Bieber, a person and maybe a grown-up.
Photo: Gilbert Carrasquillo/Getty Images
The growing pain of the world, 21-year-old Justin Bieber, was kindly invited to cover Men's Health magazine, evidently to talk through the intricacies of his pubescence. Among the things he said on the subject:
You feel like you wanna grow up and you gotta prove yourself. Hey, man, you don't need to prove yourself. I didn't know that, though.

You know I'm just getting bigger, man. It's like, my shoulders don't fit in some things.

It's funny. I still feel … like a kid. I just still feel young. I don't feel like I'm almost 21. At all.

Change is uncomfortable. Write that down.
Most important, he is going through his Alanis Morissette phase. He discloses that he loves signing "Ironic" in the shower. When pressed about whether this might be a joke, or a prank befitting his youthful age, Bieber reportedly began to wail: "It's like rayeeeain … On yr wedding day!" And never was there a greater proof of pubescence happening.