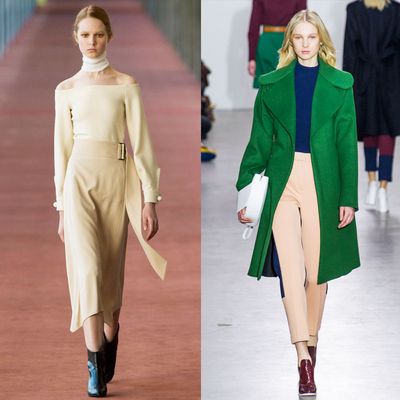 Christophe Lemaire; Rochas; Cédric Charlier.
Photo: Imaxtree
Fashion month usually brings over-the-top looks and accessories designed with fashion editorials in mind. But through all of it, we have to ask ourselves: What would we want to wear? Every day, the Cut brings you editors' picks — items from the runways they'd actually buy.
1. At Dries Van Noten, ornate fabrics paired with khaki were the stars of the show. This trench coat, perfectly layered underneath an Occidental crimson and gold embroidered jacket, made the case for a new kind of suit.
2. At Rochas, a wide belt cinched a green-and-brown dress with a sequined bodice to make for an interesting mixed-media look. Spangly heels and a sleek hairdo gave the whole thing an elegance that wasn't too prim.
3. There's a new silhouette to try at home: off-the-shoulder tops that fit long and slim. One example, at Christophe Lemaire, came with a tonal belted skirt, which looked especially cool. A detached turtleneck made it look directional, but not in a trying-too-hard kind of way.
4. Since we haven't seen too much color on the runways here yet, this deep-kelly-green overcoat at Cédric Charlier stood out. I could see wearing it in real life with complementary colors.