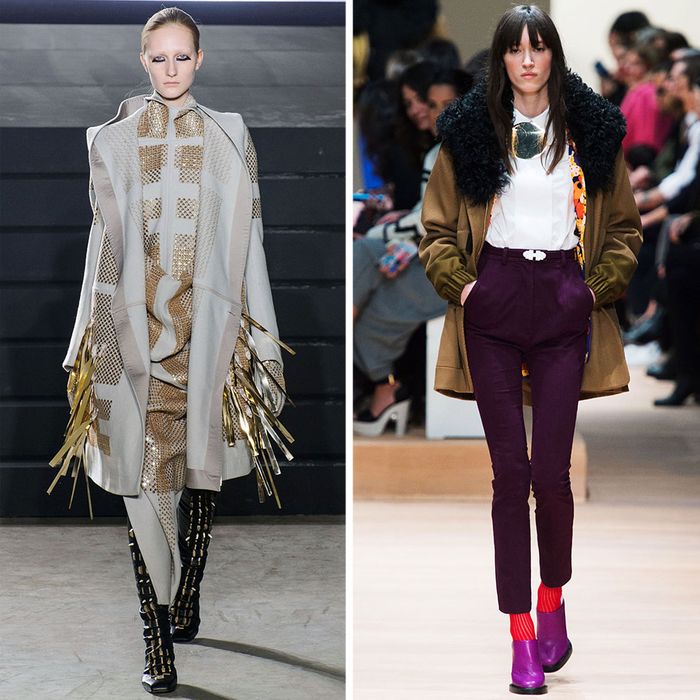 Fashion month usually brings over-the-top looks and accessories designed with fashion editorials in mind. But through all of it, we have to ask ourselves: What would we want to wear? Every day, the Cut brings you editors' picks — items from the runways they'd actually buy.
1. Lanvin's lush fabrics (think a mix of silk tassels, furs, ornate jacquards, and velvet) were layered to perfection. But there was a messy striped overcoat, which a model wore over contrasting soft florals and great gold boots, which really caught my eye.
2. Maybe the finale looks at Rick Owens were more avant-garde than most looks on the street, but I thought this coat, with gleaming metallic streamers would make for a most interesting evening coat (and jazz up any blue jeans).
3. The debut for Carven's new designers Adrien Caillaudaid and Alexis Martial offered lots of separates that will likely sell well. Their high-waisted skinny trousers (worn with fur-lined army parkas) were cute, especially in eggplant and olive green.
4. Eddie Borgo's new line of handbags were a modern take on the bags our grandmothers may have carried in the 1950s. I was most drawn to a tiny gilded evening bag just big enough for credit cards and cash, with a leather top handle (which came in black and green leather).