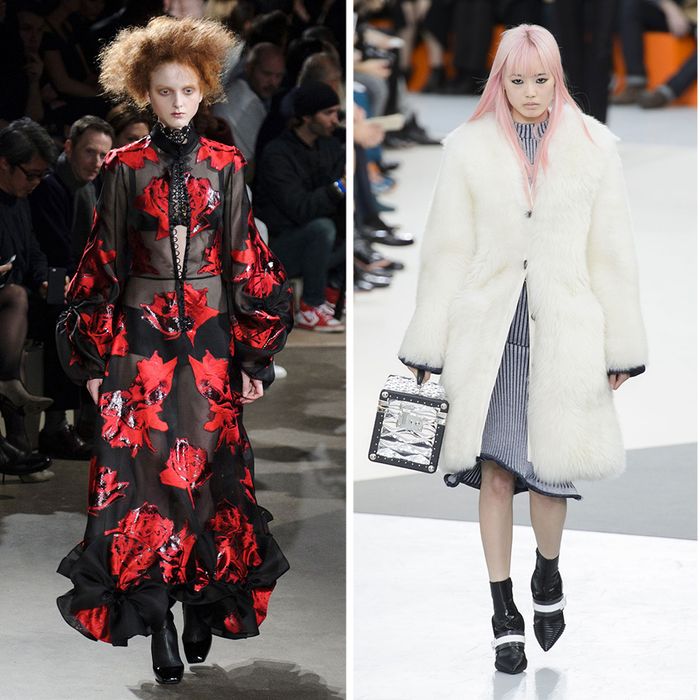 Fashion month usually brings over-the-top looks and accessories designed with fashion editorials in mind. But through all of it, we have to ask ourselves: What would we want to wear? Every day, the Cut brings you editors' picks — items from the runways they'd actually buy.
1. The lineup at Miu Miu was a colorful, kitschy mash-up of granny knits, snake prints, shirting, and bold jewelry. I liked the tonal mix of this glossy black stamped coat, which came paired with a dark-blue python slicked skirt, a striped sweater, and python accessories.
2. The first thing I noticed when this model walked on the Louis Vuitton runway was her pink hair — until I saw what she was wearing: a white fur, striped-knit dress, and little black pointed-toe boots. Basically, what I want as my uniform next fall.
3. Alexander McQueen's collection had sleek suiting (including one with an amazing red-fur collar) and beautiful soft gowns in both ruffled tiers and sheer lace. This floral long-sleeved gown was a stunner that, worn with a high-neck lace bra peeking out from underneath, was a modern way to evoke the dark romance of another era.
4. The gowns at Valentino were superb, as were the leathers, but it was also refreshing to see casual silhouettes (like wide-leg pants worn with silk blouses) added into the mix. One look demonstrated a clear way to wear these clothes in everyday life: a black slouchy sweater was worn with a black skirt embroidered with a rainbow of colors and a great pair of black boots.
5. Entering Brasserie Gabrielle, a temporary French café built just for the Chanel show, I knew was going to see a lot of the brand's trademarks. Case in point: The collection featured the house's signature tweeds, which were worn with the same cap-toe heel for every single look. One of my favorite looks was a gold-tipped knit cardigan and skirt with a big sweeping plaid coat.