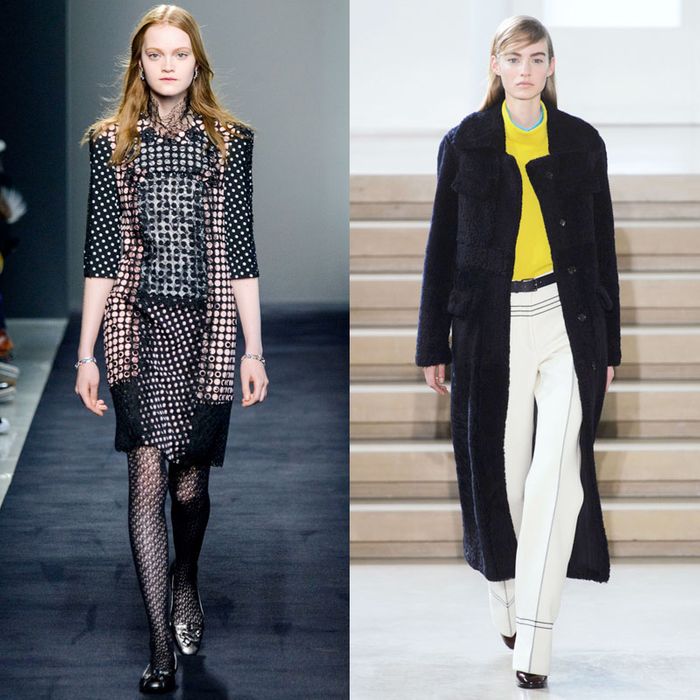 Jil Sander; Bottega Veneta; Marco de Vincenzo.
Photo: Imaxtree
Fashion month usually brings over-the-top looks and accessories designed with fashion editorials in mind. But through all of it, we have to ask ourselves: What would we want to wear? Every day, the Cut brings you editors' picks — items from the runways they'd actually buy.
1. At Jil Sander, a heavy navy shearling elicited audible excitement from certain editors in the crowd. It was perfectly tailored and styled with not one, but two turtlenecks.
2. Marco de Vincenzo edged black separates like a simple cropped jacket and slim midi skirt in bright colors, a neat way to give a simple look just a touch of interesting detail.
3. This Bottega Veneta dress had a lot going on — lace work, contrasting polka dots, and a strong square shoulder — but it would be just the thing to turn heads at a gallery party. Imagine wearing it with a low heel to minimize impact.
4. This pair of black boots at Tod's totally won me over: With a thick flatform sole and leather laces crisscrossing up the shoe, they made for an great-looking urban mountaineer boot.
5. The Dolce & Gabbana show was a rose-strewn love letter to all the mothers out there. There were really great black looks (in fact, the finale was a black-clad lingerie and model stampede), but I especially liked this streamlined suit with a double-breasted jacket and slim midi skirt.
6. and 7. I'm either liking everything designers put on model Vanessa Moody, or I'm becoming soft for chiffon. For all of Pucci's sexed-up looks, I loved this lightweight dress the most. Those seeking a bolder option would also love this scarlet silk chiffon ruffled gown.