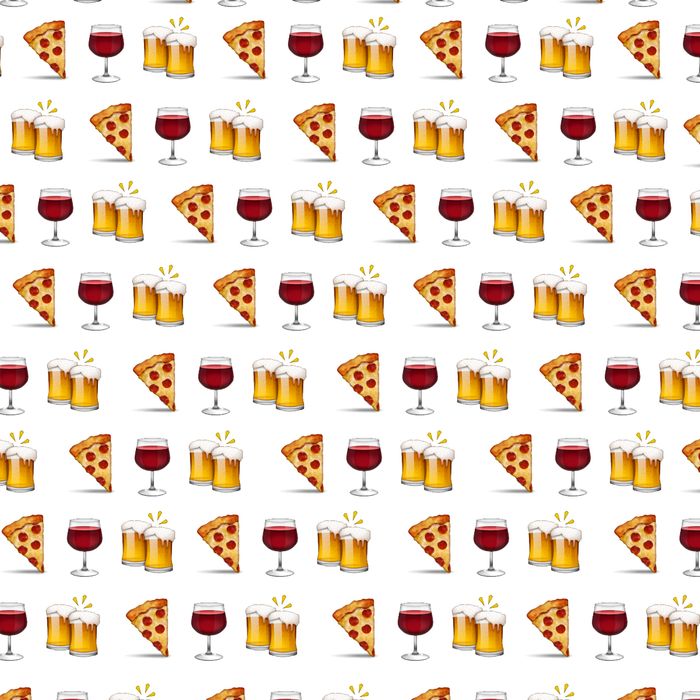 At Quartz, researchers determined the most popular emoji on Venmo, the payment app and incidental roster of millennial activity. The analysts collected data on every public transaction for a week (about 800,000 exchanges) and determined that a lot of people take out minor loans for pizza, wine, and beer.
Here are the top ten most popular emoji and descriptions of the indicated remittances:
Pizza (17,470)
• It's an on-the-go payment for an on-the-go meal between on-the-go friends! We're all leading such fun, busy lives right now!
Wine (12,454)
• I'm so glad we got a chance to really catch up last night, girl. Promise we'll do it again soon? Ugh, promise!
Two Beer Mugs Clinking (11,590)
• Cheers to you, sir, for briefly allowing me to be in your debt.
Disembodied, Exploding Party Hat (8,315)
• What a raucous and uncontainable night we had, and now it's time to reduce this celebration into a monetary sum.
Heart (6,969)
• Oh my goodness, I just love you so much. I love that thing you bought for me, and I love that I'm paying you back for it right now. What is love, if it's not an exchange?
Dancing Woman in Red Dress (6,572)
• Wow! You had so much fun last night. So much dancing from you, who knew you had it in you? Haha!
Face Kissing So Hard it Burps a Heart (6,370)
• This is a payment either for physical affection or attempting to demonstrate such a thing.
Tropical Drink (5,767)
• Thursday is the new Friday though! It really is, you're totally right, the weekend system is pretty arbitrary.
Small Home by a Big Tree (5,410)
• Whoa, look at you, slowly, surely working off the mortgage.
Single Beer (5,384)
• Enjoy this single payment, you generous micro-financier of liquid assets! Oh my gosh, do you get it?
There you have it, that's what everyone is buying, this is conspicuous consumption as told by micro-cartoons, these are the emoji of our lives.