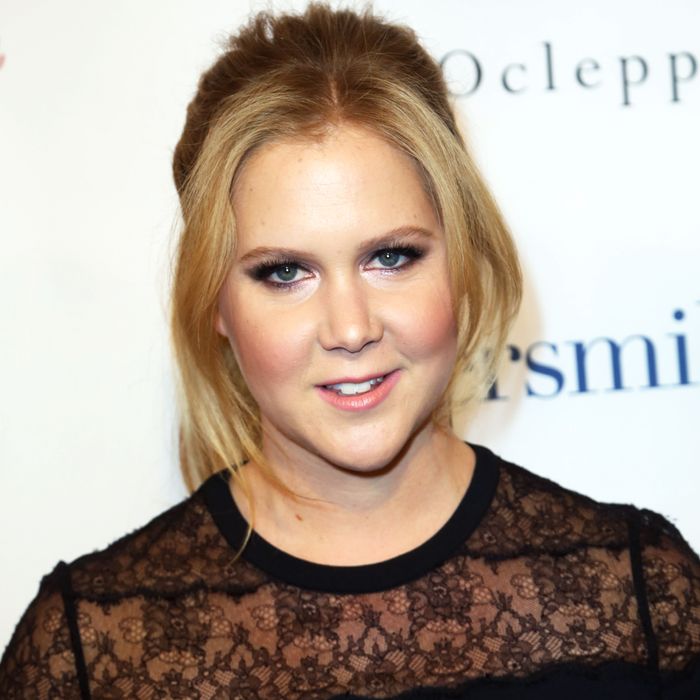 Amy Schumer, with the truth.
Photo: Richie Buxo/Corbis
Honorary anthropologist Amy Schumer has a corrective opinion about falling in love. Falling in love is a highly praised habit of human people, in which they give figurative parts of their hearts to another person for them to hang on to for a minute. It is often favorably presented in popular culture and frequently associated with positive metaphors and pleasant feelings and songs such as Mariah Carey's "Dreamlover."
Amy Schumer wants to remind everyone that, actually, falling in love can be a whole awful thing. In a SXSW panel on her upcoming movie Trainwreck, she said:
I was falling in love when I wrote Trainwreck, was scared out of my mind and wasn't even enjoying it. I was feeling sick all the time. It's like being on drugs. It's not even fun falling in love. You don't remember it until you're going through it and then you're like, "Why did I ever want to be in love?" It kind of sucks. I hadn't taken a look at myself and my behavior until he encouraged me to do that. It was really hard, but it was good, it was overwhelming. 

But [the relationship] was over before the second table-read! That guy was a sex addict, I found out, and that's always really fun at first, when you don't know yet and you're like, "Oh my God, I'm the prettiest girl in the world," and you're like, "No, he would fuck this table." Which is why I'm dressed like this today.

I love love, and I'm very hopeful and was raised on all the fairy tales everyone else had. I just noted that everyone's mom was dead and real princesses get beheaded, so I just have a more realistic take on it. So does Judd. We both have experienced a lot of pain and try our best to cope with it by making ourselves and other people laugh.
That's how it goes, sometimes! But it's better than beheadings and things, so at least people don't usually have to worry about that in the nonfiction world.