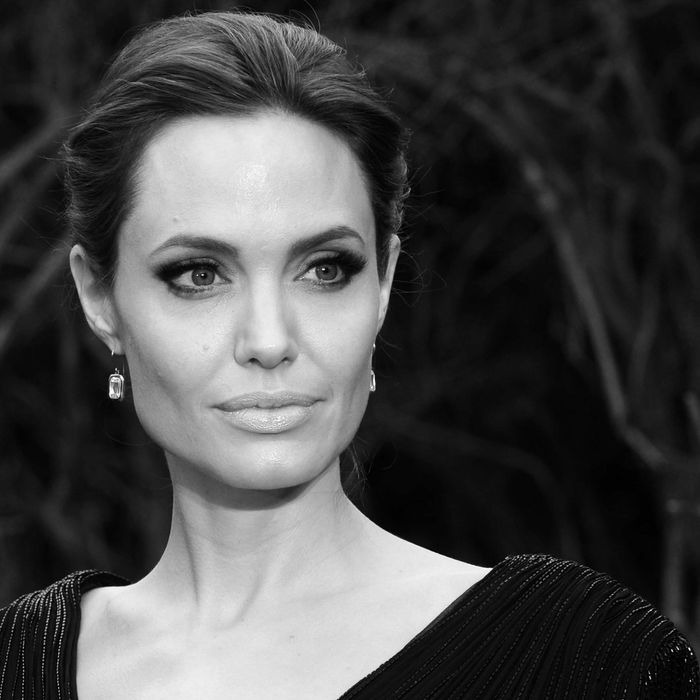 Angelina Jolie attends a charity event at Kensington Palace on May 8, 2014 in London.
Photo: Anthony Harvey/Getty Images
Updates on the state of Angelina Jolie's reproductive system are a regular feature in celebrity gossip magazines, but this one is actually true. On Tuesday the actress revealed in a New York Times op-ed that she chose to have her ovaries and fallopian tubes removed following a cancer scare. Two years ago, Jolie wrote an op-ed about having a preventative double mastectomy after learning she carries a mutation in the BRCA1 gene, which significantly increases her risk for breast and ovarian cancer. She says she was already considering having her ovaries and fallopian tubes removed when a blood test suggested she may be in the early stages of ovarian cancer.
"I told myself to stay calm, to be strong, and that I had no reason to think I wouldn't live to see my children grow up and to meet my grandchildren," she writes. "I called my husband in France, who was on a plane within hours. The beautiful thing about such moments in life is that there is so much clarity. You know what you live for and what matters. It is polarizing, and it is peaceful."
Jolie scheduled an appointment with the same surgeon who treated her mother before she died of cancer at 56. Further testing suggested she was probably cancer-free, but she chose to go ahead with the preventative surgery.  She says:
It is not possible to remove all risk, and the fact is I remain prone to cancer. I will look for natural ways to strengthen my immune system. I feel feminine, and grounded in the choices I am making for myself and my family. I know my children will never have to say, "Mom died of ovarian cancer."

Regardless of the hormone replacements I'm taking, I am now in menopause. I will not be able to have any more children, and I expect some physical changes. But I feel at ease with whatever will come, not because I am strong but because this is a part of life. It is nothing to be feared.
Jolie said she's sharing her story because she wants to encourage women in similar situations to take control of their health. "You can seek advice, learn about the options and make choices that are right for you," she said.