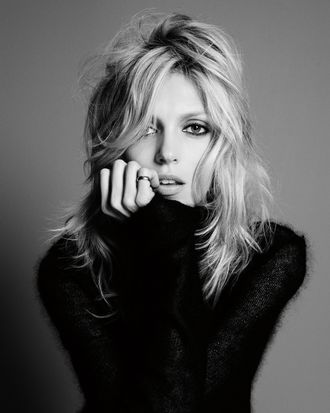 For the next installment of the Wellness Diaries, the Cut interviewed model, editor, and newly minted fragrance entrepreneur Anja Rubik. After years of being the face of scents from brands like YSL, Chloé, and Fendi, Rubik created and launched Original, a green-tea-, lily-, and peppercorn-based perfume that she describes as "feminist." Read on to learn Rubik's stance on weightlifting, why she calls modeling empowering, and how she says cold plunge pools get you high. 

I started modeling many years ago, and since then, I've grown as a person and as a woman. When I first started, sports and exercising were not in my routine. But for my job, my body is my instrument of work. I realized I had to do sports. It really impacts the way you feel psychologically and the muscles in the skin have to look right. You cannot reach that through any diet, just exercise.
If it's a day off, I just get up and go straight to the gym. I do different workouts. Depending on the day, I do a lot of gym work or yoga or Pilates or horseback riding for fun. I'm tall and long and fly a lot, so yoga is very important for my spine. I started to do a little bit of kickboxing, but I could never learn how to let my aggression out through kicking something. I thought it was ridiculous, but then I started to enjoy it more and more. I did have a phase of meditation. I felt very good, but I never fully connected to it. My husband was really hooked on it for three years. It was maybe not the right time in my life to start doing it. You need to be in a certain moment in your life to connect to it.
When I first started working out, I did a lot of cardio. I would almost get obsessed with running. But I lost a lot of weight and got too skinny. Right now, I like this dance class, Body by Simone, that I do once a week. I like it because it's really fun. It's not Tracy Anderson. I did go to her, but it was not quite my thing. It was too fancy for me.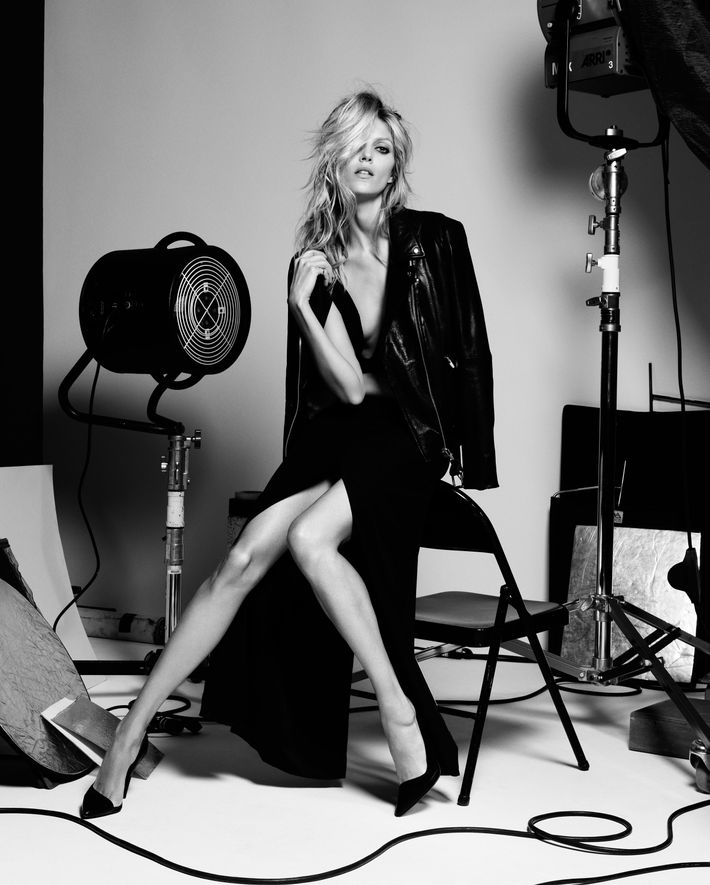 I have a trainer in the West Village that my agent recommended. Prior to that, I had a different trainer and he told me for the last seven years not to work with weights because I was too fragile. But you need to start lifting with heavier weights. Not, like, super, super heavy, but that's the only way your body will build muscle. I did that and my body reacted amazingly. I would have never thought that the change could come so quickly through lifting weight. But my back — I used to have a lot of back pain and it's been reduced a lot. It's kind of incredible.
I drink a lot of water. And first of all, I don't believe in any diets. Diets are tortuous; the most important thing in life is balance. The moment we forbid ourselves is when we really crave it. I'm actually a vegetarian, so I don't eat meat or fish. I eat a lot of vegetables and fruit. I also love any kind of smoothies. There is one that is great for the skin with kale, almond milk, coconut water, and dates. Or sometimes I do pear, banana, coconut oil, and water. That's really delicious and a nice way to start the day.
I also do a lot of saunas. Great Jones Spa is quite good for that, and then there's the Russian baths. I have a place in Warsaw, and in my building there's a gym, a steam room, and a sauna. It's connected to a ritual of letting the muscles completely relax after a workout. I have a house in Mallorca and a sauna there too.
Post-workout, I stay in the sauna about 12 minutes and then jump into a cold pool or into the cold water for about 20 to 30 seconds. The idea is to shock your body and veins. Your veins start to expand and shrink. It's actually very healthy for your circulation. And then you lie down for 10 to 15 minutes. If you do it right, you should feel a little dizzy and refreshed. If you're in the mountains, the saunas are on a rooftop and you walk out to minus 10 degrees Celsius and then go into a cold pool outside and back inside. You get an insane high and don't feel the temperature and feel like a newborn. And it relieves any muscle pain.
I've advertised a lot of fragrances over the years, but I was always embodying the vision of the designer or the house. But I started to research the power and impact of the sense of smell. I realized it would be incredible to put out a fragrance that smells amazing and has an empowering message behind it.
I'm a big feminist and for female empowerment. I'm very comfortable identifying as one. Nowadays, it is so hard to be a woman. With magazines and TV and social media, it's all about how to be, how to look, what to say, and it's so easy to lose yourself. I thought it would be incredible to inspire young women to find their own originality and thoughts, for them to create their own world and go back to their roots. The name of the fragrance, Original, comes from that and because I wanted to create something of my own. The scent is lily-inspired because I love lilies, and the black-and-white packaging is inspired by Robert Mapplethorpe's photography. Lilies are a flower that is very minimalist and fragile, but at the same time is a symbol of erotica. As women, we are strong and very sensual and erotic, even at times when we need to be quite powerful. It's a touch of quiet strength.
I consider modeling to be a feminist job. It's an incredible job; it's one of the ones where women get paid more than men. If you're good at your job, you get to be very creative and it opens very many doors, like I did with my magazine, 25, and perfumes. You get quite a bit of a following and an impact on young women and girls. You can do something very positive with that. Nowadays, it's not as glamorous as people think. But it can open your mind to many, many things.
This interview has been condensed and edited.