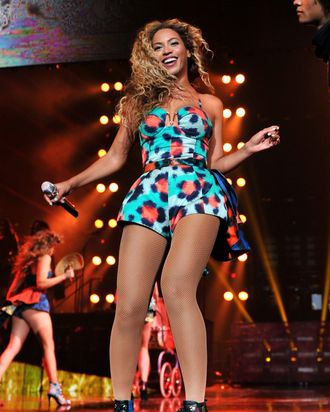 Beyoncé.
Photo: Kevin Mazur/WireImage
If you could capture Beyoncé's soul in a shoe, what would it look like? A furry Céline sandal? A fashion Birkenstock? Or a Giuseppe Zanotti covered platform stiletto? Well, the third — no surprise there — but in a fun twist, the Beyoncé shoe will soon be a reality. In an interview with Forbes, Zanotti revealed that he's doing an ultrathick platform stiletto in "collaboration" with the singer.
Zanotti says of designing the shoe, which will be available in the next couple of weeks:
"Beyoncé has very clear ideas — she knows exactly what she wants. The thing which she then also has over other celebrities is that she has an amazing voice. She's incredibly talented and she's an amazing dancer — she's complete. Few are like Beyoncé. I'm working on finalizing the shoe with her stylist right now. And Beyoncé will then say what she likes and what she doesn't like. It will be one shoe only."
He may not realize it, but he also revealed the main requirement to successfully embarking on a collaboration with the Queen B: total submission and susceptibility to Stockholm Syndrome.