Of Bikers, Balmain, and Elbaz
<span>The humanism of Lanvin was a striking contrast to the celebrity-worship at Balmain.</span>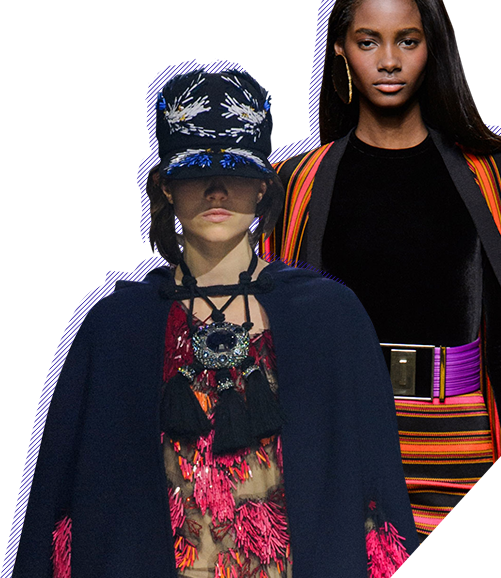 Of Bikers, Balmain, and Elbaz
The humanism of Lanvin was a striking contrast to the celebrity-worship at Balmain.
I've been getting around Paris on a motorcycle, a big Honda driven by a man named Olivier Santoni-Cosquer, whose company often ferries models to the shows. It's like driving with the top down. You see the sky, the silhouettes of the buildings, the trees along the Seine. There was a full moon last night as we came down the avenue from the Rick Owens show, its beams showering the Louvre. I just sat there grinning. The city I've known for 30 years suddenly looked different.
Of course, some things a fresh perspective cannot help. I was amazed by the size of the crowd outside the Balmain show, mostly kids trying to get pictures of the models and celebrities. Jared Leto, Kanye West, and Kim Kardashian, with her mother, Kris Jenner, were there, Kardashian and Leto as bleached blondes. People keep saying to me that nothing has changed, but I can feel a shift in the past year. When I saw Dries Van Noten in his showroom, an hour later, he thought so, too.
"It's a media business," I said to Dries.
"And product, product, product," he said.
But to stick with Balmain. For all the beaded fringe that designer Olivier Rousteing hung on the dresses — fringe the color of orange soda — and for all the expensive satin pleating, there was no artistry to it. The sex appeal was in doubt, too. Clingy lace knits revealed too much, and a girl would suffer in wide-leg satiny pants with pleats. She'd be constantly worried that her ass looked too big (and she'd be right). The bright colors and the way they were arranged in blocks, with splashy fringe, made me think of an Evel Knievel costume. Okay, now I know what to wear if I want to be shot out of a cannon.
But to me the dreariest part of Balmain, the thing that performed the shift from amusing runway spectacle to four-page spread in Hello! magazine, was the vaguely regal entrance of the West-Kardashians and their bodyguards/court attendants. It was the celebrity media scene that designers have wanted for the last ten years, but it's starting to feel dated and out-of-touch.
Van Noten has a much more modern grasp of elegance. And it's funny: Elegance is really impossible nowadays, because it requires rituals — like dressing for dinner. And nobody bothers anymore. Half of the front row this week is wearing sneakers. How do you evoke that attitude in a way that also inspires a little? That's what I thought Van Noten did so well this season. He proposed a lot of combinations, often in faded tapestry colors and patterns, with nostalgic toppings of fur or shearling fleece — and always an element that was grounded in the street, such as the khaki cargo pants and apron skirts. A Dries fan can easily cherry-pick through this collection — another plus. And I especially liked the spirit of tops with a half-peplum. The ones I saw in the showroom could be detached.
Where the belled, tuniclike jackets at Paco Rabanne were clunky, they looked free at Rick Owens. His essential idea was a tunic, in wool or cotton, or a combination of textures, with the back shaped into generous folds. At the front of a skirt or dress was a long tongue of fabric, while the back was short. It was an especially appealing look in all-black. And, again, Owens's drapery looks modern because it's rough-and-ready rather than manicured.
We zoomed through the evening traffic to the École des Beaux-Arts for the Lanvin show. West and Kardashian were there, but they could not upstage Alber Elbaz. This was a dazzling, self-confident show, and a good expression of the humanistic feeling that Elbaz can give to clothes. I mean by that a warmth mixed with a very refined attitude: the merest hint of a Moroccan caftan in a gray wool coat with side slits so you can reach into a trouser pocket; black tassels as the ties for simple coats; and white feathers forming squares on a navy wool skirt. The clothes looked comfortable, their feminine strength conveyed in the somber colors and austere lines of some below-the-knee jersey dresses. They were also a statement of freedom.
Jumping on the bike — an advantage of a bike is that you park in front of a venue — we set off across the Seine for the Vetements show. In the middle of the bridge I saw my friend Pat McGrath, the makeup artist, on the back of her bike. We hollered like idiots.
In the dungeon of a sex club, the crowd was waiting. It was after 9 p.m. Leto and West were there, only now there was no scene. And that is as it should be with Vetements, a label based in Düsseldorf and headed by Demna Gvasalia, who worked at Martin Margiela. Vetements, a finalist for the LVMH Prize, acknowledges a weariness with fashion — conceptual, trendy, ironic, all kinds. (Although it is as pricey as the next luxury brand.) But the spirit of the oversize coats — which make the wearer look slightly askew — is far from sour. In fact, each garment, from the motorcycle leathers (sigh) to a coat with major fringe to a nerdish corduroy pantsuit, seemed very well thought-out and attendant to a post-Margiela audience aware of every formula. And wanting something different.