Candor and Inspiration in a Changing Fashion Landscape
"Everything seems real and unreal at the same time."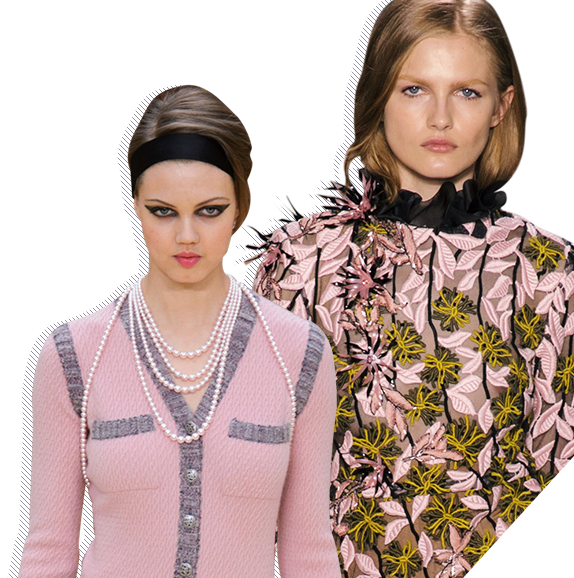 Candor and Inspiration in a Changing Fashion Landscape
"Everything seems real and unreal at the same time."
Wherever I've gone in Paris this week — up to see Lagerfeld at the Chanel studio, over to Saint Germain to check out the Sonia Rykiel show, to a dinner for the curator Olivier Saillard — people are talking about the same thing: a change in the air. "It's a change of spirit," said Lagerfeld, who for once seemed at a loss for words. After a moment, he said, "Everything seems real and unreal at the same time." 
For the Chanel show, he mounted a full-on, tweed-flying French collection set in a re-created Parisian brasserie staffed with real waiters. The suits with long skirts that you can actually walk and sit in, and a redo of Chanel's classic black-toed sling-backs, seemed to be trying to bring fashion back to its safe bourgeois home. He said that recent French bashing motivated him to do a show around Parisian culture. "It's not my mine," he hastened to add. "I'm a stranger here. I don't have to defend it. But it's not bad, in fact." As Lagerfeld, who has resided in Paris since the mid-'50s, turned his attention to a model, I noticed a plaque on his studio bookshelf. It said: "I like boring things."
Vive la différence!
And as a rich, cultivated, hardworking German of a certain age, he would only be too happy to admit, I suspect, that therein also lies the secret of a happy existence.
Some designers do not aspire to the comfort of bourgeois inspirations. Many people have reacted to Rei Kawakubo's admission that she's not inspired by fashion anymore. Beth Terry said on Twitter that her candor "cuts like a sword through the b.s. of designers." Fashion is definitely not in a creative period, despite the hubbub around the shows. A sure sign is the amount of vintage-inspired clothes on runways. Giambattista Valli usually does zesty clothes for his socialite tribe, but on Monday, he got tangled in '60s tunics and flared trousers. The many trims just added to the sense of blankness. What had I really seen? I had a similar feeling about Givenchy, though the seductive cut and dark, rich fabrics of Riccardo Tisci's dresses and suits, with Victorian touches, certainly will have wide appeal. But during the show I had that nagging feeling that I had seen many elements of the clothes before, from other designers — the draped-front skirts from Tom Ford? a soft peplum from Clovis Ruffin? — and that they had been culled and carefully composed, magpie-style.
"I think we're in a period when it's more about clothes than fashion," said Saillard, the guest of honor at a dinner given by Town & Country Magazine. I understood exactly what he meant: In the '80s era of Jean Paul Gaultier and Thierry Mugler, for example, designers competed to be the most daring and creative. Today designers battle more for real estate, mindshare, and clicks. A decade ago, even five years ago, a major designer would never have dreamed of allowing a celebrity to upstage him, as Ben Stiller and Owen Wilson did yesterday in their Zoolander turn at the Valentino show. I promise I'll talk about the clothes at some point, but after a riot like that it's pretty hard to care about a well-crafted dress. As my son, who never notices the shows, said in an SMS: "don't come back home until you get me Owen Wilson's pajamas."
It will probably sound defeatist to say that the better collections of the day were those that didn't try too hard — that just got on with it. Stella McCartney's fashion embodies that conviction. Her knitwear came as long tunics slicing across the body, as an easy pants suit in gray wool with a shrug-on jacket and a floaty, asymmetrical hem, and as a casual evening dress in daisy-chain crochet. She incorporated corsets into some of her tailored silhouettes, but they were mainly to introduce an extra bit of shape and texture and not to restrain the body. Some of her prettiest dresses, in white, included uneven side panels of floral brocades and lamé jacquards. Yet even at their most polished or sensuous, McCartney's clothes almost never fail to seemed relaxed, even a little detached from frenzy over fashion.
The sisterhood of women designers is most powerful in Paris. In fact, between Phoebe Philo of Céline, McCartney, Clare Waight Keller of Chloé, and Julie de Libran at Rykiel, they exert far more influence on stylish young people than perhaps they receive credit for. Waight Keller had a spot-on show, clear in its telling of Chloé's romantic story with lace-edged pieces. Libran is a pathfinder for contemporary Parisian style, updating Rykiel's knits with all kinds of bankable separates, like fleece-collared peacoats and silver minis. But she'll help her cause more if she finds models with personality and not blank faces. Nadège Vanhee-Cybulski is the newest design chief. Her debut at Hermès seemed almost too tasteful. Everything was done with classy restraint, from the chaste blue-black leathers to the plain-Jane knit dresses to the ubiquitous turtlenecks (or a scarf wound tightly at the neck) — and that was the problem. Fashion is many things — hey, it's a brasserie, a movie vehicle. It may even be a little boring. But one thing it is surely not is a church. Vanhee-Cybulski won't lose perfection if she goes out on a limb. But she may lose her audience if all she cares about is looking perfect.
That's not something Lagerfeld has to worry about. Chanel is a machine, the envy of its competitors, and though he may profess some consternation at the real/unreal state of affairs, he is one of its shrewdest architects. I'll have more to say about Chanel once I've been in the showroom — is the point of going to the show really about seeing clothes? — but I was impressed that, in the haze of looks and the bustle of waiters, he had found ways to cut through the noise.