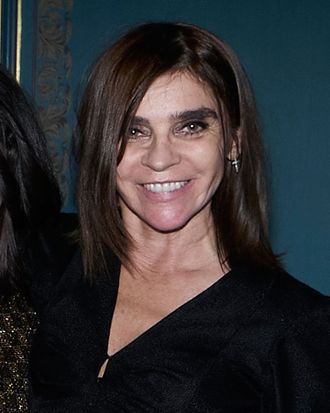 Carine Roitfeld.
Photo: Pamela Hanson
PARIS— Last night, Carine Roitfeld hosted intimate drinks at her favorite haunt, Hotel Raphael, to celebrate the sixth issue of CR Fashion Book, and ring in the end of fashion month (cue collective sigh of relief).
Close friends, including Selena Gomez, Karl Lagerfeld, Riccardo Tisci, and former CR cover star Gigi Hadid, fought off fashion-month fatigue to be there. "Carine is my 'fashion fairy godmother,'" Hadid told the Cut. "She's the person who has pushed for me and my career and supported me more than anyone."
Roitfeld, who recently had serious back surgery and has been forced to wear a corset for months, was finally corset-free and dressed in her signature black — Saint Laurent top and shoes, and a Rick Owens skirt, "like always." She spoke to the Cut about the new issue, Kanye West, and how she'd be up for a cameo in Zoolander 2. 
You're up to issue six now. How has CR Fashion Book evolved for you?
It's been two years and it's growing. We have a bigger team, bigger office … Issue six was mostly done in Paris — because I was in a corset and could not travel — but now I'm already working on issue seven, and seven is my lucky number. So if you like six, seven is going to be even better.
I love the story with the fake advertisements in the new issue. It's genius!
You like? For a long time, I have wanted to do that. I did the images first and then the writers in the office did the text. I thought they did such a great job. Without them, it would not have worked as well as it did.
Were the fashion brands protective at all?
I haven't had any feedback so far. Maybe people haven't seen it yet because it's Fashion Week [laughs].
Have you enjoyed Fashion Week? What have been some highlights for you?
The weather! Really, it has been amazing. It makes everyone so happy! In Paris, we had great shows and fabulous locations. When you look at what Karl did, and what Louis Vuitton did this morning — Paris really is the capital of fashion. There were great vibes this season.
Were you at Valentino? Did you see the Zoolander moment on the runway?
I was not there! I was shooting. I saw the pictures and I thought it was hilarious, and amazing to be able to do that. It made everyone so happy. I love the film …
Would you be in [Zoolander 2] if they asked you?
I would love to. Owen Wilson is very funny!
Did you manage to see Kanye's performances at the Fondation Louis Vuitton?
Because of my corset, I was not able to go anywhere, but it's amazing to see him and Mr. Arnault together talking about music and art, no? To see how finally the fashion world — what he dreamed of — he is a part of it.
Do you think the industry has finally accepted Kanye?
You know, when we did the issue with Kim on the cover with Karl and Riccardo, no one wanted to lend clothes, no one invited her to the shows, she was really rejected by everyone. Maybe we were good luck because after us she did U.S. Vogue, all the other magazines. Honestly, she is a very nice person. And Kanye's a big talent, you know? In the last issue, Kanye curated a feature about art, he's very cultured, he's doing so many things, I don't know how he does it all.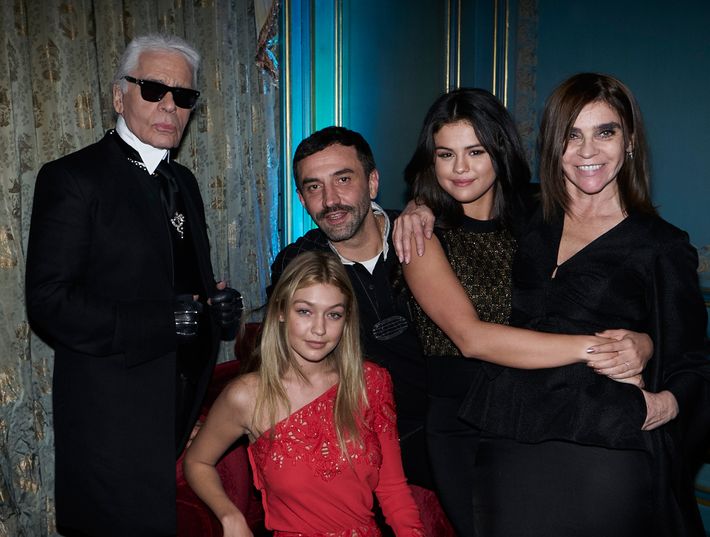 Karl Lagerfeld, Gigi Hadid, Riccardo Tisci, Selena Gomez, Carine Roitfeld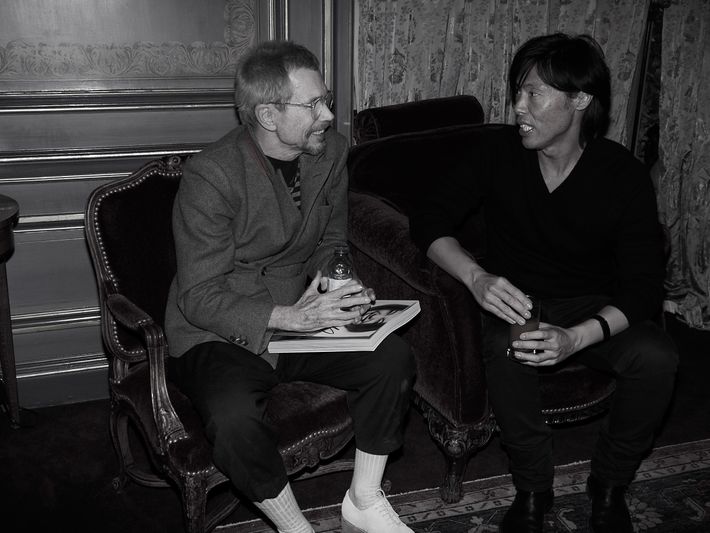 Jean-Paul Goude, Stephen Gan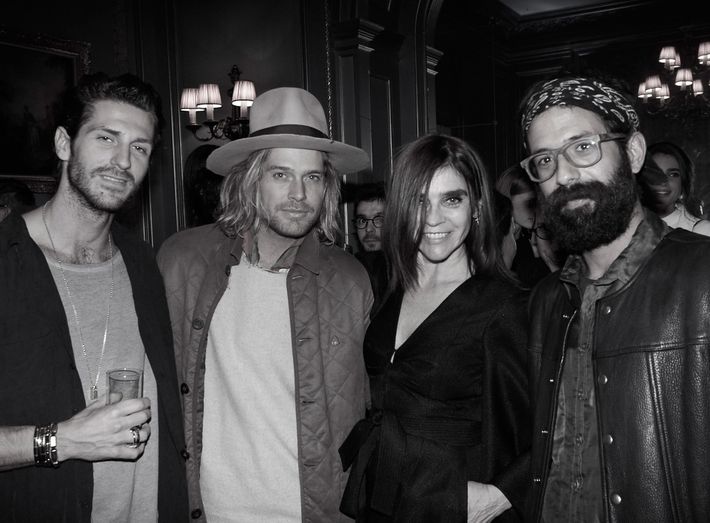 Jean-Thierry Besins, Nick Fouquet, Carine Roitfeld, Greg Chait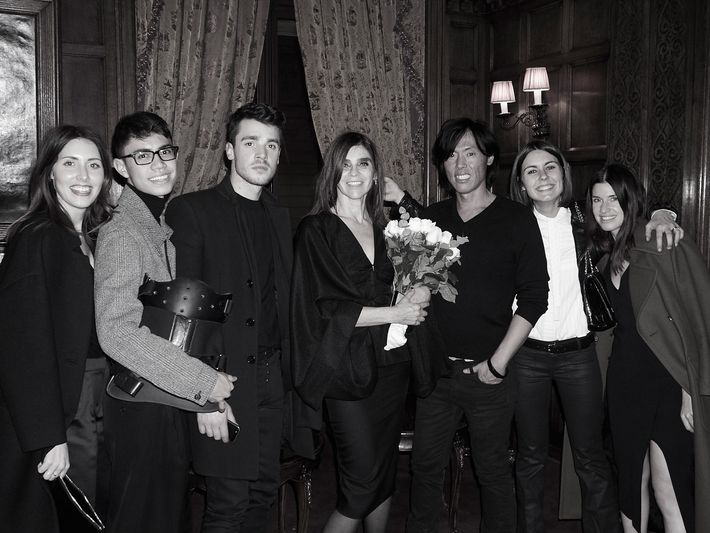 Sheena Smith, Ben Perreira, Remi Barbier, Carine Roitfeld, Stephen Gan, Constance Feral, Ray Siegel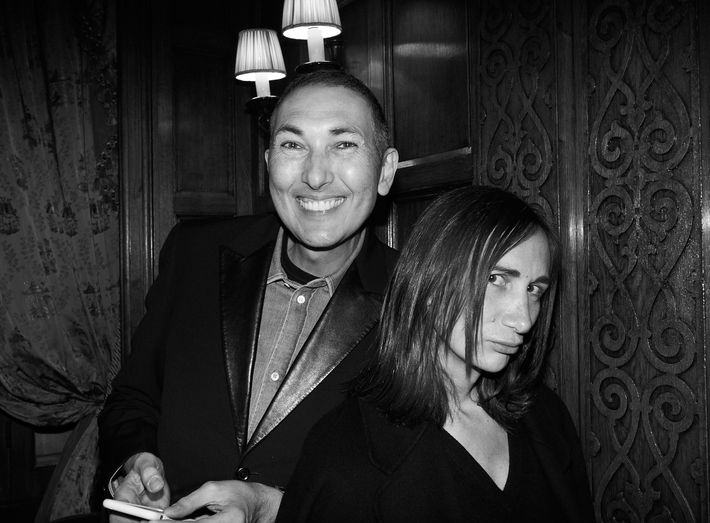 Jorge Garcia, Benjamin Galopin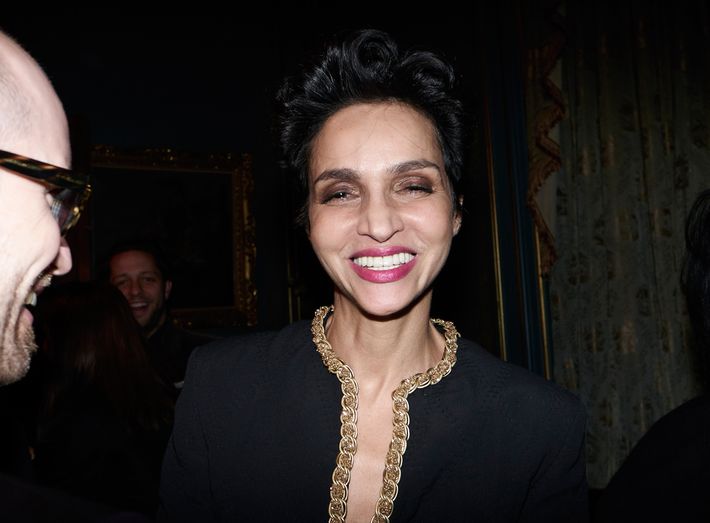 Farida Khelfa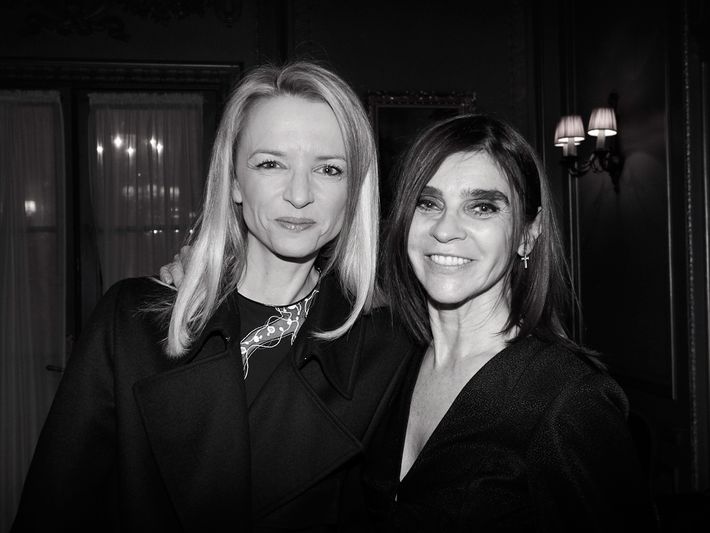 Delphine Arnault, Carine Roitfeld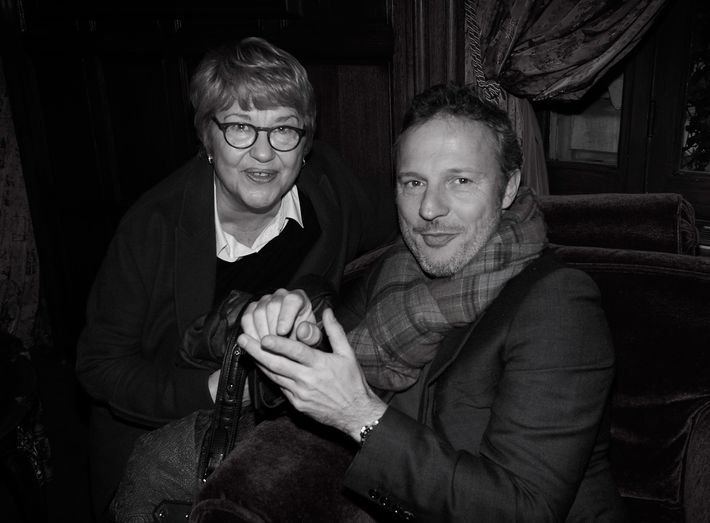 Maïté Souquet, Olivier Bialobos