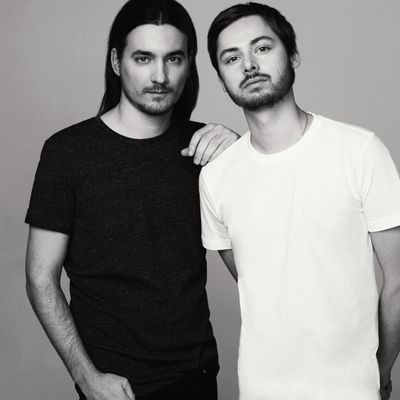 Alexis Martial and Adrien Caillaudaud.
Photo: Courtesy of Carven
At least one more piece in the ever-shifting fashion puzzle has been filled in: Carven has finally announced its replacement for Guillaume Henry, who departed the house in October to head up Nina Ricci. In a statement today, the French brand said it has appointed two individuals, Alexis Martial and Adrien Caillaudaud, as artistic directors. Martial was previously the creative director of the Italian label Iceberg. Prior to that, he served as the creative director of Paco Rabanne, and as a knitwear designer at Givenchy. Caillaudaud also spent time at Givenchy, working on shoes and accessories, and has also worked at Marc Jacobs.
Carven CEO Henri Sebaoun said in a statement, "We warmly welcome Alexis and Adrien to Carven as we continue to define a Parisian and new elegance for the woman of today. We look forward to the overall creative vision they will bring to the world of Carven." Martial  and Adrien Caillaudaud added, "We are thrilled to be joining this highly creative Parisian design house. Carven is a brand that conveys a beautiful sense of femininity and freshness that we look forward to continuing into the next era. We are excited to be working with Henri Sebaoun and the incredibly creative and talented teams at Carven." Sounds like the beginning of a beautiful friendship.