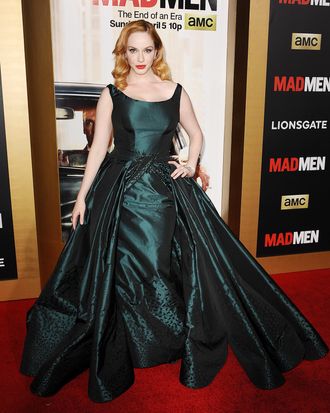 Christina Hendricks.
Photo: Jason LaVeris/Getty Images
The real drag about red carpets is that you have to commit to just one outfit — a truly uninspired status quo. Last night, torn between two different looks, Christina Hendricks rebelled against this oppressive tradition by performing a mid-red-carpet outfit change. She arrived at the Mad Men Black & Red Ball in Los Angeles wearing a very serious emerald-green Zac Posen ball gown, with a skirt that appeared large enough to pose an obstacle to sitting or, say, walking through a doorway. It turned out there was no need to worry about Hendricks's movability, though: While everyone was blinking, she discreetly detached the skirt, handing it to an assistant, and posed for another set of photos in a sleek, fishtailed variation of the original dress.