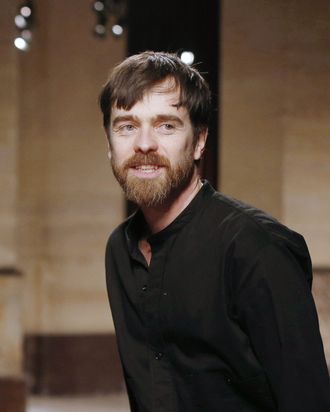 Christophe Lemaire.
Photo: Francois Guillot/Getty Images
This definitely won't be the last you hear of Christophe Lemaire. After parting ways with Hermès last fall, the designer has announced a collaboration with Uniqlo, beginning with the fall 2015 season. He will continue to focus on his eponymous brand as well, telling the Business of Fashion, "Hermès is not a brand you can manage from afar. I was very involved there, but I needed to be more involved here. To develop Lemaire well, I need to be very involved in the process … I don't believe in having an army of designers working for me where I'd only validate their work. I need to be at the fittings, to pick out the buttons. I can't flutter around several projects at the same time." Lemaire plans to open a store in New York or Paris, and is considering selling a minority stake in the company "to add fuel to the gas tank."
That said, he looks back positively on his time at Hermès. "It served as an accelerator for my own brand. Being head of the womenswear at Hermès gave me a stamp of approval," he told the site. "People who didn't really look at the brand started to look; people who didn't really know what to think of us, started to like us." Or in the case of Uniqlo, to really, really like him. Just call Lemaire the Sally Field of fashion.