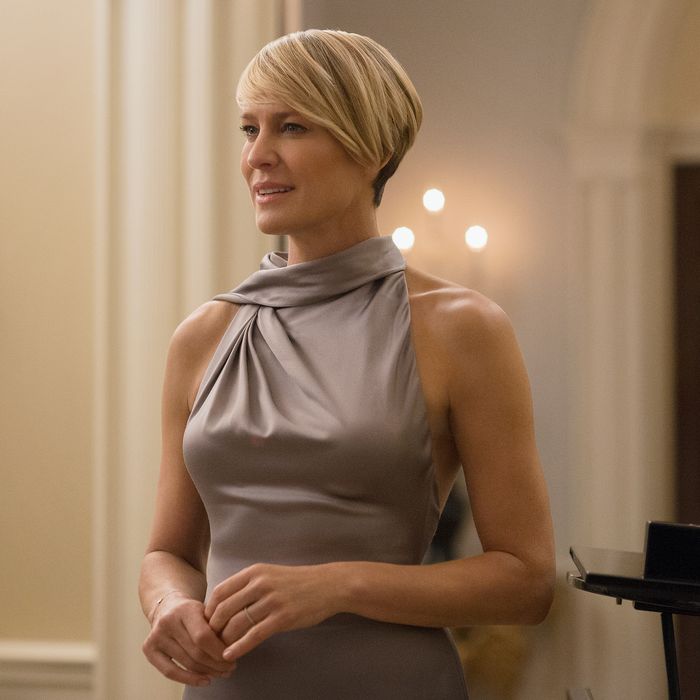 Robin Wright as Claire Underwood on House of Cards.
Photo: David Giesbrecht
Since I marathoned House of Cards a few weeks back, I've been replaying a few things in my head — Rachel walking down that long road (RIP), the final "I'm not going to New Hampshire" exchange, and Claire Underwood's totally spotless, no-hair-out-of-place beauty. The look, as House of Cards' lead makeup artist, Tricia Sawyer, told me, is one that's "present and polished" and projects "strength in her silence." 
Sawyer explained that Wright uses an unexpected high-low mix of makeup on the show: Armani Luminous Silk Foundation, Dior Eyebrow Pencil, and a lipstick, Sonia Kashuk No. 21, which she buys at Target. Like Underwood, the understated pale-pink lip color has an unexpected side: It's called Sheer Pink Lust.
Even as First Lady, Sawyer explained, Claire doesn't change her beauty often (other than drastic hair transformations from blonde to dark and back again) but stays with constants. "I think it's true that on most women, they don't change their lip and eyebrow colors very often," she says. "It grows to become part of their wardrobe — and I wanted her to have that same thing, because real women don't change a lot." And at $10.99 per tube of lipstick, what could be more real?