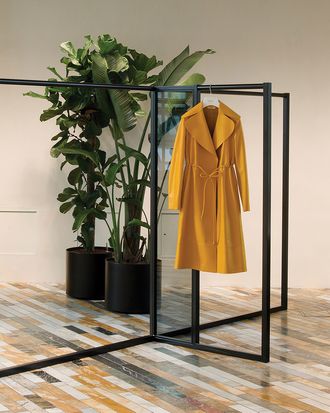 A coat from spring 2015 in the showroom.
Photo: Robert Polidori/WSJ Magazine
The house of Céline has brand-new digs — namely, an hôtel particulier in Paris that dates back to the 1600s. WSJ. magazine shot the space for its April issue, which hits newsstands next Saturday, and while designer Phoebe Philo was characteristically sparse with her commentary, the brand's CEO Marco Gobbetti gave a window into the brand's unorthodox brick-and-mortar approach. From what he said, it doesn't sound like Philo's wares will be coming to a virtual shopping cart near you anytime soon.
"I feel fashion has overcrowded and has made a lot of noise on the Internet," Gobbetti told the magazine. "I think that being quiet gives more value to what we do. We think it is important to touch the clothes — much of what is special is lost on e-commerce." And while the brand is expanding its retail presence, it sounds like it's doing so at a measured pace. "I don't expect Céline to have 400 stores," said Gobbetti. "That's not our path."