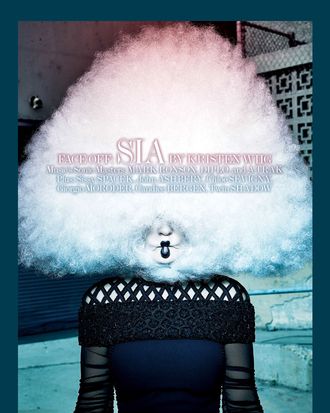 Photo: Courtesy of Interview Magazine
How do you get ready for a big party or special event? I like to apply a hair mask, dance around to Beyoncé, and preorder my late-night pizza. No matter how you prep for a fancy night out, though, it does not approach celebrity standards. Sia is on the cover of the April issue of Interview (in a huge face-shrouding wig, natch), and inside the magazine, in an interview conducted by Kristen Wiig, she discusses her pre-party routine:
I was excited because I got invited to these big, fancy parties. And then you realize, "If I'm going to go, I'm going to need to get a tan. I'm going to need to have my roots done. I'm going to have extensions, probably. I'm going to get a stylist for sure. I'm going to have to work out five times that week with Jennifer Aniston's trainer." This is commerce and I'm $5,000 in the hole just to go to a party.
It's a lot, but actually, it sounds a lot less neurotic than expected from someone who routinely covers her face with a massive wig.