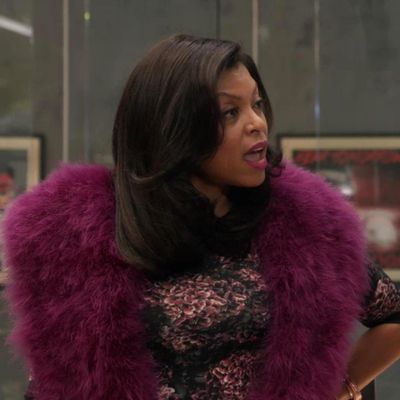 Taraji P. Henson as Cookie on Empire.
Photo: FOX
What makes Empire so glorious? A combination of completely unrealistic family drama (a secret love child!), totally bizarre plotlines (blow-job bibs!), and, of course, Cookie's bad-bitch outfits.
But in the beauty department, too, there are standout moments. Cookie knows how to accessorize a tight eyeliner with a mean brow arch. And, as the show's Mrs. Robinson, Naomi Campbell wears bangs — the kind of bangs you show your stylist before demanding a chop. Terrence Howard also brings strong hair game, transitioning from a high-maintenance blowout to a neat dad haircut.
The Cut spoke with Melissa Forney, Empire's lead hairstylist, and Beverly Jo Pryor, the show's chief makeup artist, about how they create the hair and makeup looks on the show. And, fittingly, the beauty routines are just as over-the-top as the characters. From Cookie's ultraluxe skin-care treatments to Terrence Howard's hot towels, read on for a behind-the-scenes look at Empire beauty.
Melissa Forney, hairstylist:
Whom do you work with on the show?
I work with everyone, including Taraji and Naomi Campbell. I started out doing Terrence's hair in the pilot. But then we changed him up a bit. We felt like it was kind of too old-school, but that's what Terrence wanted in the beginning.
He wanted that blown-out hairstyle?
We went old-school with it — we used the iron and oven [a precursor to the modern curling iron] to make barrel curls. And then we just combed it back in the shape that he liked. He has a lot of input on his hair. That was for the pilot. Now we only use water and Vaseline. It's a natural deal. That's pretty much what he does every day.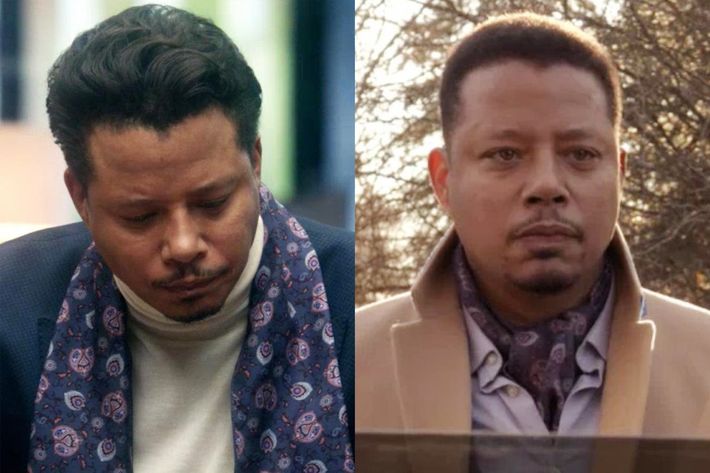 What's your favorite hair look on Cookie?
I like when she had that fuchsia stole on — I loved her hair in that. I took the wig and I cut it and curled it with an iron. Once I do the curls, I pin them up. Then when I let the curls fall and comb it out, it looks loose and natural. You can watch her go into character once she has that wig on.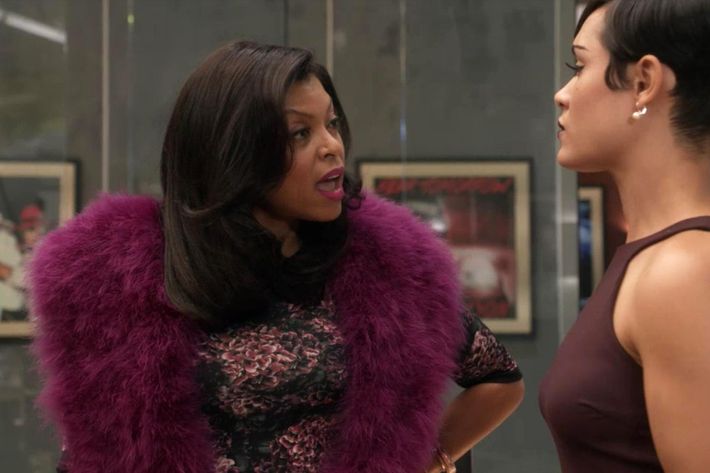 What's the process for putting on the wigs?
I press the wig in the morning before we put it on her. She goes through makeup, I prep the wig, and once she's done with makeup, we braid her own hair under the wig. Her own hair is fabulous, by the way. But we braid her hair to keep the damage down. It takes anywhere from 20 to 30 minutes, if that much.
What products do you use on the cast?
I like the Kenra line for Taraji. I like to use a light hair spray so I can continue to comb through it, and if I have to re-curl it, it doesn't get hard. I use Catwalk dry shampoo to revive hair. I like the Moroccan oil products — I use maybe a dime-size amount of the oil on hair. Once a week, I use Miracle 7 to wash the wigs. Another line that I use is Healthy Sexy Hair; it's soy-based. They have a leave-in conditioner that I've given to several other actors. Miss Jessie's Baby ButterCreme is a product that we use on a couple of the men.
Tell me about styling Naomi Campbell.
She pretty much knows what she wants. I flat-iron her extensions and blow out her bangs with a blow-dryer and a round brush. I try to shape them so we can see her face.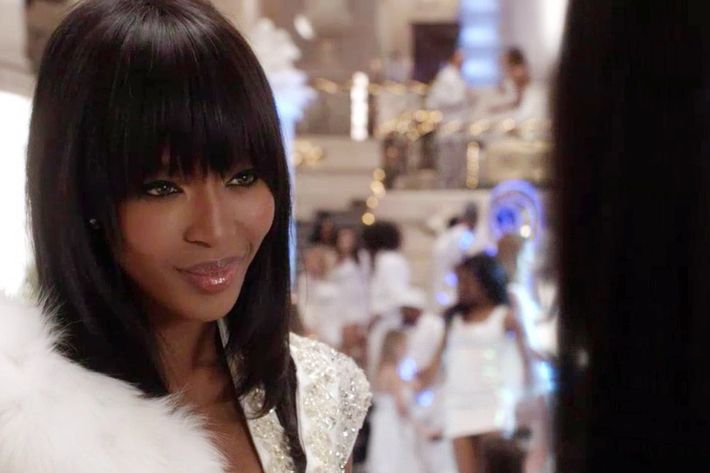 Beverly Jo Pryor, makeup artist:
Whom do you work with on the show?
I mainly work with Taraji and we take turns with all of the guys. When Mary J. Blige was on the show, I did her makeup as well. Whenever Naomi Campbell comes, she has her own makeup person.
Tell me about the skin care and makeup process for Taraji.
I use the SK-II line for her. I use the water [Facial Treatment Essence], the refining cream, and then the eye cream. Taraji and I both create the look, along with hair and wardrobe. When she first came out of prison [on the show], she was away for 17 years, so she still had that same basic look — with the cat eyes — if you notice. But as time goes on, she evolves into getting more updated. I use Bobbi Brown concealer and Tarte concealer sometimes, and then I usually use Armani's Luminous Silk Foundation. I use Dermacolor Waterproof Translucent powder to set her makeup, and then I use Laura Mercier translucent powder — a combination of those two. We use a variety of bronzers. Sometimes I use Inglot blushes. I use a lot of matte MAC lipstick, Chanel lipstick, and glosses. When she dresses up, I give her a pair of false eyelashes from Ardell or MAC.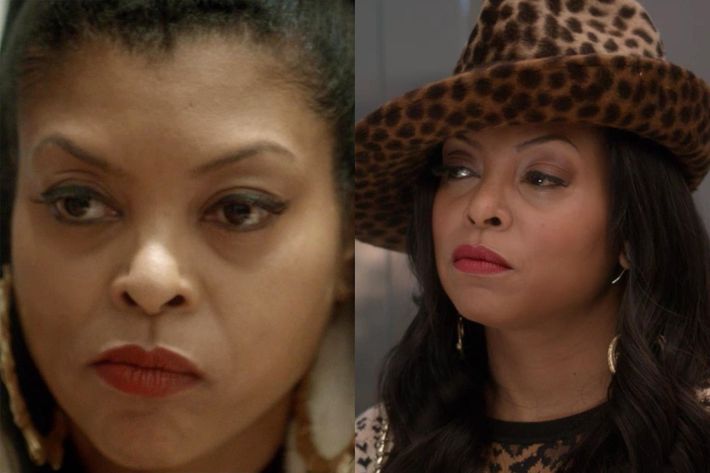 What makeup does Taraji wear during the prison scenes?
Taraji doesn't wear a thing during the prison scenes. It's moisturizer and that is it.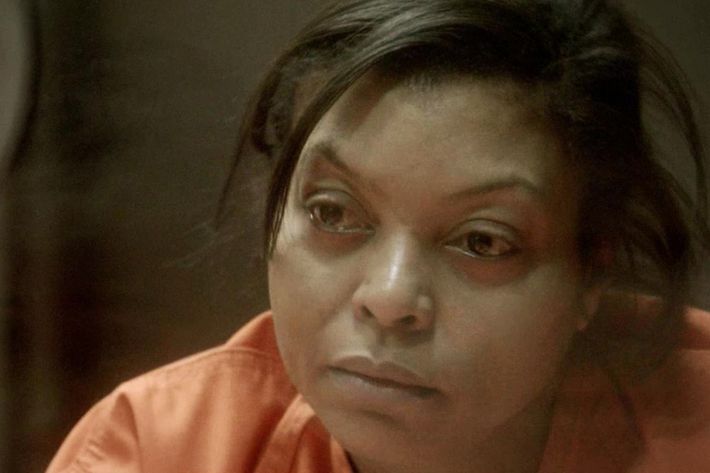 How do you treat Terrence's skin? Do you apply a tinted moisturizer?
No tinted moisturizer — he's very natural. He gets rosewater or the Facial Treatment Essence from SK-II. It depends on how his skin feels. I get the rosewater from Whole Foods. I use the skin-refining treatment from SK-II to moisturize his skin. Terrence loves rosewater; that's his favorite thing.
Another thing that Terrence likes is a hot towel. That's what he gets every morning while he's getting his hair done. The hot towel has rosewater sprayed on it.
This interview has been condensed and edited.