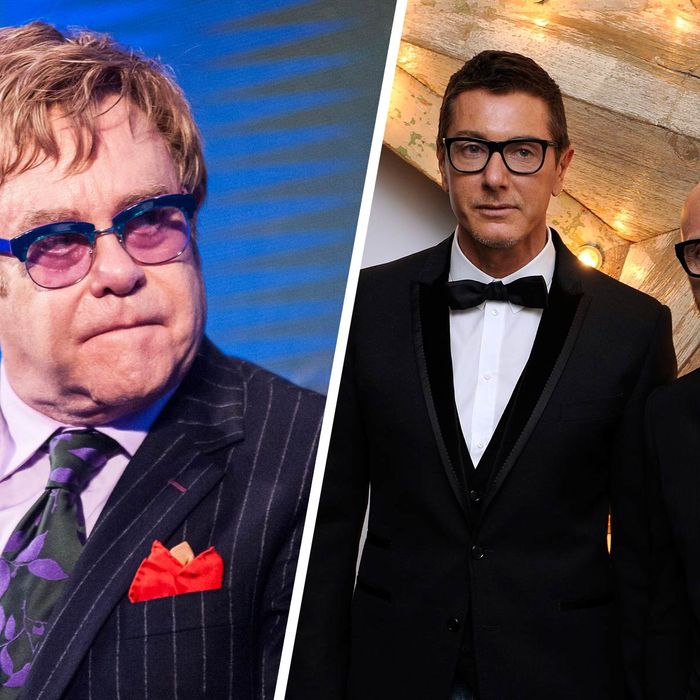 Elton John; Stefano Gabbana and Domenico Dolce.
Photo: Kris Connor/Getty ImagesGareth Cattermole/Getty Images
Dolce & Gabbana's fall show may have been a celebration of family, but the designers' comments about their concept of traditional families caused them to run afoul of one longtime fan, Elton John. Late last week, Domenico Dolce gave an interview to the Italian magazine Panorama in which he said, "You are born to a mother and a father. Or at least that's how it should be … I call children of chemistry 'synthetic children.' Rented wombs, semen chosen from a catalogue … psychiatrists are not ready to confront the effects of this experimentation."
Elton John fired back on Instagram, saying, "How dare you refer to my beautiful children as 'synthetic.'" (John has two children with his husband, David Furnish.) "And shame on you for wagging your judgemental little fingers at IVF — a miracle that has allowed legions of loving people, both straight and gay, to fulfill their dream of having children. Your archaic thinking is out of step with the times, just like your fashions. I shall never wear Dolce & Gabbana ever again. #BoycottDolceGabbana."
Responded Gabbana in a statement, "It was never our intention to judge other people's choices. We do believe in freedom and love," while Dolce added, "I'm Sicilian and I grew up in a traditional family made up of a mother, a father and children. I am very well aware of the fact that there are other types of families and they are as legitimate as the one I've known. But in my personal experience, family had a different configuration. That is the place where I learned the values of love and family. This is the reality in which I grew up, but it does not imply that I don't understand different ones. I was talking about my personal view, without judging other people's choices and decisions."
While their reply sounds conciliatory, more tellingly, Gabbana has been posting like wildfire on his Instagram account, including an adaptation of the "Je Suis Charlie" logo that reads "Je Suis D&G" and a re-post of a fake Dolce & Gabbana ad, Homophobe cologne (faux slogan, "For when you just want to smell like a couple of assholes from Italy"). Showing at least a sliver of humor about the situation, he gave that one four emoji laugh-crying faces and a thumbs-up.