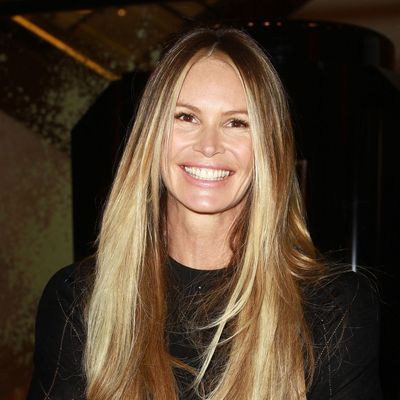 Elle MacPherson really likes green juice.
Photo: Fred Duval/Getty Images
For our next installment of the Wellness Diaries, the Cut talks to Elle MacPherson, who recently launched the Super Elixir, a green-juice powder that has sold out on Net-a-Porter three times. Read on to see what MacPherson thinks about the pressure of being called "the Body," her favorite bikini boot camp, and her thoughts on the connection between stress and acidity.
In 1989, Time magazine put me on the cover and called me "the Body." Soon after, I decided to capitalize on the moniker and create a brand. So, thank you, Time magazine. My public persona and my brand were very based upon my physical condition of being fit, healthy, and strong. I've gone from 20 to 50 in the public eye, and I'm going through a lot of the same things women are going through.
When I was younger, I could afford to be less conscious of wellness. Back then, I just wanted to stay fit to lose weight or have tight muscles. But by the time I got to 50, I realized it didn't matter what number I was on the scale or if my jeans fit — how I felt became more important. Looking beautiful is one thing, but feeling good is what I value so much more today. But it's been experimental. I've tried everything. I tried only fruit before midday. I tried only protein at breakfast, lunch, and dinner. I tried fasting in the evening. I tried 80/20. I tried three-day juice fasts.
Now I start my mornings quietly. The first ten minutes, I try not to reach for my phone and become really conscious; I breathe and collect my thoughts for the day. I drink half a liter of water, room temperature, and then I wake up my son. I make myself a porridge with stewed apple compote, hemp, and flax seeds or an oatmeal and line my stomach with something reasonably alkaline and not too acidic. Once I've lined my stomach, I have an espresso. I get dressed in my gym clothes, because I go straight from the school run to the gym. I make my Super Elixir to take with me.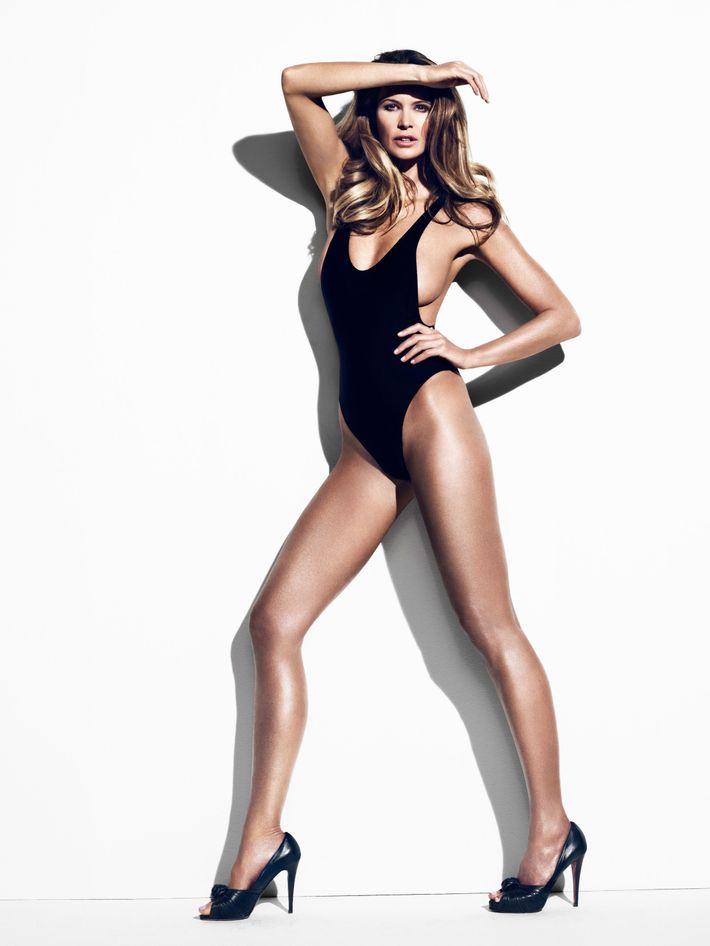 Then I do some sort of body work for an hour. But I do it every day, seven days a week. I might run, spin, or swim in the pool. Body work can also include a chiropractor, therapist, body wrap, or a manicure. Sometimes I meditate. I mix it up. It's something I can do for myself. I also joined BWellness in Miami Beach. It's open to the public; you cross train on the beach and do something different every day. I also hike by myself or with a friend; my husband is my best workout buddy.
Lunch is vegetarian and dinner is usually a piece of protein. I snack on almonds and water. I love a piece of dark chocolate after my lunch or dinner. Sometimes, I'll have a Super Shake if I get hungry in the afternoons, with almond milk. I eat whatever I want. But the thing is, I usually don't want pizza or a hamburger or meat every day.
Super Elixir is different from other products. The ingredients and the way they are curated are designed to help the body become more alkaline. If the body is in a more balanced pH state, it's healthier. I do anything to make my body feel less acidic. Stress causes acidity. I can feel when my body is more acidic: I get short-tempered and crave sugar. I get tired, dehydrated, and my mouth is dry.
I wanted to focus my energy on building the first premium global luxury wellness brand. Wellness has been a hippie-dippy, brown-rice kind of thing. But the women who shop on Net-a-Porter are very discerning. The woman wearing Prada or Céline will think, If I'm going to buy the best-quality clothing, then why not the best nutritional product I can find? She wants the best products in the market, and I truly believe we have created that.
I don't feel pressure to be anything other than myself. I'm thankful that I have good health and I am well. This seems to reflect on the outside, which is a happy by-product.
This interview has been condensed and edited.