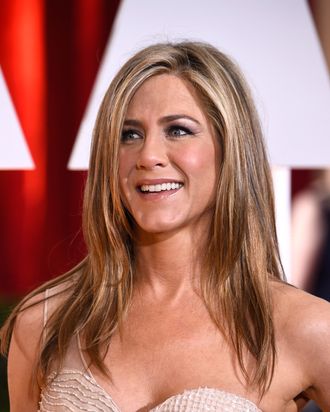 Jennifer Aniston; Jennifer Aniston's hair.
Photo: Frazer Harrison/Getty Images
Some people's bodies are temples and some people's bodies are brick houses and Jennifer Aniston's body is a hair salon. In an interview with Fashionista about Living Proof, a hair-product company that she partially owns, Jennifer Aniston says that she actually makes her own hair-styling stuff in house, meaning on her person, meaning from her glands.
In her words, "A little sweat in the hair is nice. It's like a little product. You just blow it out with your fingers and it's actually just fun." Did she carefully train her pores to do such a thing? Did they adapt? Oh yes, sure, of course. It's actually just fun!