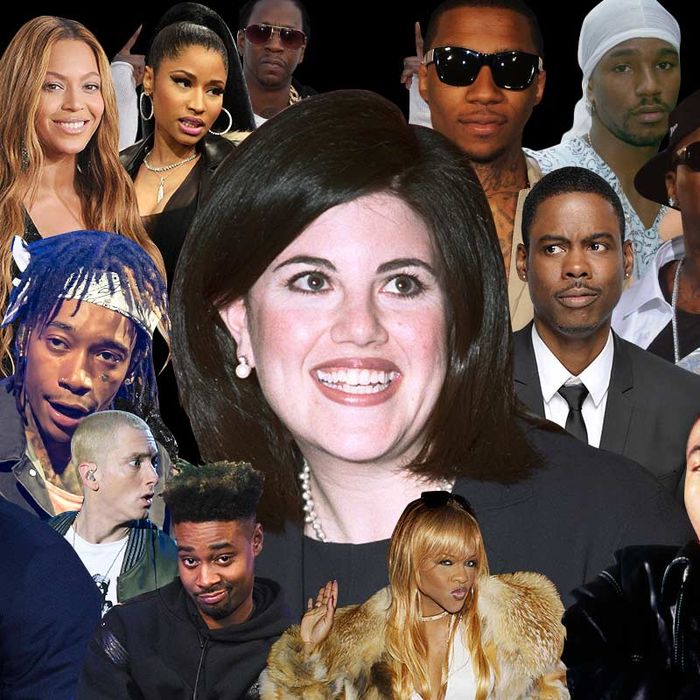 Monica Lewinsky.
Photo: Photos: Getty Images
During her very well-received TED Talk last week, Monica Lewinsky mentioned that she's been referenced in almost 40 rap songs by artists like Beyoncé, Eminem, Lil B, Lil Wayne, Nicki Minaj, and Jeezy.
As it turns out, while Lewinsky does appear prominently in lyrics by all of those artists, she's drastically underestimated the total number. Using data provided by Genius, the Cut discovered that some variation of her name has been dropped in about 128 songs (excluding most remixes) — and there are probably more. Lewinksy is most commonly rhymed with whiskey, and at least two songs are entirely about her: G-Eazy's "Monica Lewinsky" and the crudest, "Splashin' Over Monica" by Mr. Live.
Some songs use the scandal as a historical touchstone, as when Celph Titled raps, "Shit was good when Billy Clinton was gettin Lewinsky pussy." But mostly, references to Lewinsky in hip-hop have one of two meanings. The first is global shorthand for all things fellatio and can be found in English, Polish, German, Spanish, and French rap songs. "The cigar" makes only a single appearance, but at least 70 songs use her name as a verb related to oral sex: i.e., to Lewinsky, to give Lewinsky, to get Lewinsky. Sometimes her name is synonymous with coming, both as a verb and — when paired with face, dress, or gown — a noun. See: Beyoncé, in "Partition," whose sex partner "Monica Lewinsky–ed all on her gown."  
 
The other use of Lewinsky is as a derogatory term for an inferior person — either an insult against lesser emcees (referred to as "Lewinskys" or accused of sucking like Monica) or a stand-in for a prostitute or willing sexual partner. Songs casually use Lewinsky to refer to the women who throw themselves at prominent men in clubs, to insult women who kiss and tell, or to label the "obvious sluts," who are power-hungry. One song, "It Has Been Said," by Aaron Omar, even uses Lewinsky as a virgin/whore moral lesson, warning listeners to avoid becoming a Lewinsky: "You should be a Michelle Obama." And of course, there's the now-infamous Chris Rock mock interview, in which he used Lil Kim samples as Lewinsky's answers to demonstrate just how crass Lil Kim was (its own kind of inverse slut-shaming).
 
Monica-as-a-metaphor gets more interesting when it touches on cultural power imbalances. Rapper 2 Chainz equates having a "Monica Lewinsky" sidepiece as the ultimate power symbol: "I'm on the top floor / Presidential suite / Monica Lewinsky; presidential freak / Look at my rolley; presidential piece." Because it's not enough just to be the president — you must also get to dominate a woman in the Oval Office.
 
But it is Nicki Minaj's use of Monica Lewinsky that manages to transcend the clichés. Minaj refers to herself as "Nicki Lewinsky" in 12 of her own songs. In her typically bombastic style, "Still I Rise" declares, "Sex game kinky / niggas call me Pinky / Fuck with presidents / I am Nicki Lewinsky," insinuating that no man, no matter how powerful, can resist her. When Minaj calls herself "Young Money Monica," she's copping the name as a sexual disrupter, as a woman who knows the power of her own sexuality and can harness it for great wealth and, ultimately, power. It took nearly 20 years, and a woman, to truly do the metaphor justice.
See the full list of the rap songs that mention Monica Lewinsky below.

"Sixavelli," 360(Au)
"It Has Been Said," Aaron Omar
"How Do You Feel," Akinyele
"Adrenaline," Alpha 520
"Get Down," Amplify Dot
"Truffle Butt (Truffle Butter Freestyle)," Anye Elite
"Scary Movies," Bad Meets Evil
"Partition," Beyoncé
"Ms. Lewinsky (Clinton Back)," B. Foreman
"Jaws," Big Fraze 
"Block Bleeder," Black Menace 
"Ghaddamnmoney," Block Kids on the New
"Foes," Borgore
"Leave Me Alone, Pt. 2," Cam'ron
"Takeover Freestyle," Cam'ron
"Miss Those Days," Celph Titled, featuring Buck Wild
"Bud Dwyer," Charles Hamilton
"Super Bowl," Chevy Woods
"Monica Interview," Chris Rock
"Killin Em," Chris Webby
"Anti-hero," C-SEN
"Tempo," Cymphonique
"Bizarre Freestyle," D12
"Witit," Danny Brown
"It's Alive," David Chidiac
"Danger Roots," Despo Rutti
"Help Me," Deuce
"Act a Fool," DJ Butter
"No Rubber," DJ Butter
"Essentials," DJ JS-1
"Let's Fuck," E-40
"Blue Widow," Elzhi
"Just Rhyming With Proof," Eminem
"Rap God," Eminem
"XL Show Freestyle," Eminem
"Down Here," E.S.G.
"Can't Let You Go (Remix)," Fabolous
"Diamonds," Fabolous
"Hit it for Free," Field Mob
"Zabij mnie nim wejdę na szczyt," Filipek
"Bill Clinton," FNBe
"The Lah," Freddie Foxxx/Bumpy Knuckles
"Superstar," Fuckly
"Monica Lewinsky," G-Eazy
"Parents Ain't Even Care Enough," Goldee
"Click Pow," Horseshoe G.A.N.G
"Pushin' Weight (Remix)," Ice Cube
"That Action," ImprompTwo
"Pills," Jacob ZL
"Rough," Jeezy
"Kings/100," Jez Dior
"You Oughta Know," Juelz Santana
"Tidal Forces," Jugga the Bully
"Through the Wire (Remix)," Kanye West
"2005 Hardcore," Kery James
"Erase Me," Kid Cudi
"Top Floor," Kirko Bangz, featuring 2 Chainz
"Bafana Bafana Remix," La Fouine
"Powerful (Remix)," Lalcko
"Pour qui? Pourquoi," the Wise Poets of the Street
"Bitch I'm Bill Clinton," Lil B
"Obama BasedGod," Lil B
"Courtesy," Lil Deezy
"In da Club," Lil Jon, featuring Ludacris and R Kelly
"Looks Like Money," Lil Kim
"Higher Than a Kite," Lil Wayne, featuring Nicki Minaj
"New Orleans," Lil Wayne 
"No Type," Lil Wayne
"Sorry Ms. Carter," Liv
"Black Bush," Mac Miller
"Willie Dynamite," Mac Miller
"Black Trudeau," Maestro Fresh Wes
"Get Ready," Mase
"Wrist Game," Migos
"Summer Zoo," Mister You
"Presidential Politics," Money$Team
"Splashin Over Monica," Mr. Live
"Lighters Up," Nahzy
"Life Is What You Make It," Nas
"Freaky Girl (Wanna Minaj?)," Nicki Minaj
"Getting Cake," Nicki Minaj
"I Get Crazy," Nicki Minaj
"I Love Ny Range Rover," Nicki Minaj
"Itty Bitty Piggy," Nicki Minaj
"Kill Da DJ," Nicki Minaj
"Set It Off," Nicki Minaj
"Still I Rise," Nicki Minaj
"Sunshine," Nicki Minaj
"Win Again," Nicki Minaj
"Young Money Ballaz," Nicki Minaj
"What the Fuck is Up," N.O.R.E
"Hit 'Em Up," Pretty Ugly
"IFYA," PrezSport
"Status Quo," Pyskaty
"100 Rounds," Raekwon
"Never Back Down," Random Axe
"Gorillaz on My Mind," Redman
"Freshundunbenannt," Retrogott & Hulk Hodn
"The Beginning," Ri.Lee
"Presidential Anthem," Rough Riders 2
"Can't Blame Me," Rudy Williams
"Chi Kung," RZA
"My Lovin' Is Digi," RZA
"Marche Arriere," Sake
"I've Been Rhymin," SC Static
"Serious Business," Seven Shots
"Pancakes," Shindy
"My Opinion," Shock G
"Flawless, Yung Mar, Black P," Team Backpack
"Dick Starbuck: Porno Detective," The High & Mighty
"Squeeze It," Three 6 Mafia
"Rap Legend," ToxicNdubuisi
"Creep," Twistid Rob
"Grunging," Verbal Tech
"Zoog Cypher," Wax
"In My Car," Wiz Khalifa
"In the Ocean," WoeFerro
"Thug Money," Yukmouth
"I Rather," Yung Massina