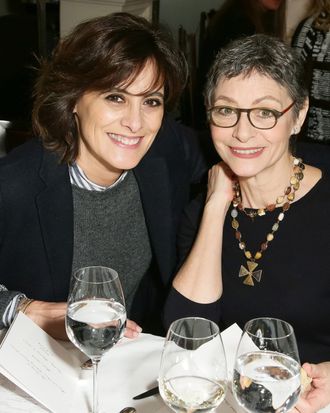 Joan Juliet Buck (right).
Photo: Matteo Prandoni/BFA NYC
It's hard to imagine a fashion show causing more than a lazy ripple of outrage — and perhaps the token hot take — today, but YSL's '40s-inspired couture show in 1971 was an object lesson in how to shock an audience. The writer and editor Joan Juliet Buck was working as a stylist at the time and describes herself as one of the "Saint Laurent-ettes," palling around with the designer's muse Paloma Picasso and other members of the YSL set. Buck was present for the divisive défilé and shared her impressions with the Cut.
It was January 1971, and I was working as Guy Bourdin's stylist … his Gag Lady, that's what he called it. I made up gags, but my gags weren't as good as his gags.
I already worshipped Saint Laurent. I was one of the Saint Laurentines and thought the clothes were fabulous. This couture show had the big shoulder pads, it had the turbans, it had the wedge-heeled sandals, all from the '40s. What he showed were the clothes that were worn in Paris during the German occupation. When you're 21 or 22, you see that and you go, "Oh, this is so great — it's fabulous, and look at the colors, those fantastic fox coats, and isn't it great — hey, haute couture looks like my shit! Yes!"
But many of the French had collaborated with the Germans during the Occupation. That was the shame of France. In 1971, 30 years after the war, there were a lot of people in the press and in the audience who didn't want to be reminded of that past.

The collection was seen as an offense, an insult to the pride of France. There was this huge brouhaha about it. It was kind of like WikiLeaks. By visually evoking those years, Saint Laurent had said what must not be said.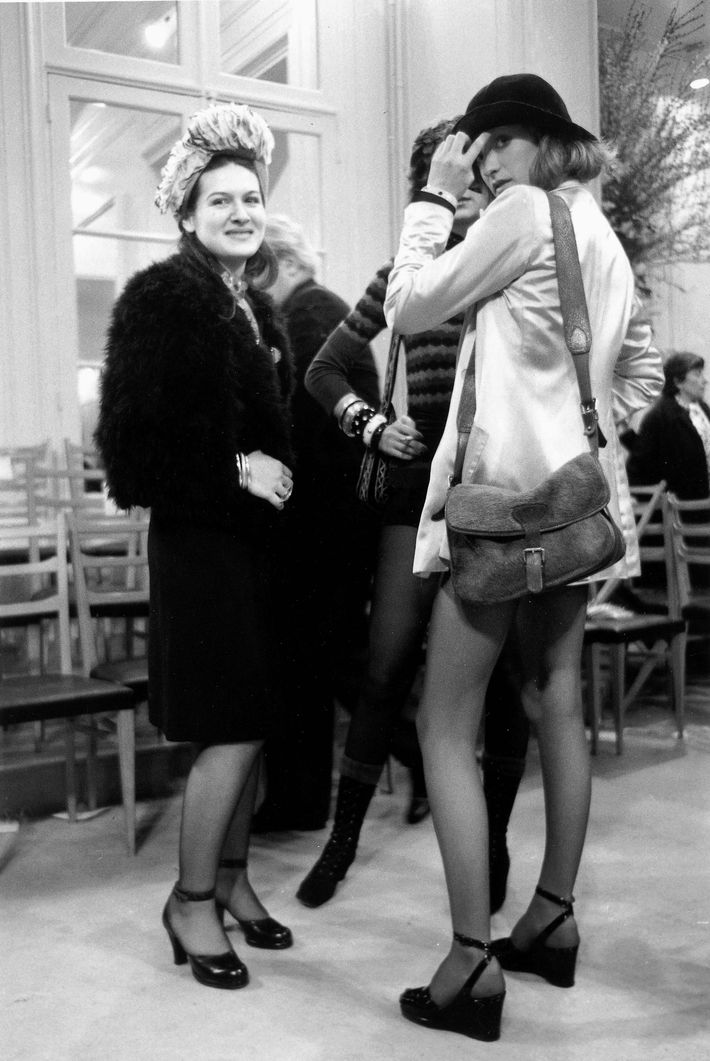 I wish I could remember [the show]. I know I was so overcome with enthusiasm, jumping up and screaming, clapping, but I don't know what the grown-ups were thinking. I heard people say, "Oh, but he shouldn't have," "This is dreadful, how could he have," but I just thought, Old retrograde right-wing, sure, they have plenty to hide. It was scandalous. It was as if he'd moved aside a rock and revealed the underbelly of what they called "the dark years."

When you're young, you want to find your own style — you want the stuff that's not mandated by somebody or marketed by somebody. You want to find your own look. My whole generation had been buying dresses in antique markets. Paloma and I got our clothes at the Chelsea Antique Market and various markets in London. These dresses were all cut the same way. They were V-neck dresses with a little flat bit in front that had ties that tied in the back. The antique-market dresses were really cheap, under a pound. They were kinda smelly, but they fit so beautifully.

I was aware that there was a lot of screaming going on about it. I was asked if I wanted to participate in an episode of a TV show called Dim Dam Dom, done by Daisy de Galard, that was to be called "The Funeral of Haute Couture," and — hey, sure I want to be on television! There were models wearing the Saint Laurent collection, the fox chubbies and little crepe dresses and the turbans. We all walked down a runway and there was the widow of a famous writer, a woman who wore an eyepatch. I don't know if it actually ran, but we shot it. The idea of "The Funeral of the Haute Couture" came from the point of view that this should not have happened. Or was it a joke about it? I was too young and not really clear what the politics behind the TV show were.
I remember going to the Saint Laurent boutique a few months later when that whole look had filtered down to ready-to-wear, and looking at the dresses and thinking, God, I can't afford these, but I kind of already have them. I sure as hell got as many pairs of those wedge sandals as I could.

Designers look at what's going on. Yves was close to Paloma, he saw us all, and he saw what people wore slightly outside of his immediate circle — because people in his immediate circle tended to wear what he made.
 
The great talent of Yves was that it wasn't conscious — it was what his hand felt like doing. It was what his heart wanted to see. He was born in '36, and this was the way his mother dressed when he was a little boy. It was much more about his relationship with his mother, about the first things that he found beautiful and alluring about a woman. I don't think that it was ever a calculation with Yves.
And yes, it was controversial, it was cheeky, it was — cheeky isn't the word … it was a provocation. That's what it was. A provocation.
This post has been edited and condensed.