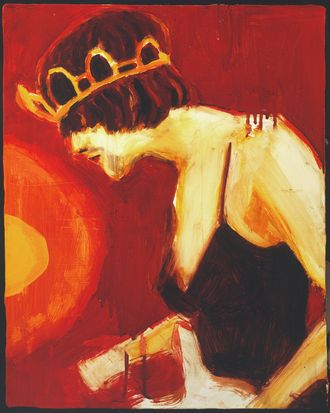 Elizabeth Peyton, Princess Kurt, 1995.
Photo: Courtesy of the artist and Gladstone Gallery, New York and Brussels
The set of an MTV interview, 1991: Kurt Cobain is practically crowding his bandmate Krist Novoselic off the couch, wearing a yellow gown with foot-wide shoulders, the kind of thing Lady Gaga might do one of her paparazzi-driven perp walks in. When he gets a little too close, Novoselic playfully slaps Cobain, uttering a bro-ish "Dook!"
Rock-star androgyny was already well-trod territory by the time Cobain started trying it out. But most of it read campy, like U2 posing in drag-queen getups on the sleeve of Achtung Baby, looking like frat boys acting on a rush dare. Or, if it wasn't a jokey one-off, it came packaged with a stage persona, as with David Bowie or Prince. Cobain's version was different. He didn't opt for sequins or marabou. He'd throw on a floral housedress or a pair of '50s-style sunglasses that flared out like the fins on a vintage convertible. 
Per Christopher Sanford's biography of him, Cobain would dress up in a pink bathrobe or women's underwear for meetings with his record label. He went to a photo shoot wearing a ball gown and a stole. But he was publicly nonchalant about the meaning behind these choices. When Melody Maker asked him, in 1992, why he'd chosen to wear a white baby-doll dress in the video for "In Bloom," he demurred. "I really don't know why. I like to wear dresses because they're comfortable. If I could wear a sheet, I would. I don't know what to say … if I said we do it to be subversive then that would be a load of shit, because men in bands wearing dresses isn't controversial anymore."
Cobain's shrugged-off attitude toward traditional gender-specific dressing reflected grunge's overall embrace of androgyny — men in housedresses, women stomping in combat boots or bundled up in flannel. "But Kurt Cobain was always the first to subvert any dominant trend," notes Alexandra Schwartz, who curated the grunge-era art exhibit "Come As You Are" currently running at the Montclair Art Museum. "He famously wore a dress and tiara at a concert in Brazil — captured by Elizabeth Peyton in her painting Princess Kurt — that packed a punch with his nonchalant adoption of a drag aesthetic." Peyton has always been drawn to androgynous beauties — witness her output, which runs all the way from Bowie through Bieber — but her Cobain portrait stands out as a hallmark of the genre.

You could see Cobain's spirit in the boys who walked the runway at Saint Laurent — in fact, Hedi Slimane has photographed his daughter Frances Bean, and also counts grunge-influenced dressers Sky Ferreira and Grimes among his muses. When Gucci's new designer Alessandro Michele showed a lineup of men in pussy-bow blouses and touches of cream lace, he owed something, even if unwittingly, to Cobain's shrugged-off take on gender lines. It's no big deal, dude.