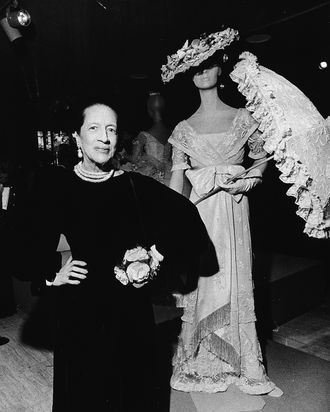 Vreeland poses at the opening of The Met's exhibiton of Hollywood costumes in 1974.
Photo: Archive Photos/Getty Images
There's a new theme every day on It's Vintage. Read more articles on today's topic: The Fashion Editor.
Harold Koda, the Met Costume Institute's curator-in-charge and the man behind exhibits like "Charles James: Beyond Fashion" and "Schiaparelli and Prada: Impossible Conversations" was once a humble junior assistant working on a Russian costume retrospective. His boss? The inimitable Diana Vreeland, who became a special consultant to the Costume Institute after being fired from Vogue. Koda spoke to the Cut about the intimidating, inspiring editor who would go on to be a mentor of sorts — even though he dared to contradict her on their first meeting.
What was it like working with Mrs. Vreeland at the Costume Institute? What did you learn from her?
It really was the tail end of a different era. It was like a window into Funny Face, with Kay Thompson playing a Vreeland-inspired character. And she was able to persist in that kind of dramatic, fantastical persona because she was working for a not-for-profit. So she could extend the life of that kind of highly wrought, dramatic character. I think the reason she was no longer at Vogue was the world of publications was beginning to change in such a dramatic way, and she wasn't right for it anymore. But she was perfect for the museum— the way costumes were being shown needed a little bit of shaking up. The unfortunate thing, I think, when one looks at it in retrospect, is she imported a kind of excitement and more lavish scenography, but she sometimes sacrificed fact and scholarship on the altar of this immersive experience. But we needed that; [the museum] needed to be able to rethink the way in which one presented historic dress.
You mentioned Kay Thompson in Funny Face, who epitomizes this mythical idea of the fashion editor. How much, if at all, did Vreeland live up to that Hollywood archetype?
Completely. I knew her work from my mom's Vogue magazines in the '60s — I knew of her as kind of a fantasy — and then when I came to the museum I was working on the [1976 exhibit] "The Glory of Russian Costume." I was one of the junior assistants and we had set up mannequins wearing these peasant costumes. We heard her coming in, and at that point she was with a whole slew — and this is my memory and I'm sure it's fallible — but I remember there being like five young women with her, following her in her wake. You could hear her feet because she had a very strong footfall. You could hear clack clack clack, until they turned a corner — and from where she was, about 40 feet away, she pointed and she started to shout, "What are these? They have no panache!" and "Haute haute haute!" So it was very much like the Ms. Prescott scene [from Funny Face]. The girls who were around her, whom I assume were granddaughters or daughters of her friends, disappeared that day because the Russians said that only professionals could handle their objects, so all those volunteer girls who were getting their last bit of spit and polish by the experience of Mrs. Vreeland, sort of evaporated and I never saw them again. But that was the first time I saw Mrs. Vreeland, surrounded by this trail of young women hanging on her every word.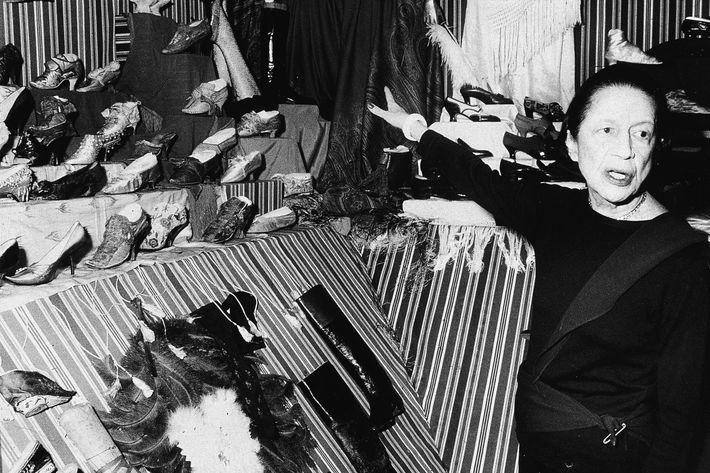 After that memorable start, what was it like getting to know her and work with her more directly?
In the beginning I would say that we didn't start off too well. In fact, the tail end of that anecdote is that she kept shouting at the top of her voice that there's no panache, and she's going on and on. I was standing behind her, and she was going on and on about how the mannequins had to be taller, and no one was saying anything, I'd never met her, [but] I spoke up to the back of her head and said, "Excuse me, Mrs. Vreeland, but the Russian curators said that the hem should fall six to eight inches from the ground." She spins around — there wasn't even a split second where she looked at me — she just spun around and said, "Are you Japanese?" and I said yes, and she's pointing her finger at me in a staccato motion, and she said, "Don't you realize the Russians hate the Japanese, always have, and always will," and then she stalks off.
After the whole project started to transpire and I started to understand her language, what she said was actually — it was obtuse — but what she meant was, are you working for me, or are you going to subscribe to their vision? The Russians or me? She didn't speak in a way that you could come to a very solid understanding immediately. You just wanted to hear that purr when you got it right, this little low growl, and you just worked for it.
As I watched her work, I realized one of her great qualities was her imagination. When I was dressing Peter the Great's [mannequin] in a jade-green damask dressing gown, I found a piece of light green silk, and I covered the neck of the form in it. And she came in and she looked at it and she said, "Let's go to the fabric drawer." She just sticks her claw of a hand into the drawer and pulls out raspberry-colored jacquard. [Against] the jade green it just popped. And I thought, She still has it! She didn't even look in the drawer. She just stuck her hand in and got it immediately. It sounds trivial when you talk about it, but it's those kinds of moments where you understand the person's talents and qualities. By the end of it I was a complete fan. She [took] what were old clothes, no matter how lavishly embroidered or rich the material, and made them fantasy.
I remember reading that she felt self-conscious about her appearance, so that's why she came up with things like her hairstyle, or the really exaggerated rouge — these eccentric signature touches.
She was never pretty, but she was so immaculate that she became chic. By the time I knew her, she would even rouge her earlobes. [The decorator] Russell Bush said he was going with her somewhere and she was putting on her lipstick with no hand mirror, just slathering it on, and [an assistant] goes, "Mrs. Vreeland? How can you do that in a car, without a mirror?" and she said, "I've had these lips for very many years." So she knew herself: bright-red lipstick, jet-black hair, kabuki.
She had an impact on certain editors because so many of them have these very distinct looks, like Lynn Yaeger, or Suzy Menkes.
Or Anna with her bob. I think these women have the conviction where they can concede to fashion but never dilute their own image. The thing about Mrs. Vreeland — we think about her as being so exotic, [but] she wore virtually the same uniform every day. Black trousers, black sweater, and then either a red scarf or red sweater that she would loop around her neck or hips, a tusk necklace, and very sculptural bangles. When you see photos of her as an editor in the '60s she had these two Givenchy oatmeal-colored suits that she wore over and over again with a scarf. She was very much like Coco Chanel — a caterpillar in the day, a butterfly at night.
Did she ever bring in designers or notable people to the museum, that you remember?
Once she was walking through the Russian exhibition with Oscar [de la Renta] and Jackie Onassis and showing them a Cossack belt, and I remember Jackie saying, "What's that?"
Do you think there are editors like that today who exist as these arbiters of fashion?
I think in their own way they're arbiters, but it's less Hollywood-y; it's more the nature of business. The audience has changed. [If you say,] "Why don't you put your hair in a snood?" [as Vreeland did in her Bazaar column], who's going to do that? Fashion now is not monolithic. You have a simultaneity of all kinds of different things. You can subscribe to any one of a dozen looks and not be out of it. So you're not going to have a kind of autocratic [figure]. That's not what fashion is anymore.
This interview has been edited and condensed.