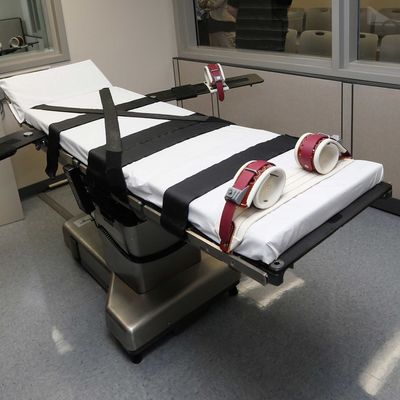 Photo: Sue Ogrocki/AP/Corbis
Witnesses to Oklahoma inmate Clayton Lockett's lethal injection last April described a horrific scene of a man writhing and moaning, not pronounced dead until 43 minutes after his execution began. The botched death renewed concerns about whether the use of current lethal-injection drug cocktails constitutes "cruel and unusual" punishment.
The problem drug is midazolam, which Oklahoma and other states switched to after manufacturers of the ingredients in "traditional" cocktails stopped production as a result of political pressure, leading to widespread shortages. Concerns over the drug didn't stop Oklahoma from using it to execute Charles F. Warner in January of this year — instead, officials quintupled the dosage. But the Supreme Court, while refusing to halt Warner's execution, did put Oklahoma's executions on hold a week later, agreeing to hear a case brought by three death-row inmates who say midazolam causes undue suffering. As a result of these legal challenges, lawmakers in death-penalty states face a dilemma: How will they execute prisoners if the Court permanently bars midazolam?
Utah responded by bringing back the firing squad this week, and Louisiana considered the electric chair last year. But Oklahoma lawmakers think they've found a different solution: On March 4, the state's House passed, by a large margin, a bill that would allow for execution by nitrogen-gas hypoxia (the term for a body being deprived of oxygen) if lethal injections are ruled unconstitutional or their ingredients become unavailable. Representative Mike Christian, who introduced the measure, called the method "revolutionary" and the "best thing we've come up with since the start of executions," according to the Associated Press. He described the method as humane, painless, and easy to administer. (He didn't respond to a Science of Us request for comment.)
Christian commissioned a report on the subject, a draft version of which shows up in a Louisiana report on death-penalty alternatives (PDF — see Appendix B, which starts on Page 12). It concluded that, yes, nitrogen hypoxia is a "humane" and viable execution alternative.
But what exactly does "humane" mean in this context? On a simple level, we expect executions to limit suffering as much as possible. There's a trickier, more conflicted aspect of this debate, though. Austin Sarat, a law and political-science professor at Amherst College and author of Gruesome Spectacles: Botched Executions and America's Death Penalty, said it's "not so much about the suffering of the condemned, as it is what offends society writ large." Society can't countenance a method that looks painful, even when it might minimize suffering (death by guillotine is quick and likely not very painful, after all). Rather, we seek executions that appear calm, cold, and clinical.
Nitrogen hypoxia might appear to meet these criteria. Dr. Denham Ward, a professor emeritus at the University of Rochester and anesthesiology and respiratory specialist (who said he's opposed to the death penalty), said a hypoxia victim can lose consciousness in between 30 seconds and about two minutes, even though the heart will beat a few minutes longer. Plus, victims of hypoxia are unlikely to experience "air hunger" — the panicked feeling of being suffocated that has been observed during cyanide-gas-chamber executions. Some "death with dignity" groups even champion nitrogen gas in assisted suicide because death by inert-gas inhalation can appear peaceful, almost as if someone is falling asleep — a fact that the Oklahoma report's authors pointed out. The report also said humane nitrogen hypoxia executions "would not depend upon the cooperation of the offender being executed."
But Ward said everybody will react differently to — and perhaps die differently from — nitrogen hypoxia. "If it went the way the executioner wanted it to, and the victim cooperated, it could actually go pretty smoothly," said Ward. "But there are a lot of unknowns: Are they going to cooperate? Is there going to be a leak in the mask?" He cited the cooperation issue as a particularly troubling one. "If the victim tries to hold his breath, then it could take much longer." If the condemned resists, he said, there's a possibility air hunger could set in. Ward also said that hypoxia victims often feel confused before they pass out, and some suffer seizures once they lose consciousness — two possibilities that could certainly detract from the falling-asleep-peacefully optics of an ideal nitrogen execution.
"It turns out it's notoriously difficult to find a way of killing people that's foolproof," said Sarat, who added that Oklahoma's debate falls in neatly with the historical trajectory of capital punishment in the U.S. The electric chair, the gas chamber, lethal injection — all sought to reconcile a perceived need to dole out justice with a perceived need to eliminate visible suffering. "It may be that in some ideal world nitrogen gas would be the magic bullet for the death penalty," Sarat said. "But we have yet to obtain that ideal world." There's nothing simple about finding a "humane" approach to something as inherently grim as ending a life.