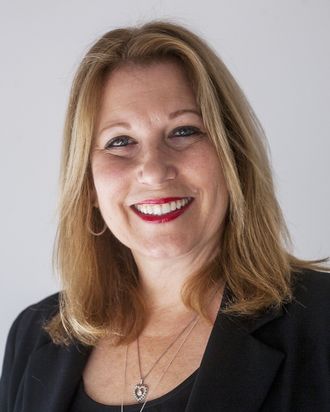 American Apparel CEO Paula Schneider.
Photo: Ringo Chiu/Corbis
"Business hasn't been that profitable. I'm here to turn that around," American Apparel's recently appointed CEO Paula Schneider says bluntly in a new interview with Marie Claire. It's not going to be as simple as it sounds — the company's brand image has been faltering as a result of ousted founder Dov Charney's various activities, as well as an emphasis on provocative ads that now feels outdated. So how, exactly, will Schneider pull off AA's 180?
It sounds like changing the company's messaging is an immediate priority, and that means fewer supine hipsters in shiny leggings and more social-consciousness-raising. "We have to get past the idea that it's just a clothing brand. It's not. Our customers expect social commentary; they expect it to be a part of their lives," Schneider says, pointing to a recent ad featuring viral teen voguer Brendan Jordan, in which he wears a shirt with the slogan "Lesbian Gay Bisexual Transgender Pride." "At 15, he came out, and we celebrated that. In a new video, we had transgender models, young models, models in their 70s, women who were eight feet tall — we aim to be inclusive." She also references the brand's Made in USA cred: "We are the largest manufacturer of apparel in North America. I don't think people know that."
Schneider added that she is focused on expanding the company's ecommerce offerings, which are currently fairly limited, and on creating a "cleaner" shopping experience in the stores. Does that mean one that doesn't include Dov Charney lurking behind a mannequin display?