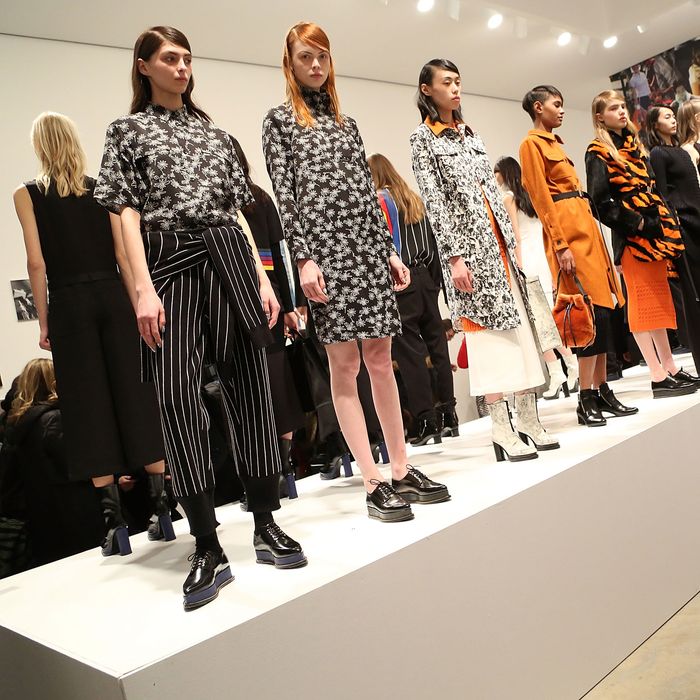 Opening Ceremony's fall 2015 presentation, which Shelley cast.
Photo: Monica Schipper/Getty Images
Where are you the funniest, smartest, most Facetuned version of yourself? This week, the Cut explores the complexities, vanities, and pitfalls of self-presentation online.
Noah Shelley has worked on some of the most talked-about shows of fashion month. You have him (and his casting agency, AM Casting, which he runs with Angus Munro) to thank for the group of apocalypse survivors at Kanye West's Yeezy Season 1 show, the step team at Rick Owens a few seasons back, and the models mugging with Stormtroopers at Preen. Shelley has also cast influential campaigns for CK One, Kenzo, Diesel, Uniqlo, and DKNY, among others, and is the casting director for Dazed and Confused. Here, he talks about how Instagram has changed the casting hierarchy, why his interest in street-scouting models has ebbed, and whether body diversity on the runway is really changing.
When did you notice that using Instagram for casting was starting to catch on?
The first time it was really intentional was when I worked on the CK One [TV commercial] that's out right now. Every shot is designed to look like the models or people in it are taking a selfie or FaceTime-ing. So whether it's Edie Campbell or Petra Collins or Michael Bailey Gates or Ali Michael, it's all these people [posing] like they're taking a picture or dancing for YouTube. That campaign is very specific and they came to us with that concept, so we obviously went in that direction with the casting. But it wasn't the first time that we used social media to cast. [Pre-Instagram,] somebody would say, "Oh we need an 'It' girl for something," and I'd wonder how to find those girls. You had to know them, you had to be kind of in with a scene, or understand who the celebutantes were; who was the cool DJ. And then at some point, when street style became so prevalent, you could find a hundred different websites dedicated just to interviewing these girls about the cool look they have. Then Instagram skyrocketed the whole thing, because you can follow someone. These people have followers, so they're already generating fame on their own.
Now you don't just have to be beautiful and well-dressed — you have to have an enviable life and an enviable apartment and go to exciting places.
I used to look to Todd Selby's site, because you could sell people to a client very quickly by saying, Look at them, they're interesting! The fact that Bill Gentle or Scott Schuman or Todd Selby went out of their way to be like, Hey, I'm not only going to take a picture, I'm going to take ten — for me, it was definitely the beginning of an Instagram-like moment, where you find somebody and then you're like, Oh, let me go through their history and see what they're all about. I just had a guy backstage saying that now they have interns at the model agencies going through Instagram and looking for people with large followings, and they're just signing them.
Do they find them from just stumbling on different chains of people, or do they look for specific hashtags?
That's a good question. I've never even actually searched a hashtag. I just stumble. I go spiraling down the rabbit hole, where I'll just kind of look at one thing and then people tag each other. And I do the same thing on Facebook, too, where I'm trying to do a cool-kid casting, where you find one beautiful, stylish, attractive kid and you just kind of see who they hang out with and where it goes. I even have clients now that say, "We want to make sure [the models] have strong social-media followings."
You do still street-cast people as well. What are the different results you get from street-casting versus Instagram-casting, and why do you like to mix the two?
I'm finding street-casting to be less and less effective. In New York, it's very difficult. If you're attractive, if you're cool and you're scouted in Soho by someone from my team, then you're probably already a model. Or if not, then they're like, "Oh, I shot with Ryan McGinley." Or "I do modeling for Opening Ceremony." It's very hard to discover raw talent on the street anymore. I find that my time is better used if I actually spend four or five hours on the internet or on Instagram than spending four or five hours walking around in the snow.
The opposite is true, however, when you really want something specific. There have been a lot of really interesting videos and editorials on the New York vogueing scene. You certainly could find one of those guys through the internet, or you could just go to one of their parties and take a ton of pictures.
Do you think that the rise of Instagram-casting has made for more ethnic diversity or more body-type diversity?
For a really long time, you had brands fighting for exclusives, and everyone was pretending to "find" these models, which is crazy because they're rarely found — some agency sent out a bunch of pictures to all of us and she works for a client that has the money or the necessity to create an exclusive. But after a while, you start wanting a personality. I think that one of the great discomforts of the current situation in fashion modeling is that we're not cultivating the careers of girls who are great for long enough, so that they become recyclable, which is not healthy. It all seems to be about turnover, anonymity, and not cultivating the girls, and I think somehow there's been a reaction to that.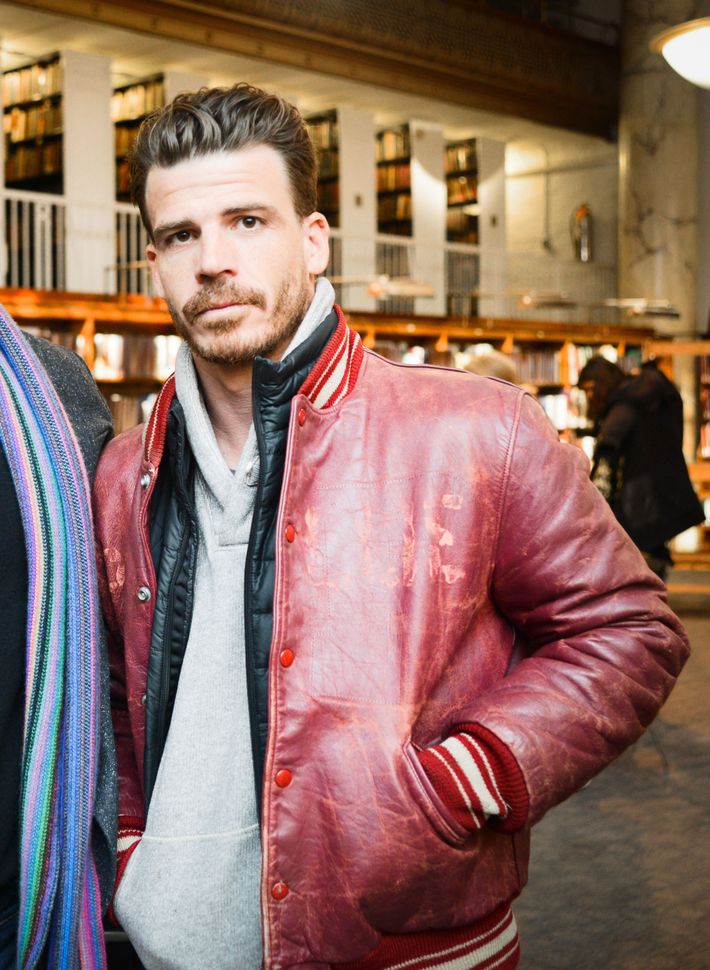 How do you keep it from feeling gimmicky? There's that cliché of "real-people" campaigns, where everyone has a skateboard. Will that eventually start to feel almost as cookie-cutter as "tall, blonde, tan girl"?
It is! And it will become that, easily. Everything does. It's one thing to say, "Let's do a bunch of real people in this way and feel unique," but when all of a sudden you realize that 10 to 15 brands internationally are doing really the same concept, you're kind of like, Oh, that's the same idea. We've already hit a point where I have directors and ad agencies saying, "Hey, we want to find interesting people, but not, like, Skateboard Kid." People are already being sarcastic about the clichés of street-casting.
I don't see a variety of body types on the runway, but where I am starting to see it is campaigns and editorials. On a shoot, between Photoshopping and pinning clothes, you can make things look different and you can't do that as much on a runway.
No, of course not — you still have to be relatively lithe.
This interview has been edited and condensed.