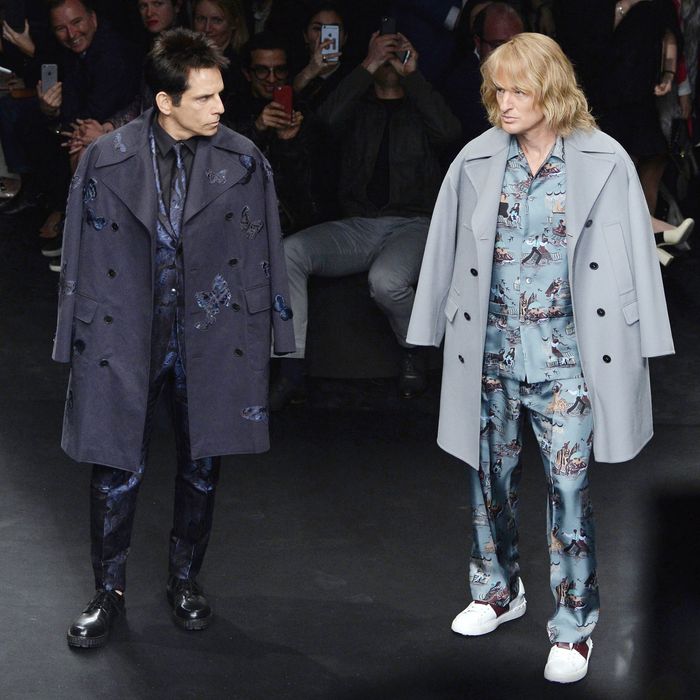 Ben Stiller and Owen Wilson walk in Valentino's fall 2015 show.
Photo: Miguel Medina/Getty Images
Today, even if you couldn't care less about fashion, your Facebook feed was probably filled with it — in a manner of speaking. In easily the most talked-about moment at Paris Fashion Week, Ben Stiller and Owen Wilson staged a Zoolander-style walkoff at the Valentino show this morning. Their Human League–soundtracked mock face-off, which doubled as publicity for next year's sequel to the 2001 comedy, went viral as everyone shared — and shared and shared — evidence of the duo's comeback. And the moment came with its own deluge of assorted media: Vogue.com published a bevy of exclusive content around the launch, complete with an Eiffel Tower–side photo shoot lensed by Phil Oh. Snapchat's official Story included exclusive Snaps shot with a Blue Steel filter, and Stiller even managed to conveniently hand his phone to Jerome Jarre, the French Vine star who (luckily!) boasts more than 8 million followers. The result: an avalanche of publicity, both for the film and for Valentino.
Though Stiller and Wilson surprised and delighted onlookers, moments like these don't happen spontaneously. It's possible that Vogue had a big hand in the stunt. "Ben is a friend," Anna Wintour told Cathy Horyn, enigmatically. "It was Ben's idea to go on the runway" — though, she added, she has been, "helping them in bits along the way." And one source indicated that the Snapchat story featuring the moment, crowd-sourced from showgoers and curated by the app's team, had been coordinated in advance — though they would not say how far in advance that was. Vogue.com's Sally Singer also admitted that there was some advance planning for coverage, though was vague on timing. (We've reached out to Valentino and to Paramount, the studio behind Zoolander 2, for comment, and will update this when we hear back.)
Compare the frenzy to a much smaller one that took place eons ago — namely, 2008, when Sacha Baron Cohen was preparing to film his style-world satire Bruno. He showed up in character at the Stella McCartney show, and his antics merited some blog coverage and scattered tweets. Now these kinds of stunts at fashion shows — the mock protest last season at Chanel, or Rick Owens's strategic use of nudity in his most recent men's show — are, with some planning, seen by millions, and that audience's bounds well exceed the insular fashion audience. As for the question of whether such shenanigans obscure the clothes, that may be so. But it certainly doesn't hurt Valentino that its brand name has been beamed all over the globe.
Now all we have to look forward to is Anna's inevitable cameo in the sequel.