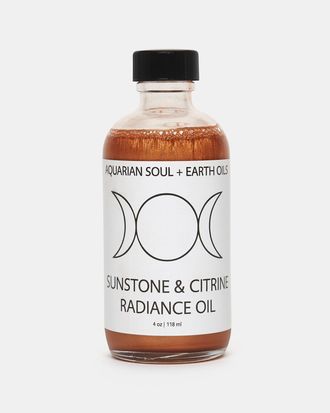 When the temperatures in New York finally rose above freezing last week, I realized in a panic: It's almost bare-leg weather. Because I know the best way to disguise dry, under-exercised limbs is with a forgiving bronze tan, I turned to Aquarian Soul + Earth Oils' Sunstone & Citrine Radiance Oil, a body oil that promises to give you an immediate glow.
When I slathered on the oil, it instantly gleamed on my legs and arms. Although it looks dark and scary in the bottle, the oil goes on practically sheer, with a little shimmer. It looks a little bit like a diluted instant self-tanner mixed with baby oil and a liquid highlighter.
The oil is seriously moisturizing too, making it the ideal solution for spring, but not necessarily the balmy days of summer (when I imagine it could turn quite sticky). Suddenly, shorts weather feels not so scary.
Aquarian Soul + Earth Oils Sunstone & Citrine Radiance Oil, $40 at Rodale's.