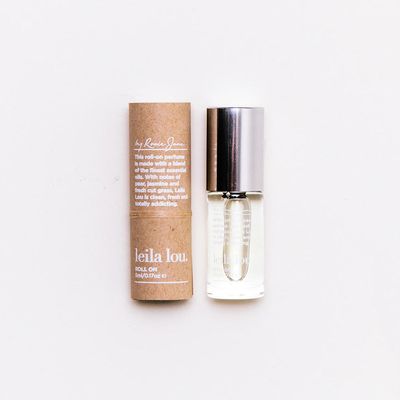 Leila Lou Roll-On Perfume.
Photo: Courtesy Photo
Before Jennifer Aniston dipped her toe into the dizzying world of celebrity fragrances, she was a fan of Leila Lou — a crisp and uncomplicated scent that practically screams "America's Sweetheart." Developed by Australian makeup artist Rosie Jane, Leila Lou is an oil perfume that evokes the memory of the first signs of spring. The scent is undeniably fresh, with notes of pear and fresh-cut grass. A layer of jasmine adds some sweetness, but not enough to make it lose its edge. Because it's formulated with a concentrated blend of essential oils, this is a long-lasting fragrance, which weathered a day of meetings, writing, and smelly subway trips. When I wore Leila Lou for the first time, I practically begged everyone around me to get a whiff of my new scent. Yes, it was that good, and if spring insists on making a late arrival in New York, at least I can use it to fake the scent of the new season.
Leila Lou Roll-on Perfume, $39 at Beauty.com.