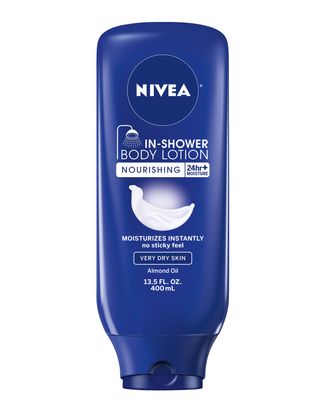 Nivea In-Shower Body Lotion.
Photo: Courtesy of Nivea
Dry skin in the winter is as expected as snowy pictures all over your Instagram feed on a blizzard day. The way to avoid it is to apply lotion a few minutes after stepping out of the shower, while your skin is still damp — or get your moisture in the shower, in the form of Nivea's In-Shower Body Lotion, a dry skin game-changer.
Following the instructions on the bottle, I applied the lotion to damp skin in the shower. It felt just like normal lotion, but it rinsed off as easily as bodywash. My skin felt immediately softer and smoother, like a wet seal. After using it a few times, I eventually opted to skip my normal post-shower moisture routine. My skin felt good throughout the day — a tinge of ashiness attempted to creep around my elbows as the day waned, but it didn't bother me much, because my skin didn't feel dry.
The next time I used the in-shower lotion, I followed it with a splash of post-shower oil, which seemed to really lock in the moisture. Despite cold weather and dry air, when I walk around now, my skin is so soft it feels like I'm permanently wearing a pair of satin pajamas.
Nivea In-Shower Body Lotion, $5.99 at Target.