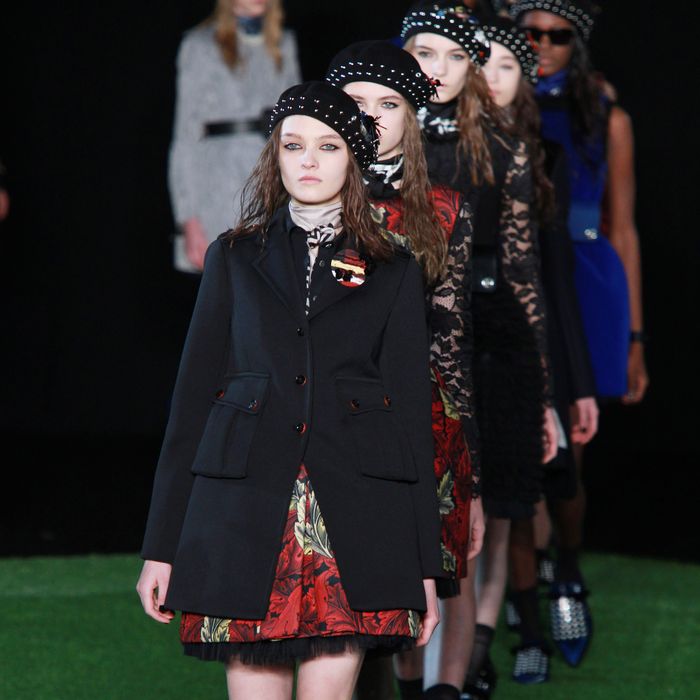 Marc by Marc Jacobs fall 2015.
Photo: Antonio de Moraes Barros Filho/Getty Images
After last week's rumblings that Marc Jacobs would discontinue its freestanding secondary line, folding it into the overall brand, the designer himself has confirmed the plan to Women's Wear Daily. According to Jacobs, the decision to intermingle the two reflects the increasingly high-low scope of fashion today. "The intention now is no different than when Robert [Duffy] and I started Marc by Marc Jacobs or Marc-no-Jacobs," he said. (The latter was what the two jokingly called the label at the outset.) "We believed that fashion could exist at lots of different prices. It could be flip-flops for $30, a well-priced T-shirt; there could be an honesty and integrity in different types of clothes."
"It wasn't supposed to be a second line or the poor-relative-of. I'm sitting here in a $2,000 cashmere/silk sweatshirt hoodie that we've made for 15 years and Adidas track pants and a cotton shirt from American Apparel, and I have a Prada fur coat upstairs," Jacobs added. "On a daily basis I will wear everything from American Apparel to Adidas to Marc Jacobs to Prada. I love that mix of things, that high and low, that rich and poor, all of those contrasts, the everyday and the extraordinary."
The changes come as the brand is preparing to go public later this year. The paper confirmed that Katie Hillier, the creative director of Marc by Marc Jacobs, would stay on at the company in some role, though womenswear designer Luella Bartley's future there was not disclosed — it would certainly be sad to see the two soul mates go their separate ways.