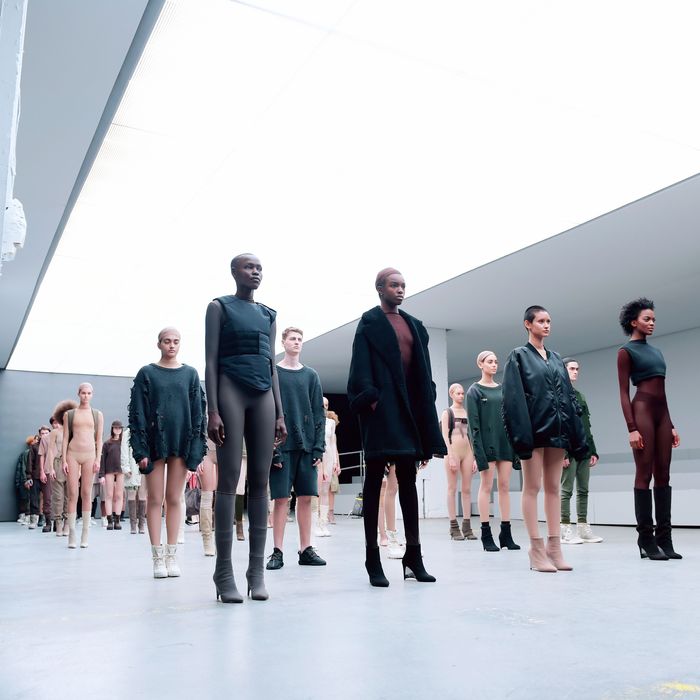 The scene at Kanye's Adidas show.
Photo: Gareth Cattermole/Getty Images
"This isn't about elitism, this isn't about separatism," Kanye West said in the publicity ramp-up to his Adidas show last month. "This is about as many people being involved with this vision as possible." In a post-show interview with Style.com, he continued to hit the egalitarian note hard, calling himself "the Robin Hood of fashion," and adding, "We'll eventually get [the pieces] super-inexpensive. And it will be all about everyone having them." Perhaps that may happen eventually, but according to Highsnobiety, the collection will be far from super-inexpensive. You might even call it super-expensive. 
So-called "entry-level clothing" will be about $423, knitwear $868 to about $1,600. (All prices have been converted from British pounds.) Outerwear will range from $1,736 to $3,800, with a canvas backpack going for $488. Shoes will be less expensive, with a low-top version of the hit Yeezy Boost going for just over $200. As you might expect, one intrepid fan operating under the nom de plume Broke Homie has already started a GoFundMe page titled Help Me Buy Clothes from Kanye. As of now, he's only raised enough to afford the low-tops.